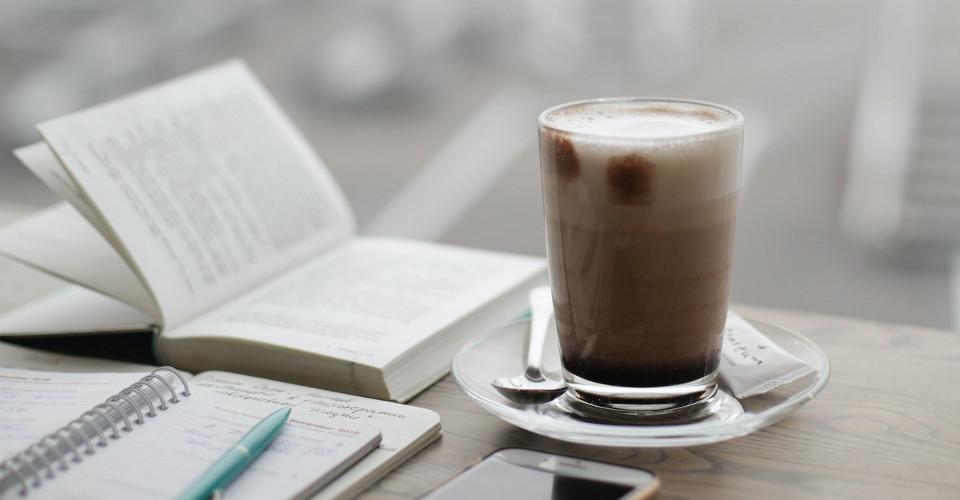 Kari Kallonen, Juho Poutiainen, Sajal Kabiraj & Filip Lestan
27.05.2021
The Industry 4.0 plays a crucial role nowadays in fostering entrepreneurial activities. The main concepts of the Industry 4.0 can be portrayed in four categories viz Cyber-Physical Systems, Internet of Things, Smart Factory and Internet Services. Data collection in Industry 4.0 can help in managing, developing and integrating work within the businesses. Therefore, entrepreneurs can make more informed decisions regarding pricing and merchandise ordering based upon the conceptual understanding of Industry 4.0 practices within their respective organisations.
In this article, the authors combine entrepreneurial cases of Industry 4.0 models in two business entities from different fields of industry. The cases consist of a traditional bookstore and an espresso coffee house, both of which operate in Finland. The aim of this article is to use the case studies to illustrate how the integration of Industry 4.0 practices influence, transform, develop and foster entrepreneurial practices in Nordic countries.
The Fourth Industrial Revolution has changed our everyday life, how we interact and socialize. The purpose of this article is to understand how this point was reached, from history up to the present day. The evaluation of cases will debate on the impact of Industry 4.0 on the supply chain of literature products, provided by a classic bookstore. Related to this it is essential to assess if e-books will eventually vanquish printed books. Additionally, the article aims to demonstrate the impact of technology on the supply chain operations process. The case of the espresso house will critically evaluate the impact of Industry 4.0 on the supply chain of Swedish coffee shop chain Espresso House.
Background of Old Rauma Book Store and Espresso House
Old Rauma is an idyllic heart of Rauma, a Finnish town by the Baltic Sea, and the largest wooden town area in the Nordic countries. Old Rauma was listed as a Unesco World Heritage site in 1991 (Kallonen et al., 2015). Vanhan Rauman Kirjakauppa – Old Rauma Bookstore – was founded in 1986 and the company is considered a small and medium enterprise. The bookstore has been chosen as one of the 50 most unique bookstores in the world by The International Booksellers Federation (Old Rauma Bookstore, 2020).
The customers are town residents and with increasing figures tourists from all around the world. An essential factor is to provide products with multi-lingual texts. The products are high-quality stationery, unique postcards, posters and guides, literature varying from best-sellers and world classics to picture books, local history and architectural pieces (Old Rauma Bookstore, 2020).
Espresso House was founded Sweden in 1996, and from 2015 forward, Espresso House has been owned by JAB Holding Company. Espresso House is the largest branded coffee shop chain in Scandinavia (Brown, 2015).
The company tries to reach consumers in grocery stores with coffee and coffee-related goods. Espresso House has managed to create a loyalty application that has over one million users, and through this case the authors highlight and also try to find similarities and best practices between application and Industry 4.0. In the retail business and especially coffee shops, the highest cost comes from employee's wages. Work can be divided into managing work, preparation work and service work. The product mix of Espresso House is warm drinks, cold drinks, food and bakery items (Espresso House, 2020).
Literature Review
The First Industrial Revolution began in the middle of the 18th century. It is considered to have its birth in Great Britain and can be described as an evasion of employment and incomes, from agriculture to industrial functions, together with a perpetuated rise in per capita output growth. The products turned from handcraft to industrially made, steam and water providing energy to manufacturing machines. The supply chain speeded up, and steam-powered locomotives and ships could deliver further than before with less time (Trew, 2014).
According to Schön (2015), the availability of petroleum products helped to start the automotive industry, and electricity rose to be a key factor in industrialisation. Products were made faster and cheaper, machines replaced manpower. Improvements affected also to advanced communication devices (Schön, 2015).
The Third Industrial Revolution is generally also called a digital revolution. Memory-programmable controls using automation started to influence the production processes, without human assistance. Robots could perform parts of the supply chain and industrial production without any human intervention. Lean Manufacturing originated by Taiichi Ohno and Eiji Toyoda achieved significant results in Toyota automotive factories (Szozda, 2017).
The transition to renewable energy sources, network manufacturing systems and digital transmission of information provided a reduction in resource consumption (Melnyk, 2016).
Industry 4.0
Industry 4.0 is a term that is used to describe increasingly compact entity that combines Internet of Things (IoT) technologies, artificial intelligence, augmented reality, advanced analytics and advanced automation in the value chain (Boyes et al., 2018).
Industry 4.0 is the transformation of industrial production by merging digital and internet technologies to conventional industry (Stancioiu, 2017). Aim of development of an industry is to launch products faster, increase flexibility and increase resource efficiency through digitization. Fusch writes that Industry 4.0 is propagating the combination of the Internet of Things, data, artificial intelligence, social media, cloud computing, sensors, robotics and the application of the combination of these technologies to the production, distribution and use of physical goods (Fuchs, 2018).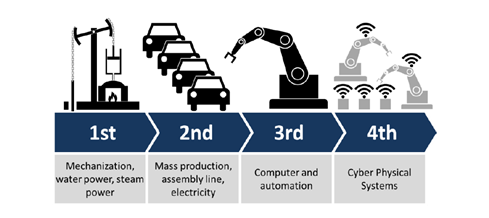 Industry 4.0 can also be seen as a concerted term for all the concepts of value chain organization. The main concepts can be portrayed in four categories: Cyber-Physical Systems, Internet of Things, Smart Factory and Internet Service (Hermann et al., 2016).
The technologies can be divided into four main groups. The components of data and connection use large databases, IoT and cloud technologies. Analytics and artificial intelligence include digitisation and advanced analytics, human-machine interactions touch interfaces and virtual reality. Automated machine park benefits from advanced robotics, energy storage and new production opportunities (Lee et al., 2014).
Szozda (2017) describes three kinds of possible archetypes. First and foremost, an automated procedure is cost-efficient and suitable for mass production, whereas a model of mass personalisation of production is premised on facing the individual necessities of customers. Secondly, a high variety of products are produced in limited quantities. Thirdly, companies may operate on small scale e-factories, manufacturing a restricted number of products, with modest investments (McKinsey & Company, 2016; Szozda, 2017).
Flexibility and the Supply Chain
The description of a supply chain has been in constant transformation. The efficiency of action is being taken over by flexibility, which provides the ability to receive information from customers and to operate successfully in an ever-changing environment. In ultimate conditions, the entire concept of supply chain can be in virtual world (Potter et al., 2015).
Industry 4.0 builds on the developments of earlier inventions, but the computerised technology in production procedures are expanded by a network connection. As a following step of automating production, the Internet of Things allows communication between facilities and output of information merely by the devices themselves, and the decision making of optimal operating means without any boundaries (Pfohl et al., 2015).
Industry 4.0 in the Retail Industry and in the SMEs' context
Barile and Polese have analyzed grocery retailing in their article, and they concluded that considerations provided in the previous sections, grocery retailing can renew itself based on Industry 4.0 technologies and network economies in market-driven competition (Barile and Polese, 2018). Theoretical point of view, researches should focus on new retailing network business models, and be able to provide customers the best engaging experience while keeping prices low (Barile and Polese, 2018).
Data collection in Industry 4.0 can also help in managing work, as Sakarabani discovered. Retailers can make more informed decisions regarding pricing and merchandise ordering. Retailers are able to order additional stock for fast-moving merchandise and reduce the order quantity for slow-moving stock. The ability to react in real-time will give retailers an edge over their competitors who have not adopted Retail 4.0 technologies (Sakrabani et al., 2019).
While technology advances fast, small and medium enterprises (SMEs) must be aware to absorb the demands of Industry 4.0 just to stay competitive. This could mean higher initial funding and investment to software and high technology (Safar et al., 2018).
Qualitative research with German SMEs stated that Industry 4.0 comprehends the companies' three dimensions: high-grade digitisation of processes, smart manufacturing, and inter-company connectivity (Müller et al., 2018).
In addition, a recent Swedish study analysed the impacts of Industry 4.0 on the manufacturing SMEs. The analysis of the case companies found out that they all achieved higher profits. The implementation of Industry 4.0 not only enhanced industrial performance indicators but also made it possible to increase financial performance (Karandeep, 2019).
Future of Industry 4.0
In the broad world economy and global business, a need for Industry 4.0 very sharply increases the overall level of industrialization, informatization and manufacturing digitization. The goal is to achieve greater efficiency, competency, and competitiveness. It has been well recognized that Industry 4.0 has a meaningful long-term strategic impact on global industrial development. Because of the importance of this subject, there has been a growing demand for research regarding Industry 4.0 to provide insights into the issues, challenges, and solutions related to the design, implementation, and management of Industry 4.0 (Xu et al., 2018).
Future of Industry 4.0 is also environmentally sustainable manufacturing and supply chain management. There are several administrative challenges in the future. Business model, reliability, integrity, redefinition of workflows, unemployment, unclear legal issues, data security issues, privacy concerns, retraining the workforce for new jobs can be seen as challenges (Abraham et al., 2020).
The Case: Industry 4.0 and Old Rauma Book Store
The supply chain in the book publishing business in Finland has for about 100 years been based on a wholesale system, that was founded by major book publishers and commercial chains of bookstores. The model was adapted from Sweden and the aim was cost efficiency, due to united procedures (Tompuri, 2019).
Traditional Supply Chain
The information flow started from the publisher and went through the distributors and retailers and as far as the customers. In addition to printed booklets, publishers sent microfilms to Old Rauma Bookstore. The data was updated every month, and orders were made by telephone. Trucks delivered the products all over the country on a weekly basis, and more frequently during high seasons. Heading towards the 1990s, bigger logistical centers and warehouses were established. Communication turned electrical, e-mails replaced phone calls and the first product catalogs were presented on the internet (Tompuri, 2019).

The Emergence of E-books
Publishers had high hopes with a new invention, e-books, but the first results were not as good as expected. There were technical difficulties with e-book readers and the sales were relatively small, compared to traditional paper books. Some publishers were hesitant about embracing the new medium (Taylor, 2004). The technique became later more standardised.
However, in Finland, the share of e-books has not ever risen to the international level, and the country is a relatively small linguistic market of 5,5 Million residents. The main wholesale company in Finland distributes around 17 Million printed books a year, in 1,15 Million deliveries. The share of e-publications is 40 percent of the new releases, but the share of sales only 16 percent. And more, the portion of actual e-books is merely 4,9 percent of the sales. Audiobooks covered 2,3 percent of the book sales year 2018 (Suomen Kustannusyhdistys, 2020).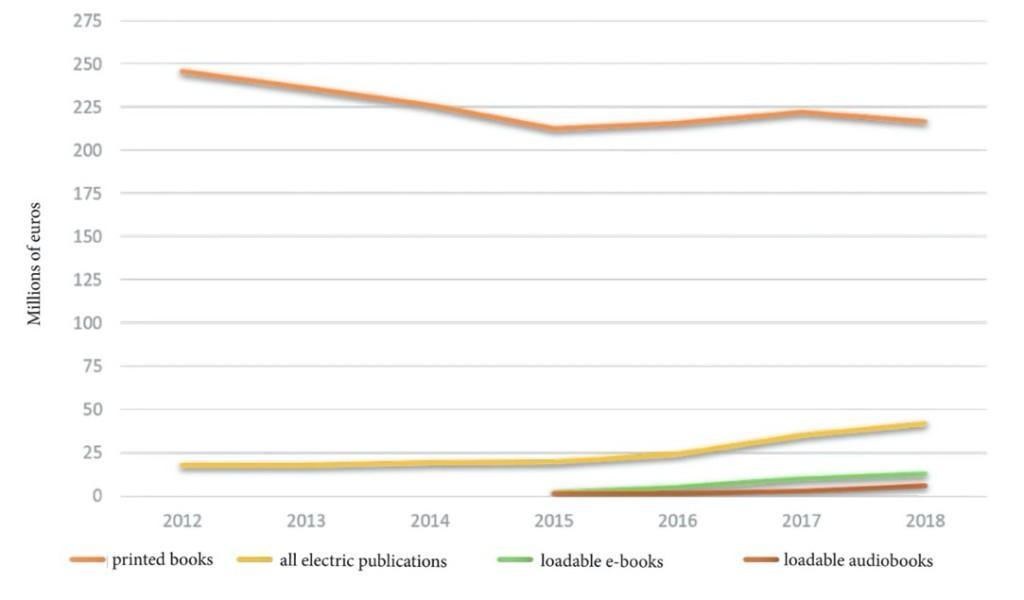 Speeding Up the Supply Chain
However, Industry 4.0 has brought clear advantages with new technology. A publisher or a bookstore could run an e-factory printing on demand, overtaking other links of the chain. Old Rauma Bookstore is able to browse the products in an online application, a digital platform, and place the orders simultaneously. The information received is essential to storage management and delivery. Production planning is aware instantly whether the chosen format is an e-book, printed hardcover, paperback edition or an audiobook. The logistical centers do not store as massive supplies of books they used to do. Manufactures can print books on-demand, by the request of a bookstore (Kirjavälitys, 2020).
In ideal circumstances, a customer can order an e-book and receive it immediately in a fully automated system, and ultimately the whole supply chain could be in the virtual world like Potter, Towill and Christopher (2015) describe. And further, a single writer would not even need a manufacturer, when the products can be designed on the web, published as an e-book and sold online to customers (Potter et al., 2015).
However, covering the whole supply chain requires notable investments in technique. Slack (2017) points out, that cost efficiency often demands that operational functions are bought from outside experts, rather than producing them internally (Slack, 2017). There is no need to invest in developing advanced software by the company, when the executable – and affordable – applications are already tested, in use and available. (Kallonen, 2020).

Experiencing the Book as an Object
The old underdog has, on the other hand, an asset. According to a recent study by Kajander (2020), the printed book itself is a cherished object. Readers enjoy their scent and aesthetics looks and consider these experiences as highly positive aspects of reading (Kajander, 2020).
E-books have acknowledged advantages, due to instant access and easy browsing. It has still been criticized to a certain extend. The reason hidden in the criticism, according to Aunin stands on following. Why should be international companies allowed to establish control over the content, and exercise influence over citizens' options by new technologies (Aunin, 2012).
The Case: Espresso House
In Espresso House, there are multiple ways to use industry 4.0 in their business model and find ways to cut costs in especially employee's wages and reduce the number of players in the supply chain. Espresso House has managed to create over one million application users and an effective loyalty program in the application. Over 20% of coffee shop sales come through that application. Espresso House has its own roastery, and it is actively trying to reach the grocery store market, with consumer coffee bags. With over one million application users, it would be possible to reach coffee consumers with the application and place orders straight to the roastery with the application. This technology can be fully used and tested without any extra cost. This sales channel does not affect coffee shop sales.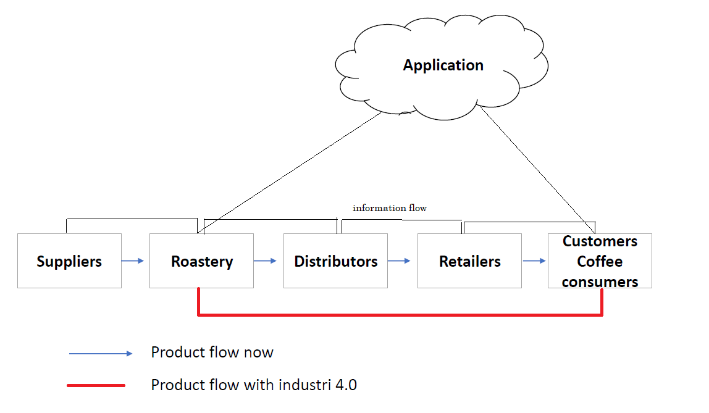 Other supply chain that can be used to decrease employees wage and increase efficiency is Pre-order with the application. Pre-order applications can also release time for employees to give more personal service for the people that are inside the coffee shop; table service is also possible with this application. Espresso House has already started that test, and they are operating over 100 shops in Sweden with pre-order. These changes will cut the retailer from the supply chain and will be an efficient way to place an order. With pre-order, there are still many aspects that need to be under consideration in coffee shops and daily operations; for example, Espresso House needs to focus on two guest flows and two different types of serving. For customers that orders inside the store and for customers that have done pre-order.
There are external home delivery companies in Nordic countries, and so-called cloud kitchen without expensive coffee shop locations rent would be adequate and cost-saving to use. Cloud kitchen can operate separately or can be installed into the existing coffee shop or close by, so Espresso House can also use their application users to pick up goods straight from the kitchen/coffee shop.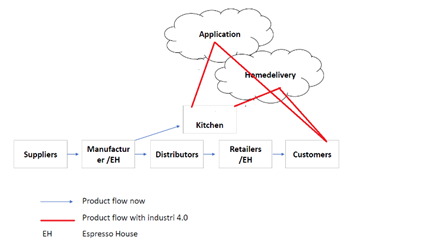 Espresso House is already using Industry 4.0 in its supply chain with or without intent. They will never be fully automated company, and they will always use employees to serve customers. Industry 4.0 can also be used in managing work by creating an effective way to deliver all the data from the cash register straight to own manufacturer bakery and own coffee roastery. Espresso House also has the option to divert their business totally to the IoT platform where they can share data starting from loyalty application users and send sale data and consumer behavior to roastery and bakery.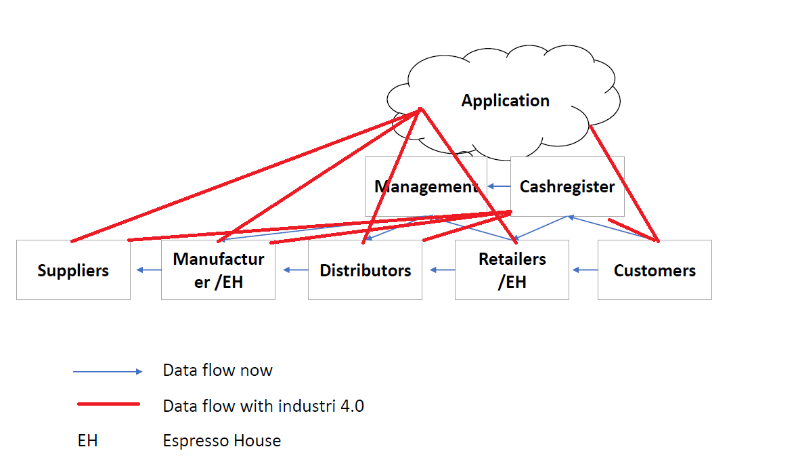 Automation, machine learning to real-time data. When implementing Industry 4.0, there is a risk to change the entire organization at the same time and to change the organization or company's original mission. Furthermore, not all decisions or conclusions are useful or financially viable. Spending precious resources and time on full inspection of data is not a sustainable business model (Griffiths and Ooi, 2018)
Risks and Limitations
The industrial revolution is mainly focusing on supply chain management and automation. Retail business and many other businesses are delivering and selling service to people. There is a danger that if Espresso House diverts their business too much for automation, they will lose contact with the end-user. Nevertheless, their main competitive factors in the Nordic coffee shop industry is coffee shop interior, happy and helpful staff, and attractive vitrine when entering the shop. Those three things are really hard to replicate in an application. They need to balance with speed and efficiency and new technology. (Poutiainen, 2020).
Conclusion
Will a traditional bookstore survive – even though foretellers are predicting the death of a printed book? The answer is yes is if the right things are being monitored in the strategy. After all, to provide a competitive advantage, there has to be a deep comprehension of the needs and desires of the customer, and also a profound understanding of who the customer actually is (Foster, 2016). Old Rauma Bookstore will target products where it is the local market leader.
Using wisely best practices from factories, Espresso House has the potential to decrease their employee wage, decrease cost in the supply chain, and even create more revenue. Exploring machine learning can positively impact their managers and help in managing work. With high cost in employee wages, retail businesses can even be pioneers when exploring new industrial revolutions. The world is going through digitalization, and the most prominent Nordic coffee shop chain Espresso House should continue its strategy with loyalty application and pre-order.
Authors
Kari Kallonen is a MBA student at Helsinki School of Business (Affiliated to The University of Northampton, United Kingdom).
Juho Poutiainen, is a MBA student at Helsinki School of Business (Affiliated to The University of Northampton, United Kingdom).
Sajal Kabiraj, Ph.D is a Faculty at School of Entrepreneurship and Business, Häme University of Applied Sciences Ltd. (HAMK).
Filip Lestan, BBA, was a student at School of Entrepreneurship and Business, Häme University of Applied Sciences Ltd. (HAMK).
References
Abraham, A., Au, E., Binotto, A., Garcia-Hernandez, L., Marik, V., Marmol, F. G., Snasel, V., Strasser, T. I., & Wahlster, W. (2020). Industry 4.0: Quo Vadis? Engineering Applications of Artificial Intelligence, 87, https://doi.org/10.1016/j.engappai.2019.103324
Aunin, T. (2012). The Book as an Object of the Shared Understanding of Media Changes. Primerjalna Knjizevnost, 35(1), 157–163, 282. http://www.dlib.si/details/URN:NBN:SI:DOC-I31R7NGB
Barile, S., Polese, F., & Sarno, D. (2018). Grocery Retailing in the I4.0 Era. Symphonya. Emerging Issues in Management 38(2). http://dx.doi.org/10.4468/2018.2.4barile.polese.sarno
Boyes, H., Hallaq, B., Cunningham, J., & Watson, T. (2018). The industrial internet of things (IIoT): An analysis framework. Computers in Industry 101, 1–12. https://doi.org/10.1016/j.compind.2018.04.015
Brown, N. (2015). Largest Nordic Coffee Chain Espresso House Bought by JAB. Daily Coffee News by Roast Magazine: https://dailycoffeenews.com/2015/06/02/largest-nordic-coffee-chain-espresso-house-bought-by-jab/
Chatha, K. S. (2019). Impacts of Industry 4.0 on Swedish Manufacturing SMEs Context. Jönköping University. http://urn.kb.se/resolve?urn=urn%3Anbn%3Ase%3Ahj%3Adiva-45975
Espresso House. (2020). News. Nyheter: https://espressohouse.com/nyheter/
Foster, S. T. (2016). Managing Quality: Integrating the Supply Chain, Global Edition. Pearson Education M.U.A.
Griffiths, F., & Ooi, M. (2018). The fourth industrial revolution – Industry 4.0 and IoT [Trends in Future I and M]. IEEE Instrumentation and Measurement Magazine 21, 2018–2020. https://doi.org/10.1109/MIM.2018.8573590
Hermann, M., Pentek, T., Otto, B. (2016). Design Principles for Industrie 4.0 Scenarios. In 2016 49th Hawaii International Conference on System Sciences (HICSS). IEEE, pp. 3928–3937. https://doi.org/10.1109/HICSS.2016.488
Kajander, A. (2020). Kirja ja lukija digitalisoituvassa arjessa [The Book and the reader in the digital every day] [Dissertation, University of Helsinki]. Helda. Unigrafia. http://urn.fi/URN:ISBN:978-951-51-5839-0
Kallonen, K., Luosma, P., Salo, A., & Sundelin, R. (2015). Vanha Rauma – Old Rauma. 1st ed. Länsituuli.
Kallonen, K. (2020). Industry 4.0 and the case of A traditional bookstore. submitted on 08 March 2020 as part of Assignment 1 on Industry 4.0, ES1 for Managing Operations and the Supply Chain (BSOM046), MBA program of University of Northampton, United Kingdom.
Kirjavälitys. (2020). Kirjavälitys Oy [Book Delivery ltd]. https://www.kirjavalitys.fi/yritys/
Lee, J., Kao, H.-A., & Yang, S. (2014). Service Innovation and Smart Analytics for Industry 4.0 and Big Data Environment. Procedia CIRP, 16(C), 3–8. https://doi.org/10.1016/j.procir.2014.02.001
Liao, Y., Deschamps, F., Loures, E. de F. R., & Ramos, L. F. P. (2017). Past, present and future of Industry 4.0 – a systematic literature review and research agenda proposal. International Journal of Production Research, 55, 3609–3629. https://doi.org/10.1080/00207543.2017.1308576
McKinsey & Company. (2016). Industry 4.0 after the initial hype. Where manufacturers are finding value and how they can best capture it. https://www.mckinsey.com/~/media/mckinsey/business%20functions/mckinsey%20digital/our%20insights/getting%20the%20most%20out%20of%20industry%204%200/mckinsey_industry_40_2016.ashx
Melnyk, L. G. (2016). Innovative horizons of the Third industrial revolution: economy, power sector, ecology. Marketing ì Menedžment Innovacìj, 7(4), 342–352.
Müller, J. M., Buliga, O., & Voigt, K. I. (2018). Fortune favors the prepared: How SMEs approach business model innovations in Industry 4.0. Technological Forecasting and Social Change, 132, 2–18. https://doi.org/10.1016/j.techfore.2017.12.019
Old Rauma Bookstore (2020). Vanhan Rauman Kirjakauppa. https://www.vanhanraumankirjakauppa.fi
Pfohl, H.-C., Yahsi, B., & Kurnaz, T. (2015). The Impact of Industry 4.0 on the Supply Chain. Hamburg International Conference of Logistics (HICL). 20. https://doi.org/10.13140/RG.2.1.4906.2484
Potter, A., Towill, D. R., & Christopher, M. (2015). Evolution of the migratory supply chain model. Supply Chain Management: An International Journal, 20(6), 603–612. https://doi.org/10.1108/SCM-06-2015-0231
Poutiainen, J. (2020). Industry 4.0 and the case of Espresso House, submitted on 08 March 2020 as part of Assignment 1 on Industry 4.0, ES1 for Managing Operations and the Supply Chain (BSOM046), MBA program of University of Northampton, United Kingdom.
Safar, L., Sopko, J., Bednar, S., & Poklemba, R. (2018). Concept of SME Business Model for Industry 4.0 Environment. TEM Journal, 7(3), 626–637. https://doi.org/10.18421/TEM73-20
Sakrabani, P., Teoh, A.P., Amran, A. (2019). Strategic impact of retail 4.0 on retailers ' performance in Malaysia. Strategic Direction, 35(11), 1–3. https://doi.org/10.1108/SD-05-2019-0099
Schön, L. (2015). Maailman taloushistoria, teollinen aika [World economic history, industrial time]. Vastapaino.
Slack, N. (2017). The Operations Advantage: A Practical Guide to Making Operations Work. Kogan Page.
Suomen Kustannusyhdistys. (2020). Suomen Kustannusyhdistys. Tilastot. [Finnish Publishing Association. Statistics].
https://kustantajat.fi/tilastot
Szozda, N. (2017). Industry 4.0 and its impact on the functioning of supply chains. LogForum, 13(4), 401–404. http://dx.doi.org/10.17270/J.LOG.2017.4.2
Taylor, P. (2004). A brighter future for e-books. Financial Times. https://www.ft.com/content/3e31af04-0bf1-11d9-8318-00000e2511c8
Tompuri, V. (2019). Kirjavälitys – 100 vuotta kirjan matkassa. Kirjavälitys.
Trew, A. (2014). Spatial takeoff in the first industrial revolution. Review of Economic Dynamics, 17(4), 707–725. https://doi.org/10.1016/j.red.2014.01.002
Xu, L. da, Xu, E.L., & Li, L. (2018). Industry 4.0: State of the art and future trends. International Journal of Production Research, 56, 2941–2962. https://doi.org/10.1080/00207543.2018.1444806
LISÄÄ AIHEEN YMPÄRILTÄ / RELATED POSTS