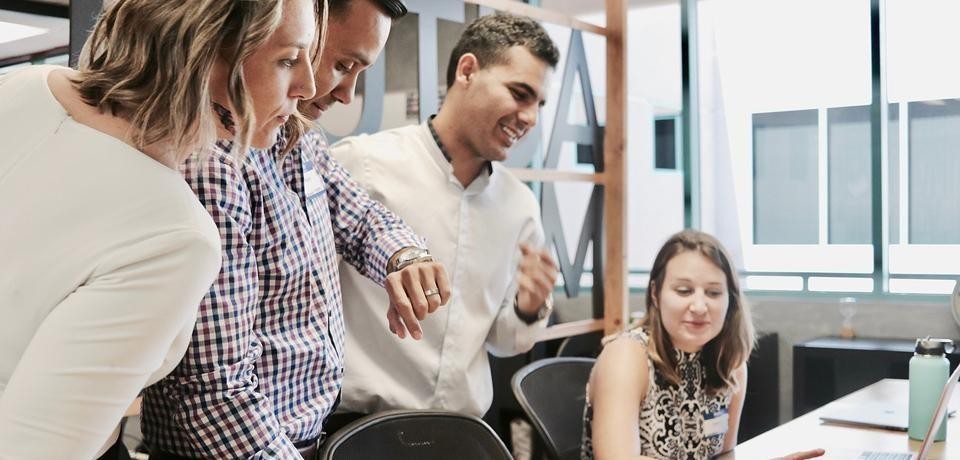 Heikki Hannula & Hanna Lindroos
28.10.2021
There is an increasing need for soft skills competences such as empathy, resilience, capability to solve problems, self-esteem, assertiveness and trustworthiness. This argument is often heard. Of course, this has been well argued and thoroughly studied (Opetushallitus 2019). Nevertheless, in the Marketing Through Europe (MaTE) project we wanted to verify this matter with our own research. The overall objective of the ERASMUS+ funded KA2 Strategic partnership project is to develop a training curriculum for business administration, commerce and management field of upper secondary vocational education and training in cooperation with vocational schools from four European countries. In this article we will present the starting points of the study, the key results and consider their significance.
The competition in the global markets can be seen becoming increasingly hard. Could the focus be shifting east? At least China is actively working in this direction. The largest economy in the world, the United States is doing its best to maintain its position. (The Centre for Economics and Business Research, 2020) What will be Europe´s position in the future? This is a good question when thinking about the competitiveness of EU and its member countries. At its absolute core are competences and skills. (European Commission 2021)
Partly due to the Covid-19 pandemic, European Commission (2021) has raised the following skills on its agenda:
strengthen sustainable competitiveness,
ensure social fairness and
build our resilience.
Highlighting these skills indicates that the Commission strongly believes in skills and competences as key resources in the future. On a personal level these skills are also good examples of soft skills.
Starting point for the study
In the world of work people need both core skills and soft skills. Core skills depend on the industry or business. Soft skills are common and they can also be called generic skills. (Opetushallitus, 2019) As a part of determining the expectations and considered key skills of employee´s, the project team created an employer survey. The representatives of working life especially in marketing were asked in May 2021, what skills they expect from a person who has completed a vocational secondary level degree in business administration.
A questionnaire was created including questions and propositions of background information, soft skills, marketing skills and other skills. In addition, the questionnaire included open questions after each section. It was agreed that the aim of responses would be at least 25 answerers from each project country. We also translated the questionnaire for the most spoken languages in participating countries. The questionnaire links were sent via e-mail and the data was collected using Webropol by the project coordinator Winnova, a vocational education provider in Finland.
Results
By the end of the deadline, we received 97 answers from partner countries. 22 from Hungary, 25 from the Netherlands, 26 from Portugal and 24 from Finland. A third of the respondent companies represented the services and trade industry. 73% of the respondents were either company directors, managers or entrepreneurs. The size of the companies varied, with over a half of the companies having a yearly turnover below 2 million euros, and 25% of companies with a turnover over 10 million per year.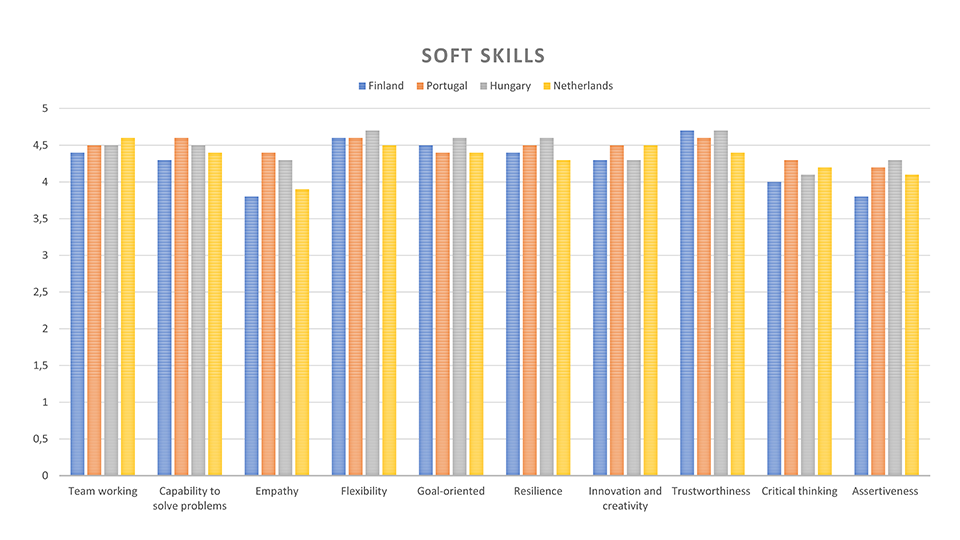 The survey confirmed the beliefs that all soft skills are considered important by company representatives, with each skill scoring higher than a 3.8 out of 5 when asked to rate soft skills based on their importance. There were no statistically significant differences. Only small variations were found when comparing skill importance in each country with the greatest difference between Finland and Hungary on Assertiveness (0.5 difference). While Finland, Portugal and Hungary rated Trustworthiness as the most important soft skill, it came fourth in the Netherlands with Team working being the highest rated soft skill. The overall highest rated soft skills were flexibility and trustworthiness.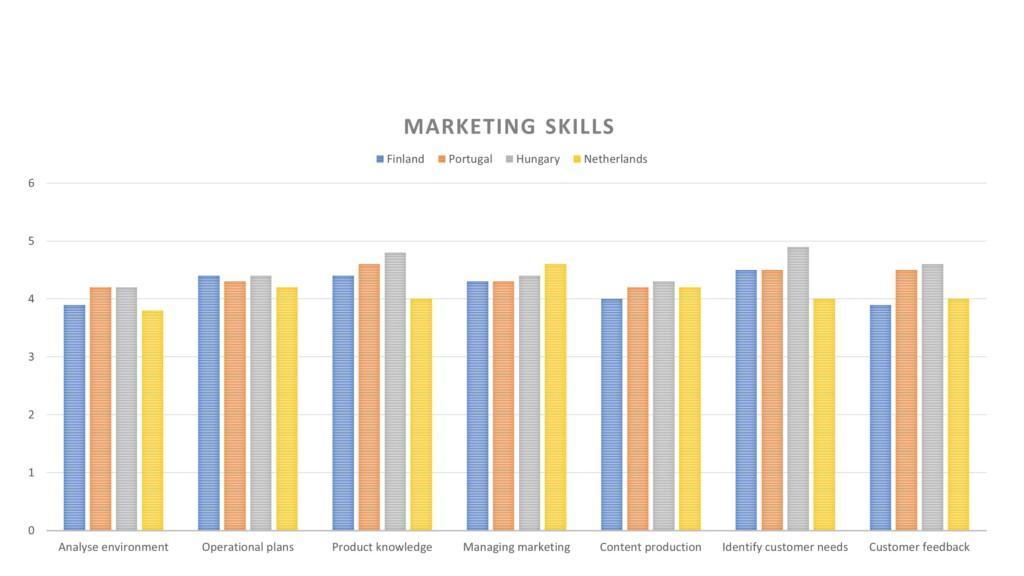 When comparing marketing related skills, more variation was found between partner countries. Only four skills were rated over 4.5 out of five (identification of customer needs, managing marketing and communication, knowledge of products and services and knowledge of handling customer feedback and complaints) in partner countries, with Portugal and Hungary rating the same skills in their top 3.
In addition to soft skills and marketing skills the survey acquired after other skills, which were: Negotiation and persuasion skills, Presentation skills, Business ethics and IT skills, with business ethics rating highest overall (4.42) and IT skills coming second (4.38).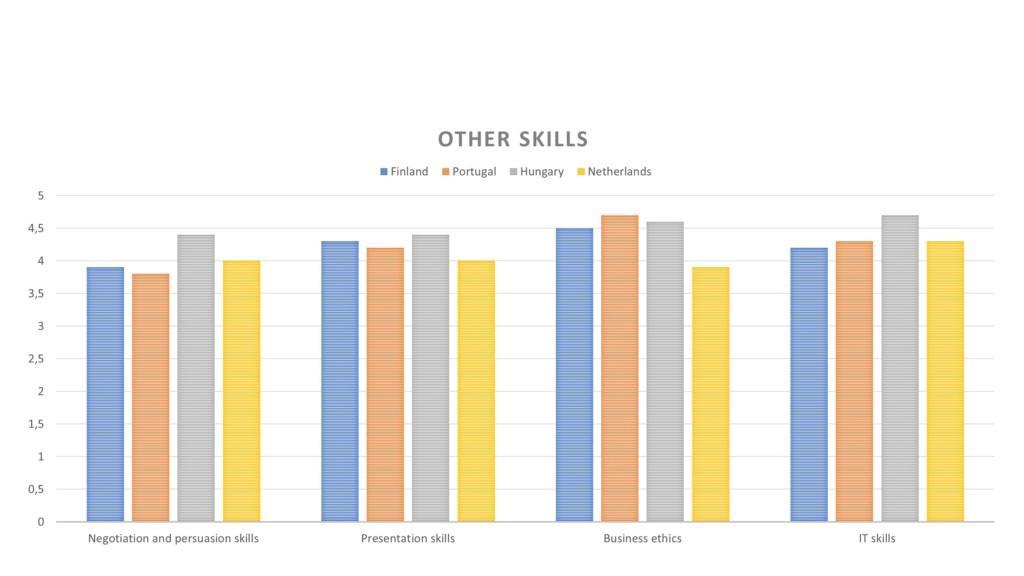 Conclusions
All soft skills, marketing skills and other skills offered as variables in the study are important or very important. It is difficult to draw any reliable conclusions about the differences. Thus, working life requires both sectoral skills and soft, so-called generic skills. The skills required by an individual employer undoubtedly vary. However, they can develop specific skills through their own staff development activities.
These results should be taken into account in the planning and implementation of business, administration, commerce and management field of upper secondary vocational education and training. The results are very similar to other studies on the subject and foresight as we can see for example in the report of Finnish National Board of Education (Opetushallitus, 2019.).
These results are also pedagogically significant. Pedagogical choices are aimed not only at learning content, but also at learning and developing soft skills. And learning of soft skills is more methodology than content. In pedagogy, it would be important to utilize students' voluntary activities, like hobbies and other ways of informal learning. It would be good to provide problem-based learning and learning in the most authentic learning environments possible. (Shobron et.al., 2020). Good pedagogical methods are for example team and project learning.
In Marketing Through Europe -project the next steps are planning a new training curriculum. In this context, it is also intended to train teachers to utilize pedagogical models and solutions that promote the learning of soft skills. Finally, students are also involved and advanced curricula are tested in practice. It will be interesting to see what kind of results we will achieve.
AUTHORS
Senior Lecturer, PhD (Edu), MSc (Econ) Heikki Hannula has been working as a vocational teacher educator at Häme University of Applied Sciences since 2002. In addition to his main position, he has participated in several vocational education and vocational teacher education development projects.
BA Hanna Lindroos works as a project coordinator in HAMK Edu research Unit at Häme University of Applied Sciences (HAMK). Her work mainly focuses on international vocational education and vocational teacher education research and development projects managing project administration and application processes.
REFERENCES
European Commission. 2021. European Skills Agenda – for sustainable competitiveness, social fairness and resilience. Retrieved May 17, 2021 from https://ec.europa.eu/social/main.jsp?catId=89&furtherNews=yes&newsId=9723&langId=en
Opetushallitus. 2019. Osaaminen 2035 – Osaamisen ennakointifoorumin ensimmäisiä ennakointituloksia. Raportit ja selvitykset 3:2019. Retrieved May 24, 2021 from  https://www.oph.fi/sites/default/files/documents/osaaminen_2035.pdf
The Centre for Economics and Business Research. 2020. World Economic League Table 2020. Retrieved May 24, 2021 from https://cebr.com/reports/world-economic-league-table-2020/
Shobron, S., Anshori, A. & Muthoifin, D. 2020. In Universal Journal of Educational Research 8(7): 3155-3159, 2020. Retrieved July 7, 2021 from https://www.researchgate.net/publication/343045022_Method_for_Developing_Soft_Skills_Education_for_Students
LISÄÄ AIHEEN YMPÄRILTÄ / RELATED POSTS