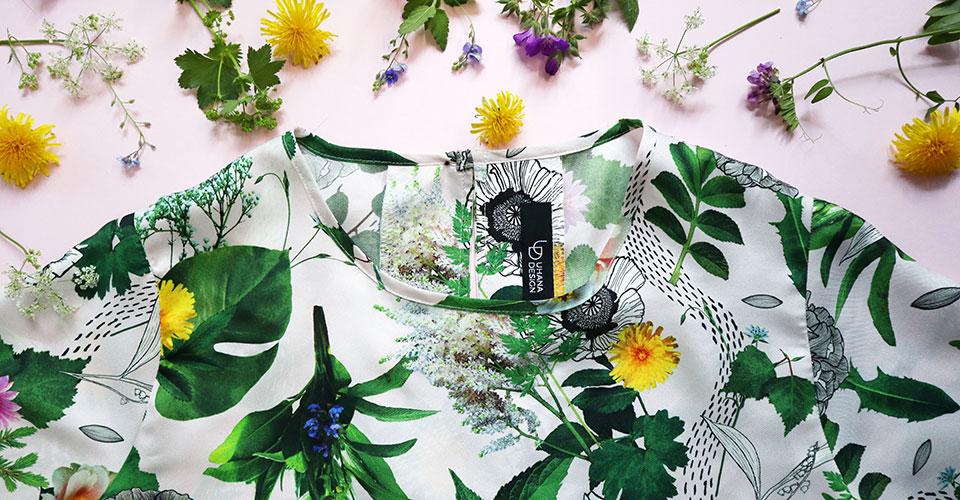 Pirjo Seddiki & Tarja Saari
24.11.2020
Fashion has always been the visible indicator of changes, the warp of materiality and the weft of society (Miller, 2005, p. 17). The consumers are aware of the current state of the world, the climate change, social issues, aging population and crises in democratic decision-making.
This article was presented in India Jaipur Fashion Colloquia January 2020 and the topic is even more actual after current global crises. The fashion industry is facing the impact of Coronavirus (Covid-19) as dampening consumer demand and slowing supply chains.
Our article deals with Ezio Manzini's (2015) well-known concept of new models for sustainable production and economic systems; small, local, open and connected (SLOC) in the fashion industry and how to make it work in competitive markets. The concept was originally developed for social innovations. In the survey by Sitra (The Finnish Innovation Fund), the behavioral changes creating new business opportunities were categorized in four value territories: flexible stuff, perfect stuff, pleasurable engagement and familiar stuff. We will present some design driven enterprises from Finland as examples of these phenomena.
Introduction
The flexible stuff combines personal mobility with solidity. It allows people to reduce the volume of objects in their life. The same item can be multifunctional and adapted into different situations. The perfect stuff requires an extreme selectivity, as one is enough if it is perfect. The perfect object is fit-for-purpose and does not necessarily follow the latest trends. One can easily comprehend the pleasurable engagement. The aesthetics of an item is enjoyable both in a tactile and visual way, an extra pleasure comes from locality and of being conscious of its sustainable production (both environmentally and socially).
The familiar stuff value territory focuses on longevity and familiarity. Such goods endure and age gracefully and do not have to be replaced with new items. They refer to the history and local culture, telling familiar stories. (Korkman & Greene, 2017, pp. 6–7) These categories can be solutions to the global issues of justice, care for environment and socially sustainable production. Our case study consists of the fashion brands Uhana Design, Papu Design, Arela Ltd, Voglia Ltd and Weecos marketplace which have applied above-mentioned principles combining them with sustainable economic system of small, local, open and connected (Manzini, 2015). For this study, we have interviewed entrepreneurs, operators and experts in the Finnish fashion business.
Communities
Sustainable citizenship, the citizen-consumer's role and behavior have enabled the rise of new enterprises and innovative solutions in supply chains. Agency is a key driver as participatory intervention in consumer culture. Creating a strong community using social media has been a way to make this possible. As Anna Kurkela from Papu Design states: "Behind the success is knowing what your customers want and how they use media. An active online dialogue has a vital role in it." (FAB, 2018, p. 60) People who ask what kind of world we create with our products and what kind of world the products create with us, have come together to act. Sustainability is the shared value base for these enterprises.
In the survey by Global Fashion Agenda (2019), the progress in sustainability came almost entirely from small and medium-sized companies in the mid-price segment. According to their research more than a third of consumers reported having already switched from their preferred brand to another one because of positive environmental and/or social practices. More than 50 per cent of consumers is planning to switch brands in the future if another brand acts more environmentally and socially friendly than their preferred one.
The State of Fashion report (an annually announced survey from McKinsey & Company, 2019) has concluded that some small brands are growing very fast. This is due to the capitalizing on three trends; millennial preferences, digital marketing and retailer requirements for differentiation and margin. The companies are active on various digital media platforms. Ezio Manzini has launched the concept "cosmopolitan localism" to describe the communities rooted in local culture and industry but connected globally through social media and web marketing (Manzini, 2013, p. 76).
An active role on social media platforms is the way to create and solidify a community and strengthen its connections. Uhana Design is an example of this, as it has actively defended women's and girls' rights, girl power and equality for sexual minorities on their Instagram, Facebook and web-site. The same values are visible on the Weecos marketplace. They refer to the "Weecos tribe". The enterprises in this tribe are mainly design-driven small and micro companies. Weecos provides them with a visible online environment to sell their products and give information about their production. Stories about designers and their values play an important role. They have summarized their ideas of sustainability in three points, which are care, consider and replace.
The sustainability of the brand and the products on the Weecos marketplace are evaluated from the points of views of economic, social and environmental sustainability. The survey contains several sections about the products, the materials used, the production, immaterial rights, packaging and logistics, about the product care and the product's recycling possibilities. With these questions, the company seeks to consider how well the brand has taken the whole life cycle of the product into consideration. In addition, the brand justifies its motivation for sustainable business and opens up how the well-being of the entrepreneur and the employees are taken care of. (Weecos, 2019)
The study made in 2016 in four countries (Spain, Germany, Finland and the USA) by Sitra about changing relationship between people and goods showed that enterprises with a purpose would be winners in the future (Korkman & Greene, 2017). However, there are still considerable problems in making business lucrative for companies that are producing clothes as sustainably as possible. Customers are so used to cheap fast fashion that it is very hard to understand the cost of sustainable, local production. The survey by Korkman and Greene (2017) confirms the problematic economic situation of companies. In the survey, they found out that 63% of leading-edge consumers engage in the search for consumption choices that balance personal needs and desires with positive impacts for the environment and society. They also found that 24% of the four-country respondents had already adopted new behaviors by actively seeking out companies and brands that provide a balance between social and individual benefits. However, only 17% of Finns in mass consumers segment seek this balance between societal and individual benefits. (Korkman & Greene, 2017, pp. 30–33)
There is still a gap between the idea of sustainable products and purchasing them. In a survey made about sustainably responsible investing, the results show that 32% of millennials (age group 23–35) were ready to purchase sustainably produced goods even with a higher price (Nordnet, 2018). However, concerning fashion business, out of the total money spent on clothes the age group of women under 35 years of age spent only 19% (Finnish Textile and Fashion, 2018). Major economic power and the actual drivers of change are in the middle-aged or older age segments of consumers. This is inconsistent with the international trends presented in surveys like the Pulse of Fashion (McKinsey & Company, 2019). The millennials are consuming fast fashion, buying cheap and large quantities, and spending less than age groups over 35. We have interviewed Satumaija Mäki, Responsible for Sustainability and circular economy in the Finnish Textile & Fashion organization. She explained younger generations' behavior referring to fast fashion companies' considerable marketing efforts. In their marketing global fashion brands claim to be sustainable in many ways and young consumers consider that to be enough.
Papu design Ltd has had successful campaigns among stakeholders in social media and the company met the target of their issue of shares. Before this they had the largest clothing industry crowdfunding in Finland. They managed to attract new investors like mothers of small children, who have not been interested in investing in companies. Customers and supporters have invested in stocks of the company and not just purchased the products. (Kurkela, 2019) This is an example of how to create financially sustainable fashion business driven by environmentally and socially sustainable values.
Companies like Uhana, Papu design and the Weecos web store have campaigns to open the cost structure of the products to show what the consumers pay for. This transparency gives the customers a realistic idea of the complexity of the production of sustainable fashion. Manzini's idea of openness can be seen in this economic transparency.
The community of customers is also functioning as evaluator of sustainable standards and statements of different brands. CEO Hanna Lusila from Weecos shared an example of how customers are correcting if information of some of their brands on the web site is not honest. Customers are aware of sustainability and follow current research. In addition, the entrepreneurs follow other brands and make peer evaluations on their sustainability arguments or labels.
Care, Consider and Replace
To slow down consumption, it is important to invest in high quality and durability as well as in aesthetically ageing materials, high design and lasting style. (Niinimäki, 2015, p. 8) For small enterprises balancing between reduced consumption and viable business is hard. When interviewing the owners of Uhana, Papu, Arela or Weecos, this topic was highlighted. CEO Hanna Lusila from Weecos mentioned an example of a client in their web store who collected several garments in her shopping basket and after reading the information in their blog about how reducing consumption effects on future of the globe, then decided not to buy anything. Thus, Lusila and Weecos lost their sales but at the same time were pleased with the change in the behavior and attitude of the client.
To keep the production local is becoming harder and eventually impossible when the volume of production increases. There are, for example, only a handful of knitwear factories in Finland and skillful sewers are extreme hard to find. The production takes place mainly in the EU, no longer only in Finland. The fabrics for garments are all imported as the development of novel cellulose-based materials is still in the beginning phase. Small and local may sound promising according to the future trend forecasts, but how to make it work in competitive labor markets is another question. Instead of increasing production of new garments the brands are looking for alternative ways to make fashion business.
Arela is a clothing brand focused on cashmere and merino wool knitwear and cotton basics. They have developed a concept called Arela for Good. Arela knitwear company is responsible for their products long after they have left the stores. Arela will take care of the knits, mend them and sell them as second-hand items, or, if there is no wear left, they use the material for new products (such as sleep masks) or for care service mending in a true closed loop fashion. They have a take back concept, which means that when customers bring their used knit back to Arela store, they get 20% off from a new (or new-to-her) product. They share washing instructions on their web site and encourage customers to think twice before washing the items, they also sell washing products for delicate cashmere garments. (Arela, n.d.) Arela offers cashmere care service for their knits in their stores. CEO Maija Arela explained how amazed the customers are after the care service, the pleasure of the product is compared to purchasing a new one. This guarantees longevity for the relatively costly cashmere knitwear. (Arela, n.d.)
Holistic design thinking is becoming more important than ever in fashion designer education. The designers must understand the whole life cycle of the product. Knowledge on outsourcing and materials, the environmental impacts of processes and the socially conscious business models are core content in the fashion design education. (Bertola, 2018, pp. 10–11) When creating successful long-term business brands enterprises should focus on adding services to product offering. (Satumaija Mäki, interviewed on December 4, 2019). Viivi Arela from the family-owned company explained their future visions: "We would still produce a small number of garments, but mainly offer care and repair services. We would participate additionally in discussions and other events or arts and cultural cooperation. This is linked to what consumers are seeking, identity work and non-material values." (Nurmi, 2017, p. 29)
Eco-luxury
Eco-luxury is one of the new concepts in the sustainable fashion industry. This means transition from mass-manufactured aesthetics to single items and at the same time to diversity. Luxury is associated with high quality, know-how, slow time, the preservation of handmade traditions, the transmission from generation to generation of timeless products. These qualities are coherent with sustainability (Kapferer & Michaut, 2015, p. 5). The eco-luxury processes are slow, more time consuming, personalized and the look of a product may vary during manufacturing. When using recycled materials these eco-luxury qualities are obvious. Maija Arela told how they have used some worn out cashmere knitwear to make patches or pockets to garments and to create personalized new products. Same personified qualities in aesthetics can be seen in dyeing of textiles when using environmentally friendly natural colors like Finnish natural indigo (a crop called dyer's woad) (Kääriäinen & Niinimäki, 2019). This creates a feeling of privilege and rarity as luxury.
Conscious consumers seek to save money for a luxury item if it is sustainably produced instead of spending on fast fashion or on a luxury product made in socially and environmentally unsustainable circumstances. This is one of the key factors in a success of small design driven fashion brands now in Finland. They are not high-end brands in a global scale but accessible for mid-price segment customers. The low prices must be compensated for the consumers and this compensation can be a feeling of doing good or belonging to a community.
Luxury lies in the respectful use of materials as they are selected and produced with care of environment. Cashmere or silk beside new cellulose-based textiles give garments a sense of luxury. Tactile pleasure combines with the pleasure of engagement in sustainable consuming. However, the impacts on environment and social sustainability of textile materials are most complex. Silk is one example of this complexity with very inconsistent research results. There are many chemicals, pesticides and fertilizers used in the different stages of sericulture activities, including plantation, rearing, grainage and weaving. (Wani & Jaiswal, 2011, p. 86) On the other hand sericulture provides an excellent opportunity for socioeconomic progress in the context of developing communities. First and foremost, sericulture is a highly labor-intensive industry. (Kasi, 2013, p. 3) Silk is a renewable and biodegradable natural material when compared to oil based artificial fibers but on the other hand, silk is imported to Finland from the other side of the globe and transportation has a great carbon footprint. However, compared to cotton materials, environmental effects of silk are less harmful. There are contradictory research, diverse perspectives and complex discussions about all the materials used in fashion, like cashmere, lamb wool, silk, cotton or any other natural fiber compared to various artificial materials. As the CEO of Weecos formulated their sustainability aims: "It is impossible to be 100% sustainable, but we can do our best and continuously develop. We are never ready."
Design for emotional durability
Designing emotional durability is to create items that consumers want to use longer because they have a special relationship to them. (Karell, 2018, p. 111) The consumer wishes to take care of the garment, maybe even to repair it. This emotional bond can be connected to the feeling of friendship, belonging to the same community, to have common goals and values with the producer, to sympathize with the brand or to relate to some personal memories. (Ræbild & Hasling, 2018, p. 137)
One can easily comprehend the pleasurable engagement by looking at Uhana's flower print dresses made of silk and cotton mixed materials. Their aesthetics is enjoyable both tactilely and visually, and extra pleasure comes from the locality of nature-inspired prints. The leaves in the "Green leaves" print were picked from the Pyynikki Park in Tampere in the company's hometown or as in Spring/Summer 2018 collection's fabric, the printed flowers and weeds can be found in the Finnish nature and backyards. Their products also celebrate women's rights and "Girl power" as qualities in the Finnish society. The locality does not have to be limited to traditional folklore imagery; it can refer to locality in aesthetically and socially current ways. Maybe this is one reason why so many Finnish politicians (as our current Prime Minister) or TV-persons like to wear Uhana's clothes to show their statement on sustainability or culture.
Design on demand
Voglia is a Finnish women's fashion brand which has made responsible fashion since 1983. It is considered in Finland as a medium-size company. Voglia is also an example of a more established company making continuous efforts towards sustainability and trying to find novel approaches all the time. Voglia has managed to keep their production mainly local and are constantly developing the ways of making sustainable solutions. Now they have launched a model that exploits digitality – the purchases are made via online shopping and they have special loyalty program for frequent customers. The idea is that a loyalty customer has an opportunity to see the newest collection before others and then engage to buy sales articles in her own size and most desirable colors. The company assures that a privileged customer can get perfect articles when she wishes during the season. For a company, this gives a better possibility for production planning to avoid waste and wrong production. (Kristiina Virtanen from Voglia Oy, interviewed in 2019) There are numerous means to develop fashion business towards better responsibility and each company must find its own way.
The role of the small forerunner companies in responsibility means being the creators of new business models. As Satumaija Mäki (interview on December 4, 2019) from the Finnish Textile & Fashion Organization says it is not enough if 30% of fashion business is responsible and 70% is not, but a full 100% must be the goal. Large and small companies benefit each other, e.g. small ones utilizing leftovers – the waste streams from large companies and on the other hand small companies create new models for customer behavior and emerging criteria for sustainability in fashion design. Thus, understanding the importance of both large and small companies helps small brands to create vital business in the challenging competition.
In all these examples, multidisciplinary communities and networks with people who share similar values are vital to tackle the complexity, uncertainty and volatility of fashion business in the globalized world. In 2020, Häme University of Applied Sciences has started new education program Smart and Sustainable Design to respond to the current challenges in fashion industry.
Authors
Doctor of Arts Pirjo Seddiki is a principal lecturer in HAMK Smart and Sustainable Design. Seddiki has made her doctoral dissertation in Aalto University on aesthetic values and art education. She has written about philosophy of art, applied arts, fashion design and methodology of design research.
M.A. Tarja Saari is a senior lecturer in HAMK Smart and Sustainable Design. After graduating from Aalto University she worked as a designer. As a lecturer she has been working since 1991 on the areas of design process and project work in cooperation with companies and in international projects.
References
Arela. (n.d.). Knitwear care. https://www.arelastudio.com/pages/knitwear-care
Bertola, P. (2018). Reshaping Fashion Education for the 21st Century World. In N. Nimkulrat, U. Ræbild, & A. Piper (Eds.), Soft Landing (pp. 7–16). Aalto University School of Arts, Design and Architecture.
FAB. (2018). Fashion, Textile and Business, Issue 3. https://issuu.com/suomentekstiilimuoti/docs/fab3_english_issuu
Finnish Textile and Fashion (2018). Rahankäyttö vaatteisiin ja jalkineisiin Suomessa. [The spending of money in clothes and footwear in Finland]. https://s3-eu-west-1.amazonaws.com/stjm/uploads/20181017102830/Rahank%C3%A4ytt%C3%B6-vaatteisiin-ja-jalkineisiin-Suomessa-17.10.2018.pdf
Global Fashion Agenda. (2019). Pulse of the fashion industry 2019. https://www.globalfashionagenda.com/pulse-2019-update/#
Kapferer, J.-N., & Michaut, A. (2015). Luxury and sustainability: a common future? The match depends on how consumers define luxury. Luxury Research Journal, 1(1), 3–17. https://www.researchgate.net/publication/281507225_Luxury_and_sustainability_a_common_future_The_match_depends_on_how_consumers_define_luxury
Karell, E. (2018). Design for Circularity: The Case of circular.fashion. In K. Niinimäki (Ed.), Sustainable Fashion in a Circular Economy (pp. 96–128). Aalto University. http://urn.fi/URN:NBN:fi:aalto-201904022470
Korkman, O., & Greene, S. (2017). The changing relationship between people and goods: A fresh perspective on our need for "stuff" and the role of sustainability in emerging consumer behaviour. Sitra Studies 122. https://www.sitra.fi/julkaisut/changing-relationship-people-goods/
Kurkela, J. (2019, May 7). 5 reasons to invest in Papu.
https://papustories.com/blogs/invesdor/5-reasons-to-invest-in-papu
Kääriäinen P., & Niinimäki K. (2019). Towards sustainable textile materials: Potential Pathways and Dialogues between Disciplines. NORDES 2019: WHO CARES?. Aalto University. https://acris.aalto.fi/ws/portalfiles/portal/35789639/Kaariainen_Niinimaki_Towards_sustainable_textile_materials.pdf
Manzini, E. (2013). Resilient systems and cosmopolitan localism — The emerging scenario of the small, local, open and connected space. https://www.sustainablelifestyles.ac.uk/sites/default/files/newsdocs/ws48_0.pdf#page=72
Manzini, E. (2015). Design, When Everybody Designs. An Introduction to Design for Social Innovation. MIT Press.
McKinsey & Company. (2019). The State of Fashion 2019. https://www.mckinsey.com/~/media/McKinsey/Industries/Retail/Our%20Insights/The%20State%20of%20Fashion%202019%20A%20year%20of%20awakening/The-State-of-Fashion-2019-final.ashx
Miller, D. (Ed.) (2005). Materiality. London: Duke University Press.
Niinimäki, K. (2015). Ethical foundations in sustainable fashion. Textiles and Clothing Sustainability, 1, Article 3. https://doi.org/10.1186/s40689-015-0002-1
Nordnet. (2018, July 17). Kysely: sijoittajat muita kansalaisia vastuullisempia ostospäätöksissään. [A Survey: Investors More Responsible than Other Citizens in Their Shopping Decisions]. https://blogi.nordnet.fi/kysely-sijoittajat-muita-kansalaisia-vastuullisempia-ostospaatoksissaan/
Nurmi, A. (2017). Vihreät vaatteet. [A Guide to Green Clothing]. https://issuu.com/vihreatvaatteet/docs/vihreatvaatteet-opas
Ræbild, U., & Hasling, K. (2018). Sustainable Design Cards; A Learning Tool for Supporting Sustainable Design Strategies. In K. Niinimäki (Ed.), Sustainable Fashion in a Circular Economy (pp. 128–151). Aalto University. http://urn.fi/URN:ISBN:978-952-60-0090-9
Wani, K. A., & Jaiswal, Y. K. (2011). Health hazards of rearing silk worms and environmental impact assessment of rearing households of Kashmir, India. Indian Journal of Public Health Research & Development, 2(2), (84–88).
Weecos. (2018). Tarina & tiimi [Story & team]. https://www.weecos.com/fi/tarina-tiimi
Weecos. (24.04.2019). What's Weecos Survey Like? [Blog post]. https://www.weecos.com/en/blog/whats-weecos-survey
LISÄÄ AIHEEN YMPÄRILTÄ / RELATED POSTS