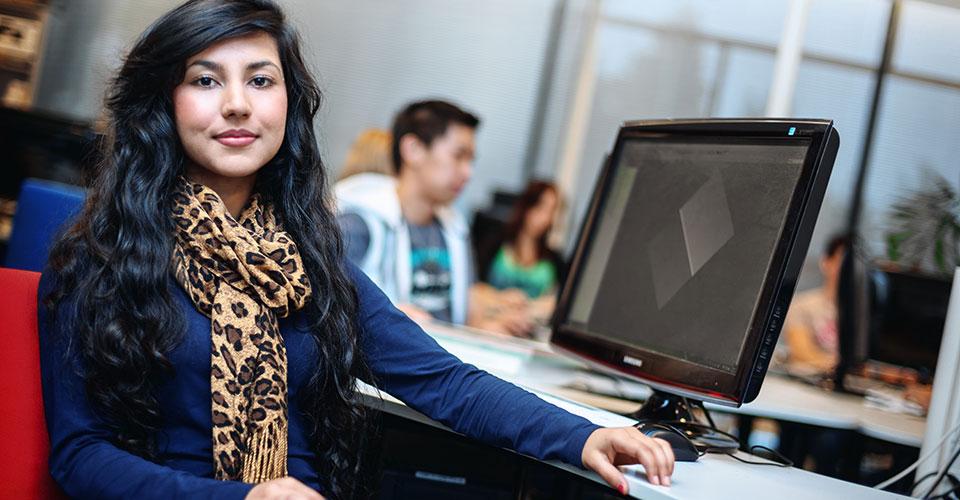 Annaleena Kolehmainen, Iris Humala, Peter Aziati, Santeri Pahkasalo & Tuomas Rantanen
01.02.2021
In Finland, the population is aging, and the birth rate is falling, which means that the country will face a labor shortage that its own younger generation is unable to fill. One solution to the labor shortage problem is to increase international graduates' employment to support economic growth. This is the main objective that the Go Strong Project, which will be more thoroughly introduced later on, will try to achieve. The international graduates are so far an underutilized resource in the Finnish labor market. The unemployment rate in the foreign-born population in Finland at the end of 2018 was 14.1% (women 16.6% and men 11.9%), while the average rate of unemployment was about 7.5% (OECD, 2019; EURES, 2019).
Finding jobs in Finland has been significantly more difficult for international graduates than for the Finnish ones. This is the situation also in Southern Pirkanmaa, even though international graduates are willing to stay and contribute in diverse ways to the Finnish economy. Most of the foreign students who have studied in Finland and in Southern Pirkanmaa, leave after completing their studies even though there are many companies in several industries that need skilled employees in the region.
In this paper skills are defined as expressed requirements by employers and other parties. Previous research has shown that international students should possess the following skills in order to improve their employability: relevant work experience, team working skills, mastery of their own field, intercultural competences, leadership skills, computer skills, knowledge of other fields in addition their own study field, project coordination skills, analytical and research skills, and ability to rapidly require new knowledge. The employers appreciate especially the following skills: knowledge of the Finnish language, relevant work experience, and attitude referring to ambition, motivation, energy and evidence of being an achiever. (Shumilova, Cai, & Pekkola, 2012). However, the skills that are needed from international graduates in the employment market especially in Southern Pirkanmaa are so far unexplored.
The context of this study is a two-year Go Strong project (2018–2020) financed by European Social Fund (ESF) and implemented by Häme University of Applied Sciences (HAMK) International Business unit (IB) in Valkeakoski. The main research question is to discover and explore what skills are needed from the perspectives of companies and their co-workers, and students and alumni and job markets, when integrating international students, who are graduating from Valkeakoski, into the world of work locally in the Southern Pirkanmaa region. The research question will be answered through three bachelor thesis studies integrated in the Go Strong project and conducted by international business graduates from HAMK. A qualitative research approach is mainly used to answer the research question. 
First, this paper introduces the Go Strong project as the case context, then outlines the three studies, their methodology and results. At the end, it discusses the findings and limitations and provides directions for future research.
Case Go Strong
The main objective of the Go Strong, Global Competence to Regional Competitiveness project is to enhance employment of international students to micro, small and medium enterprises (MSMEs) in the Southern Pirkanmaa region. The main actions during the project were defined as personal coaching offered to international students, different events for companies and students, and different workshops to improve students' competences in job searching, as presented in Figure 1.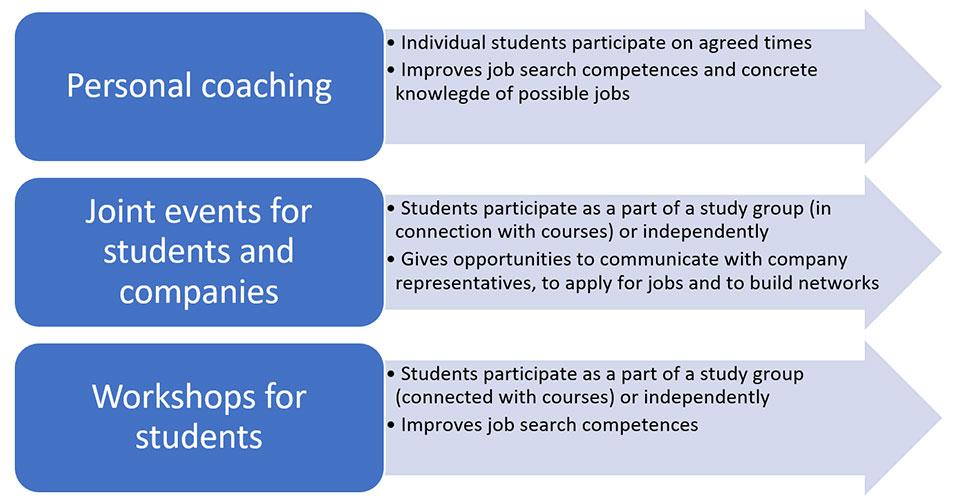 During the Go Strong project it has been noticed that it is very demanding to get the internship positions or jobs from local employers for international students, but via alumni the co-operation is smooth. Consequently, alumni are one of the groups that should be emphasized when creating cooperation with the companies. In addition, as international students do not have a natural network, creating a network in the area would be extremely important for them also from the employability perspective. In order to ensure that the also in the future the international students can utilize all the understanding gained during the project there will be created a practical guide for job search. In addition to creating a practical guide for job search, alumni co-operation, co-operation agreements with companies and creating a workplace mentor system, as presented in Figure 2., have been added as one of the main actions in the Go Strong Project.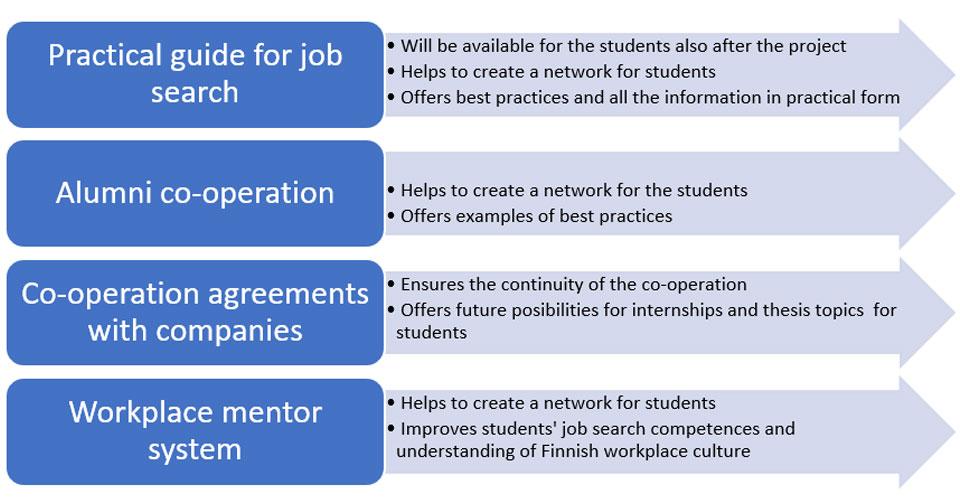 In the Southern Pirkanmaa region, as in rest of the Finland, the aging of population has affected negatively to dependency ratio, which already at 2016 was 58.5, and is has been forecasted to raise to 67.4 by the year 2040. (Pirkanmaa, 2020) The demographic dependency ratio means the number of children and pensioners per one hundred persons of working age. (Söderling, 2010, p. 5) Forecasting is demanding and depends on several different factors. Positive dependency ratio in the future can only be achieved via immigration. (Ruotsalainen, 2016)
Currently, several areas in Finland suffer from lack of employees, and the situation has deteriorated. At the beginning of year 2018 there were 39 occupations that suffered from lack of employees, and at the beginning of the year 2019 already 54. (Valtioneuvosto, 2019) According to the Finland Chamber of Commerce, even two thirds of the companies suffer from lack of a competent workforce, and most of the companies were small and medium-sized enterprises (SME). Because there is no possibility to increase the amount of workforce amongst the Finnish employees, the amount of foreign workforce needs to be increased. (Kauppakamari, 2019)
Empirical studies
During the year 2019, three Bachelor's level theses were conducted by HAMK IB students. All the three studies concentrated on the same theme, namely what skills are needed from international students, who are graduating from Valkeakoski, to be employed locally in Southern Pirkanmaa region. All the studies had different perspectives and accordingly the viewpoints of companies, co-workers, students, alumni and job markets were studied.
Study 1: The perspective of recruiting professionals and LinkedIn job advertisements
Study 1 explored the following research question: "What skills and proficiencies employers are looking for in international graduates?" In this qualitative study, four interviews using open-ended questions were conducted with recruitment professionals who frequently work with foreign job seekers, and a job advertisement comparison was made in LinkedIn. For the study the author selected the job advertisements in LinkedIn which were either written in English or that required English language proficiency. The job advertisements, around 100 in total, were collected between June and August 2019. The interview questions were mainly related to skills and proficiencies that employers are expecting from university graduates, benefits the graduates could provide to the various companies, and reasons why employers might be wary to hire international graduates. An analysis of skills defined in job advertisements, and the criteria utilized by employers in hiring foreign employees were used as the data analysis procedure. (Pahkasalo, 2019, pp. 7, 17)
Most job advertisements revealed that employers increasingly look for employees who have a flexible skill set and focus on skills like communication and team working skills. In making hiring decisions, employers mainly rely on existing references and connections that a job seeker may have from a previous position. Having a professional proficiency in the Finnish language was also a crucial factor in making a hiring decision. (Pahkasalo, 2019, pp. 15, 19)
Study 2: The perspective of companies, their managers, employees and co-workers
Study 2 discovered the experiences of the employers working with foreign employees and discovered the benefits that the foreigners bring to the workplace. The research question was:" How can Finnish businesses benefit from having international graduates and what do they need to consider when hiring them?" The study used face-to-face and email interviews of managers, international employees and their co-workers in SMEs in Pirkanmaa as its main research method. Three email interviews were conducted, and three face-to-face interviews were made at the company's premises in May 2019. The same interview questions were used in both interviews, and the questions varied from the recruitment processes of foreigners to their orientation processes. A content analysis was used to analyze the results. (Rantanen, 2019, pp. 9, 16)
The results highlighted that a clear benefit the international employees bring to the company is diversity. Kreitz (2008, p. 102) defines diversity as "any significant difference that distinguishes one individual from another", and by way of that description broadly covers both obvious and hidden attributes of diversity. This means that international employees bring different approaches, viewpoints and ideas to be shared to increase the performance of the company. International employees can also increase the overall motivation in the whole workplace, as foreigners' motivation can be spread to Finnish employees thus increasing their motivation towards the job. In addition, international employees can bring new opportunities for companies to grow and expand into new market areas. The main problem that they face in the workplace is the Finnish language knowledge. The language barrier between an employee and an employer or an employee and their co-workers can cause difficulties in instructions, orientation and work itself. (Rantanen, 2019, pp. 21, 23)
Study 3: The perspective of international students and alumni
Study 3 focused on the perspective of students and alumni to address the research question on how international students create opportunities and competences for themselves to be employed in Finland. A mixed-method approach was implemented in the study to analyze and compare the results in a constructive manner. Five face-to-face and Skype interviews were conducted with four HAMK foreign international business graduates who already had work experience and one HAMK foreign international business undergraduate. The interviews were conducted in Tampere in April 2019. The interviewees were aged between 22 to 28 years. Surveys were sent in April 2019 to 42 selected HAMK foreign international business students who participated in Go Strong and Growth and Internationalization events. Out of the 42 respondents, 21 valid responses were received, with respondents aged between 20 to 27 years. A content analysis was used to analyze the qualitative data and the Statistical Package for Social Sciences (SPSS) the survey questionnaires. (Aziati, 2019, pp. 25–27)
Study 3 revealed that international graduates must create opportunities through networking with professionals and company people. Finnish language skill is a key factor. The graduates should participate in company projects and jobs fairs, study basic computer programs, and be active on job portals such as LinkedIn. They should familiarize themselves with the culture and have good communication skills to engage with people from diverse backgrounds. Work placement is another platform that they can easily use to penetrate the job market. (Aziati, 2019, pp. 28–35)
The results of the studies
The key findings from the three studies are summarized in Table 1 below and are categorized based on the research perspectives and results of each individual study.
Table 1. Main findings of the studies.
Study
Research perspectives
Results
Study 1
Employers and recruitment professionals
Requires flexible skill set focusing on soft skills like communication and team working skills.
Requires increased emphasis on references and networking and connections.
Finnish language skills are the most needed skills in workplaces.
Study 2
Companies, employees and co-workers
International students and graduates bring diversity to the workplace and working culture.
They increase motivation among the employees by example.
They open new market opportunities for business to expand.
Lack of language skills influence as a barrier between employees and understanding the instructions.
Study 3
International students and alumni
Requires networking with professionals and people who have links with companies.
Benefits from participating in both universities, company projects and job fairs.
Requires studying basic computer programs that are often needed at the workplace and being active on job portals.
Demands adapting to the cultural system and having good communication skills.
Benefits from work placements during the studies.
Finnish language skill is a necessary key factor.
Method of analysis
This study was conducted mainly as a qualitative study aiming to understand better the skills needed by international graduates to integrate locally into the world of work. The research interest for this paper was to understand and interpret the findings of the three studies, from which Study 1 and 2 relied on a qualitative approach and Study 3 on a mixed-method approach. The interpretivist orientation helps a researcher to understand "a whole phenomenon via the perspective of those who actually live it and make sense of it" (Newton Suter, 2012, p. 344). The analysis was iterative and included specifying, grouping and appraising the key content of the three studies, and synthesizing the data collected. The focus in the final interpretive analysis was on the results of the three studies. The data collected for this paper has been analyzed and discussed in several phases by five authors with a different background, age, and expertise. Firstly, each of the three international business graduates analyzed their results individually for their Bachelor's theses. Secondly, they analyzed their methodological choices and results together. Thirdly, the results were discussed and interpreted together by the graduates and two supervisors who are familiar with the Go Strong project in HAMK, and finally by the two supervisors together. At the end, the results were reflected with the objectives of the Go Strong project.
The next section discusses the findings of the study, and the final chapter brings up limitations of the study and directions for further research.
Discussion
This paper aimed at better understanding which skills are needed from the international graduates to integrate them to local workplaces in Southern Pirkanmaa, and how these perspectives are implemented in the Go Strong Project. The main contribution of this paper is discussed below.
The Go Strong Project confirmed the findings of Study 2 that opening new market opportunities for businesses to expand has proven to be one of the motivators for companies to hire international graduates. Both Study 1 and Study 3 emphasized that networking is extremely important for international students. Getting references is crucial for being employed. This same finding has been one of the leading objectives of the Go Strong project through organizing workshops, re-structuring alumni cooperation and creating a workplace mentor system. The Go Strong project has shown that employing international students is a longer process, and by networking it is possible to create smaller steps toward employment.
Studies revealed that having a flexible skill set focusing on soft skills like communication and team working skills, being active on job portals, and adapting to the cultural system is a must for international students in finding a job in Finland. The very same approach has been adopted also in the Go Strong project as all the activities of the project try to enhance the students' own activity and encourage them to take initiative supported by personal coaching and alumni's experiences. Creating practical instructions for the students' job searching will be included in the project actions utilizing alumni's experiences. Enhancing students' team working and communication skills and knowledge on the basic computer programs needed at the workplaces have not been included in the project's actions as those skills are gained throughout the studies. However, it is important to encourage students to emphasize these skills when applying for jobs, as digitalization can be as one of the areas where internationals students' competences would be welcomed in local MSMEs. Further, regional brokers to change mindsets and to enhance the integration between international students and graduates and regional MSMEs are increasingly needed.
The importance for Finnish language skills was strongly confirmed in all the three studies, which highlights the importance of Finnish language skills in the Southern Pirkanmaa region. Improving Finnish language skills was not one of the specified objectives of the project, but one of the outcomes of participating in different company projects. In addition, alumni examples and different workshops are important to motivate the students to study Finnish. Teaching Finnish to international students could be a theme for a common regional development project.
Based on the findings and the analysis, the main strengths of the Go Strong project are in defining the importance of alumni and highlighting small steps in creating networks for international graduates in the region. It is extremely important to take full advantage of the alumni, their positive attitude, networks and experiences in joint events, projects and when creating job search instructions. In addition, trying to create networks for international graduates by involving them to various activities with local companies, and involving them already in the beginning of their studies into a workplace mentoring programme is crucial, if they want to be employed in the area. In general, the findings of this study are in line with those of Pylväs' (2018, pp. 68–69) dissertation about the challenge of vocational educational institutions to build stronger networks to working life and develop workplaces as learning environments together with working life stakeholders.
When the new and more intense alumni cooperation will be established, it is planned to be shared in whole HAMK. Also, workplace mentoring programme and concrete instructions utilizing alumni's experiences will be shared throughout whole HAMK. All these best practices of Go Strong project could be applied in other regions in Finland.
Limitations and directions for future research
Regarding limitations, this paper consisted of three studies by international business graduates from HAMK. As the three studies were bachelor-level studies, the size of the research groups had to be restricted, which may have affected the findings. However, as the data for this study was collected from respondents who represented various perspectives and differed in their backgrounds, it can be regarded as representative for this study. Though, additional empirical evidence from multiple cases and different geographical areas is needed to extend the findings of this study.
The Go Strong project indicates that growth-oriented companies targeting new market areas and companies mainly operating in international sales would be interested in hiring international graduates. Further studies are needed to define if the companies that are willing to hire international graduates have some joint characteristics, and if they do, what the characteristics are and why they exist.
The results of this study emphasized the significance of diversity. Based on this study and experiences from the Go Strong project, future studies could focus more on the role of diversity especially in regional MSMEs in different fields of industry and how to enhance diversity in them. In addition, focusing the role of diversity offered by international students and graduates entirely on start-ups, would broaden the understanding of the mindsets of start-up entrepreneurs about the value of diversity in business.
Moreover, deepening theoretical understanding both on alumni cooperation and work-related mentoring especially from the perspective of networking and integrating international graduates to the local region is needed.
Authors
Annaleena Kolehmainen, Lecturer, HAMK International Business; Project Manager, Go Strong project.
Iris Humala, RDI Specialist, Haaga-Helia University of Applied Sciences.
Peter Aziati, BBA, graduated from HAMK International Business in 2019.
Santeri Pahkasalo, BBA, graduated from HAMK International Business in 2019.
Tuomas Rantanen, BBA, graduated from HAMK International Business in 2019.
References
Aziati, P. L. A. (2019). Competences needed for international business students to be employed in Finland [Bachelor's Thesis, Häme University of Applied Sciences]. http://www.urn.fi/URN:NBN:fi:amk-2019102920337
EURES. (2019). The European job mobility portal. Labour market information – Finland. https://ec.europa.eu/eures/main.jsp?catId=2597&lmi=Y&acro=lmi&lang=en&recordLang=en&parentId=&countryId=FI&regionId=FI0&nuts2Code=null&nuts3Code=null&mode=text&regionName=National%20Level
Kauppakamari. (November 1, 2019). Työvoimapula ja talousnäkymien epävarmuus riivaa suomalaisyrityksiä [Labor Shortage and Uncertainty of Economic Environment Burden Finnish Companies] [Press release]. STT Info. https://www.sttinfo.fi/tiedote/kauppakamari-tyovoimapula-ja-talousnakymien-epavarmuus-riivaa-suomalaisyrityksia?publisherId=25106402&releaseId=69868502
Kreitz, P. A. (2008). Best practices for managing organizational diversity. The Journal of Academic Librarianship, 34, 101–120. https://doi.org/10.1016/j.acalib.2007.12.001
Newton Suter, W. (2012). Introduction to educational research: A critical thinking approach. Second edition. Sage Publications.
OECD. (2019). Foreign-born unemployment (indicator). Retrieved 12 December 2019 from https://data.oecd.org/migration/foreign-born-unemployment.htm
Pahkasalo, S. (2019). Proficiencies and skills that employers seek from graduates [Bacherlor's Thesis, Häme University of Applied Sciences]. http://www.urn.fi/URN:NBN:fi:amk-2019110120527
Pirkanmaa 2020. Väestönkehitys [Demographic Change]. Retrieved 3 March 2020 from https://www.pirkanmaa.fi/tutki/avoin-data/tietopalvelut/vaestonkehitys/
Pylväs, L. (2018). Development of vocational expertise and excellence in formal and informal learning environments [Dissertation, Tampere University]. Acta Universitatis Tamperensis 2353. Tampere University Press. Retrieved 30 January 2020 from http://urn.fi/URN:ISBN:978-952-03-0664-9
Rantanen, T. (2019). Experiences of working with foreigners [Bachelor's Thesis, Häme University of Applied Sciences]. http://urn.fi/URN:NBN:fi:amk-2019110420579
Ruotsalainen, K. (2016). Vanheneva väestö ja alhainen työllisyys korkean huoltosuhteen taustalla [Aging of Population and Low Employment Underlying High Dependency Ratio]. Tieto & Trendit. Asiantuntija-artikkelit ja ajankohtaisblogit. Tilastokeskus. https://www.tilastokeskus.fi/tietotrendit/artikkelit/2016/vanheneva-vaesto-ja-alhainen-tyollisyys-korkean-huoltosuhteen-taustalla/
Shumilova, Y., Cai, Y., & Pekkola, E. (2011). Employability of international graduates educated in Finnish higher education institutions. VALOA-project, Career Services. University of Helsinki. https://www.researchgate.net/publication/233426293_Employability_of_International_Graduates_Educated_in_Finnish_Higher_Education_Institutions
Söderling, I. (2010). Factors affecting population size in Finland – the role of immigration and population policies. Institute of Migration, Turku, Finland. Paper presented at the IX Finn Forum Conference, Thunder Bay, Canada, May 31st, 2010. https://pdfs.semanticscholar.org/7c75/5d6d156428835155d482abddf2086eb1406f.pdf
Valtioneuvosto. (March 28, 2019). Työvoimapula vaivaa yhä useampaa ammattia [Increasing Number of Occupations Suffering from Labor Shortage] [Press release]. Ammattibarometri. https://valtioneuvosto.fi/artikkeli/-/asset_publisher/1410877/ammattibarometri-tyovoimapula-vaivaa-yha-useampaa-ammattia
LISÄÄ AIHEEN YMPÄRILTÄ / RELATED POSTS