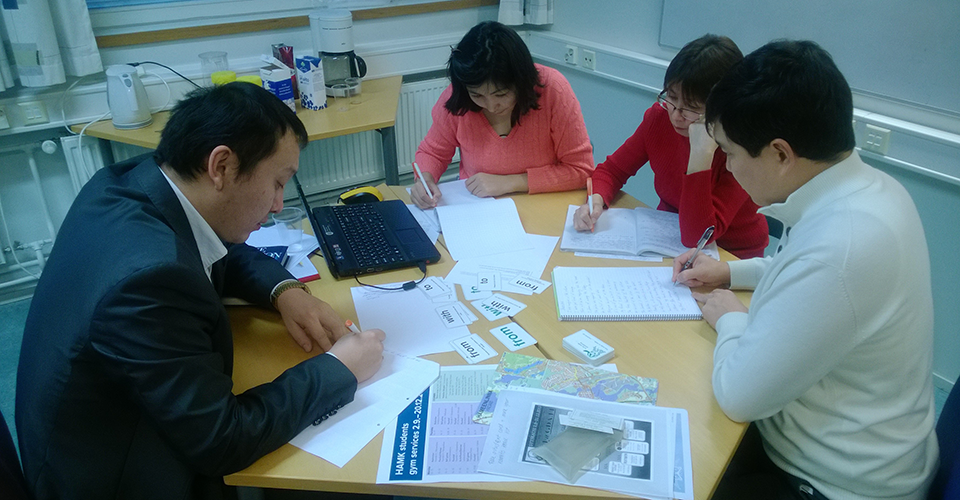 05.06.2019
Nowadays we are living in a global society where people must be multilingual. Nazarbayev Intellectual Schools seek to build learners' linguistic competence in order to develop effective communication and facilitate access into higher education of an international standard.
A decree on the State Program for the Development and Functioning of Languages in the Republic of Kazakhstan for 2011–2020, issued by the President of the Republic of Kazakhstan in 2010, concerned the development of languages in new conditions and the improvement of the regulatory and legal framework. The decree aimed at strengthening the institutional status of the Kazakh language, preserving the sociolinguistic activity of the Russian language and developing English as a means of integration into the world space. (Kazakhstan Ministry of Education and Science, 2011)
In this article, I present the results of the pedagogical experiment on the use of CLIL (Content and Language Integrated Learning) methodology in physics lessons within the framework of the Summer School on the basis of the NIS PhM (Nazarbayev Intellectual School of Physics and Mathematics) Taraz. CLIL is the term used to describe a methodological approach to teaching foreign languages in which foreign language teaching is integrated with subject teaching. Coyle, Hood, and Marsh (2010, p. 41) argue that proper integration of content learning and language learning in a specific context results in effective CLIL through:
progression in knowledge, skills and understanding of the content;
engagement in associated cognitive processing;
interaction in the communicative context;
development of appropriate language knowledge and skills;
the acquisition of a deepening intercultural awareness, which is in turn brought about by the positioning of self and 'otherness' (Savić, 2012, pp. 42–43).
The course was intended for the eleventh grade students studying in the Summer School, to help the students in the transition of content and teaching language. At that time, it was expected that the program of STEM subjects was expected to be switched to English language (L3) in the academic year 2017–2018. The program involved around a hundred eleventh grade students, aged between 16–17 years old. The core the programs were practical activities, aimed at developing students' academic skills and expanding their knowledge in physics.
What was done?
Once the content and language goals were chosen, the lessons were planned in collaboration with international colleagues who are language experts. In the planning stage, four local and two foreign physics teachers tried to foresee the possible language difficulties and provide planning and support for tackling the difficulties.
Each lesson started with a section of video or audio. To develop listening skills, students listened and completed tasks such as filling out tables, building charts, or completing a gapped text. Each lesson included authentic texts, matching the age and language skill levels of the Grade 11 students. Students also worked in pairs and groups of up to eight students during the lessons.
In order to identify the difficulties and possible areas for improvement, I used survey, observation and researcher's diary to identify the difficulties and possible areas for improvement. The purpose of the survey was to understand my colleagues' perspectives on the current topic. The survey contained only open-ended questions. Observation was needed to monitor how the theory is applied in practice.
Challenges and advantages in CLIL
Both the observation method and the survey gave similar results. All the interviewed teachers agreed that both teachers' and students' English language proficiency need to be improved. Teachers participating in CLIL recognized the need to change their teaching methods used in L1 (Kazakh Language) when teaching the same content in L3 (English Language). Most CLIL teachers took part in the training organized by the NIS Autonomous Education Organization for the training of CLIL. Two international physics teachers, who participated in the CLIL training, also taught English for a while.
CLIL teachers' participation in bilingual seminars helped in their professional development, as well as in sharing learning experiences with other teachers who apply the CLIL methodology in teaching. All the interviewed CLIL teachers answered that the content is not affected when teaching in a foreign language. Yet they stated that teaching in a foreign language requires more effort and time. They also noticed changes in their professional performance since having worked in the CLIL classroom during Summer School (Jussambayev, 2018).
The results of this study agreed with Vera Savić's results: teachers experience several challenges when using CLIL, such as the low English proficiency of some local teachers and students, the lack of CLIL materials, and collaboration between teachers of language disciplines and subject teachers (Savić, 2012, pp. 42–43). Some of the challenges are addressed by applying differentiation, scaffolding strategies, and tutoring.
It is noteworthy that students speak Kazakh when working in groups. This is corrected at times, but correcting definitely is not the norm. Lesson planning, which is carried out in the third language, requires cooperation between language teachers and teachers of non-linguistic disciplines. During the planning process, the language teacher helps in setting the language goal of the lesson, and the subject teacher then works on the subject matter of the lesson. Such cooperation between teachers helps to create a good educational environment in the classroom.
References
Coyle, D., Hood, P., & Marsh, D. (2010). Content and Language Integrated Learning. Cambridge: Cambridge University Press.
Jussambayev M. (2018). Developing integrated Physics lessons in English language as L3 for secondary students of Nazarbayev Intellectual Schools (NIS) in Kazakhstan. European Educational Research Association. Retrieved 24 October 2018 from https://eera-ecer.de/ecer-programmes/conference/23/contribution/44334
Kazakhstan Ministry of Education and Science. (2011). Государственная программа развития и функционирования языков в Республике Казахстан на 2011–2020 годы [State Program of Functioning and Development of Languages in the Republic of Kazakhstan 2011–2020]. Retrieved 15 April 2017 from http://control.edu.gov.kz/ru/gosudarstvennaya-programma-razvitiya-obrazovaniya-na-2011-2020-gody
Savić, V. (2012). Effective CLIL Lesson Planning: What Lies Behind It? In R. Popović & V. Savić (Eds.), Content and Language Integrated Learning (CLIL) in Teaching English to Young Learners, pp. 35–42. Jagodina: University of Kragujevac Faculty of Education in Jagodina.
Author
Mirlan Jussambayev is Bachelor of Education in Physical Science and Master of Pedagogics. He teaches physics in Nazarbayev Intellectual school of Physics and Mathematics in Taraz.
Reference to the publication:
Jussambayev, M. (2019). Facilitating CLIL in Nazarbayev Intellectual Schools (NIS) through physics lessons. HAMK Unlimited Professional 5.6.2019. Retrieved [date] from https://unlimited.hamk.fi/ammatillinen-osaaminen-ja-opetus/facilitating-clil-in-nis
http://urn.fi/URN:NBN:fi-fe2020111690411

This material is CC licensed Attribution-ShareAlike 4.0 International.
LISÄÄ AIHEEN YMPÄRILTÄ / RELATED POSTS