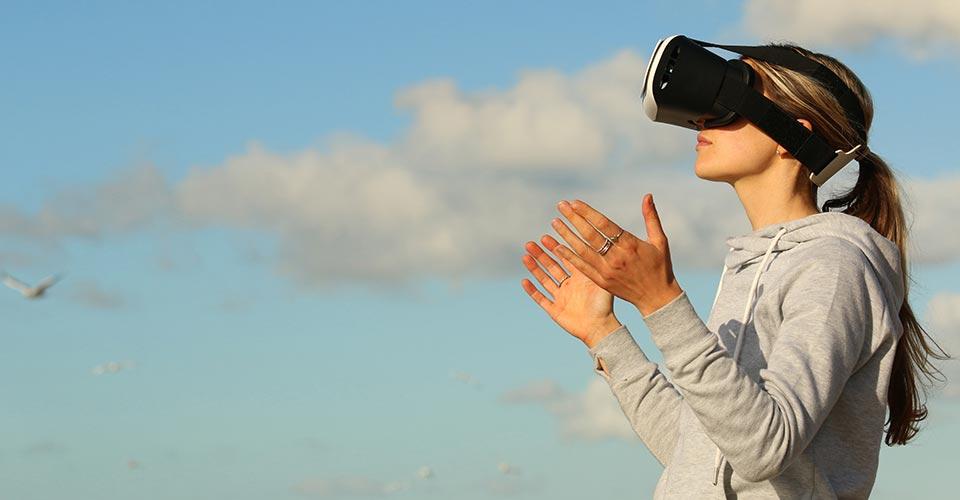 Juho Luoto, Juha-Matti Torkkel & Jari Jussila
16.09.2021
The ongoing pandemic has forced a large proportion of students and employees to work remotely from their homes using video conferences, voice calls and text chats. Some of the more popular platforms are Zoom, Skype and Microsoft Teams. All these platforms share a common problem. The complete non-verbal communication, such as body language and facial expressions, are not transferring through the platforms, causing a loss of important information in the process. To address this challenge, we evaluate virtual project rooms that offer solutions for retaining import information in online communication.
Virtual reality platforms
Virtual reality (VR) platforms present one alternative solution to remote work (Jalo, Pirkkalainen, Torro, Lounakoski, & Puhto, 2020) that can restore some of the non-verbal communication that is missing in video conferencing and text-based remote working platforms. With VR technology you can point at things and interact with objects. The presence of others in a three-dimensional environment can by itself create a better immersion when compared to a video call.
HAMK Design Factory (DF) in collaboration with HAMK Smart Research Unit (HAMK Smart) started a hunt for a perfect virtual project room in 2019 (Järvinen, 2019). A solution named Glue was investigated to replace a physical project room with a virtual one. As COVID-19 forced DF to switch to remote learning mode in March 2020, there was a need to enable building and testing of prototypes also online (Mikkonen & Närhi, 2020). Glue was chosen as the platform for this trial.
Overall, using Glue platform was found inspiring. Glue made a real effort towards a more immersive learning experience. However, at the time of testing, Glue lacked many functionalities that are available in a physical project room and it relied heavily on VR equipment that most students did not have. Despite recognised challenges (Mikkonen & Närhi, 2020) the DF staff still perceives potential in the use of VR platforms. Juho Luoto in collaboration with HAMK Smart and HAMK School of Entrepreneurship and Business has benchmarked various social VR platforms starting with the Mozilla Hubs.
Mozilla Hubs
Mozilla Hubs advertises itself as an open source project, which means that the source code of the platform is publicly available for everyone to see and use freely. This offers the possibility to add any missing features into the platform.
Research on the platform started with testing its existing features with different devices and by listing those onto our own documentation. Mozilla Hubs supports lots of different devices, including mobile devices, browsers, and of course different VR devices.
Many useful features were discovered from the platform, for instance, the possibility to bring 3D-models into the environment and interact with them. This feature supported two different 3D-model libraries, Google Poly and Sketchfab, as well as, importing 3D-models in the glb-format. The platform has also a drawing function, where you can freely draw onto the walls of the environment or into the air by using a VR device. However, some problems were found regarding this feature, which highly restricted its use in e.g. brainstorming. One of the problems was that all drawn lines would start disappearing ten minutes after they were drawn.
Mozilla Hubs platform focused on desktop users instead of VR users, for example only desktop users could import 3D-models into the environment. There was also a limit of 20 concurrent objects in the environment at the same time, the only exceptions that did not count towards this number were drawings. This limitation did not seem to cause any problems in the scale we were intending to use the platform.
Regarding open source functionality it was discovered that the documentation was greatly lacking in such early phases of the platform. There were also no suitable example projects that could be used to learn how to add features, like sticky notes, to the platform.
Alternative social virtual reality platforms
When the state of Mozilla Hubs was not quite what we expected, the research was expanded onto alternative VR platforms. To save time the majority of the research was based purely on the documentations of the platforms. This approach differed from the one used with Mozilla Hubs where Juho personally tried all the features in practice. These other platforms were: Altspace, Bigscreen, Engage, Facebook Horizon, Hoppin', Meetingroom.io, Spatial, VirBELA, VRChat and VR Conference.
The differences between the platforms varied e.g. in maximum concurrent users, features and price. All platforms mentioned offer their services free of charge, but some of them are using a subscription tier system, where purchasing a more expensive tier will grant you extra capacity and so forth. The maximum number of concurrent users varied a lot between the platforms, the biggest was offered by VirBELA at 500, and the smallest was Hoppin' with only four. The average user capacity was around twenty users in the same virtual space.
Majority of the platforms were clearly created for virtual conferences and work-related events, whereas for example VRChat was focused more on unofficial usage, for instance chatting with friends or meeting new people. Hoppin' also has a more lightweight approach where the idea is the possibility to discuss with up to three other users in almost anywhere on earth. Facebook Horizon on the other hand was still in closed beta, and it was difficult to tell what the final direction of development would be. The missing sticky note feature from Mozilla Hubs was also missing from most of the other platforms as well. The only platforms that had this feature were Engage and Meetingroom.io.
The features and details of every platform are summarized in a comparison chart that can be used to assist selection of platform to user needs. The compared qualities were price, supported devices, maximum number of concurrent users, whether you could create private rooms, user management, user created content and its basic features, like drawing, sticky notes and media sharing.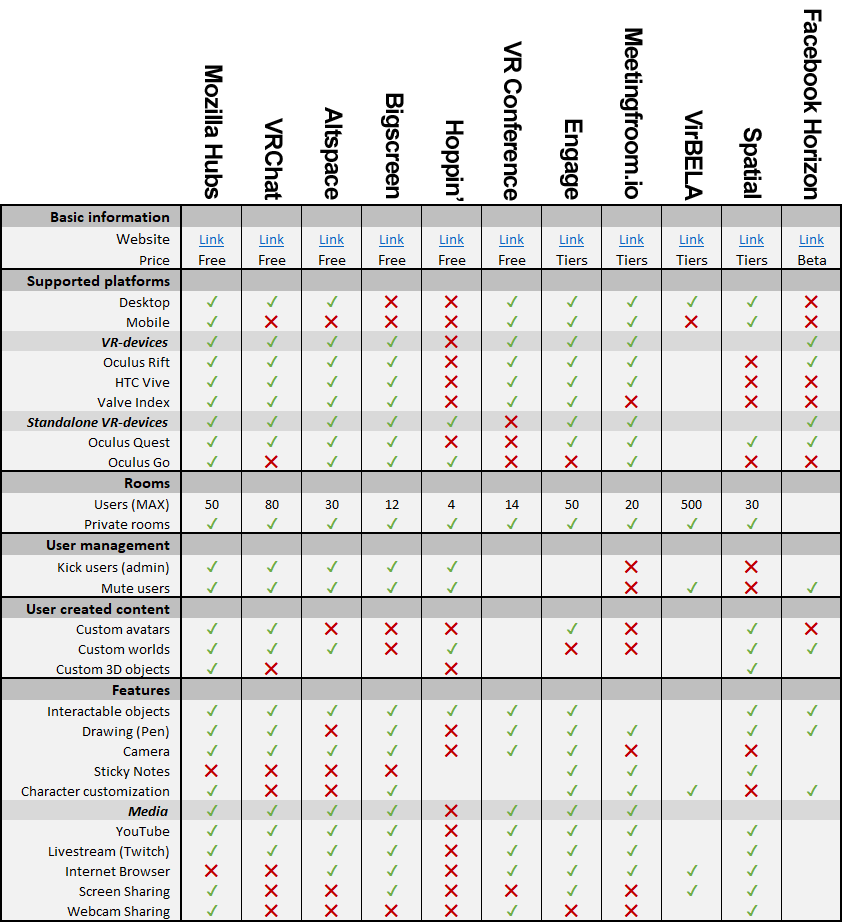 Conclusions regarding virtual reality platforms
According to study, VR platforms are promising, and they will be a useful addition to the remote working toolkit. The presence of others can already be felt on a totally different level when moving in a three-dimensional environment. The features of most of the platforms are exceptionally good for virtual conferences, or for example architecture, where everyone gets to look at a three-dimensional model.
None of the platforms offered a perfect package with all the features that we wished for. The platforms are under a constant updating process and new platforms are still appearing onto the market as a side product of the pandemic. Technically the platforms work well but most of them are missing good tools for group work inside the platform. One step closer to the perfect platform would be to research and integrate a good group work platform such as miro.com into these platforms or similar functions. It is almost certain that eventually there will be a VR platform with just the right features, that does not require expensive hardware, which again would keep it reasonable in the BYOD model. Until one appears, our hunt continues.
Authors
Juho Luoto opiskelee tietojenkäsittelyn opintoja viimeistä vuotta HAMKissa. Harjoittelu sai alkunsa mielenkiinnosta peleihin ja pelimoottorien kanssa työskentelyyn. Toiveammattina olisikin päästä vielä pelien pelaamisesta myös niiden devaamiseen.
Juha-Matti Torkkel has a bachelor's degree in mechanical engineering from Häme University of Applied Sciences. He has been building HAMK Design Factory and coordinating gamEngine Lab at HAMK Smart Research Unit, executing projects focused on game engines, augmented reality and virtual reality solutions for industry.
Jari Jussila, DSc, Director of HAMK Design Factory and Principal Research Scientist at HAMK Smart Research Unit. Jari Jussila has been co-creating interdisciplinary learning opportunities in Design Factory and School of Entrepreneurship and Business at Häme University of Applied Sciences.
References
Jalo, H., Pirkkalainen, H., Torro, O., Lounakoski, M. & Puhto, J. (2020). Enabling Factors of Social Virtual Reality diffusion in Organizations. In Proceedings of the 28th European Conference on Information Systems (ECIS): An Online AIS Conference, June 15-17, 2020 (pp. 1–15). Association for Information Systems.
Järvinen, N. (2019). Virtuaalisen ryhmätyötilan toteutus Glue-alustalla: Case Design Factory. http://urn.fi/URN:NBN:fi:amk-2019122127818
Lavine, M. (2020, June 15). Why Zoom fatigue is a thing. Retrieved 14.10.2020 from https://www.brainerddispatch.com/newsmd/wellness/6534296-Why-Zoom-fatigue-is-a-thing
Mikkonen, M., & Närhi, J. (2020). Applying Virtual Environments in Distance Learning of Product Development. HAMK Unlimited Professional 16.6.2020. http://urn.fi/URN:NBN:fi-fe2020061644611
LISÄÄ AIHEEN YMPÄRILTÄ / RELATED POSTS