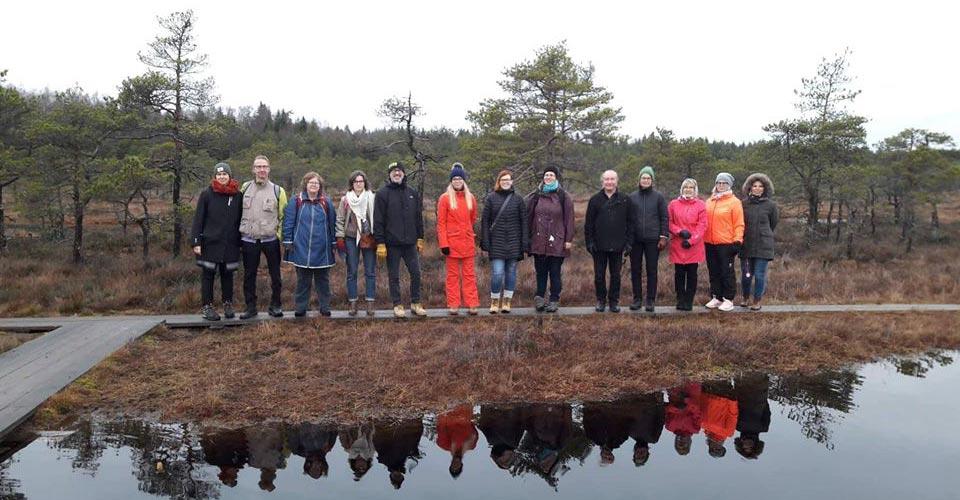 Katrin Lipso, Jane Langemets, Kaidi Pill, Liina Pihol, Bäbby Täht, Kertu Rummel & Mairi Laht
16.09.2021
The importance of the effect our daily environment has on us is easy to underestimate and often does not get as much attention as needed. Multisensory environments (MSEs) offer versatile ways to support people with special needs. This was the focus of Speducult project.
Käo Basic School staff members (teachers, music therapist, administrative workers) were participating in Nordplus Horizontal Speducult project from 2017 to 2019. The project focused on special education and multisensory environments (MSE). This was a networking project bringing together people from different institutions (universities, schools, centres etc) and different fields all interested in creating and using multisensory environments.
The aims of the project were:
To survey current MSE cultures on a Nordic-Baltic Level, to improve quality and innovation of studies and practices of MSE in lifelong learning: in higher education, in adult education and special education at primary school in participating countries.
To provide new practical ideas for designing sensory activity of arousal and calming with best practices of applied MSEs.
To strengthen and expand the Spedutec Nordplus Horizontal network with new partners, institutions and organisations.
To disseminate up-to-date MSE knowledge and practices for a broader Nordic and Baltic audience who is/are interested in MSEs.
During this project, we had five meetings – in Norway, Finland, Estonia, Denmark and Sweden. In this 2-year period, each country executed a survey about multisensory environments in their own country. The questions were formed together and were the same in every country. Later, national groups compared and shared their results.
Results from Estonia showed that there is very little or no education about using and creating MSEs and there is a definite need for it. The knowledge is spread from practitioner to practitioner and many different environments are considered MSEs (not only specially designed sensory rooms but also nature, pool, cooking etc.). There is a great interest in belonging to a MSE network and sharing knowledge.
The meetings and the best practices
As there were so many different countries involved in the project, the joy of meeting each other was evident. Besides nice cultural themes, there were important topics to discuss. The participants were sharing both work-related and cultural experiences. The official part of forming the group had already been done earlier (during the last project Spedutec) and we were able to enjoy the fruits of our labour. We visited different countries and organisations dedicated to working with people who need more support. This project allowed the staff of our institution to find a common ground and develop some new approaches.
Joy is the base of everything. When we meet and inspire each other, we are more motivated to work. From these meetings we got information and confidence to make new decisions about MSEs – we were sharing and discussing openly both pluses and minuses of creating/using MSEs. Learning from other peoples' experiences is very valuable. Participating in this project gave us a wider perspective on what is possible, what is necessary and how to use existing resources.
Visiting different organisations, and observing and testing various MSEs gave everybody an understanding that there are different practices and meanings behind these environments, but we all use them as a tool to support people with special needs. When we are able to share experiences with different practitioners, the knowledge becomes more unified and forms a common ground for understanding MSE. Sometimes seeing other creative practitioners is more inspiring than all the expensive technological tools. The common understanding was that we all care about the target group, spreading the knowledge and making sure there are more specialists who feel connected in the field of MSE (networking).
It became clear there is no right or wrong way to create a multisensory environment, and the responsibility lies on the shoulders of a skilled companion who carefully guides the user through the MSE experience, considering their needs. As Estonians, we were happy to recognise that nature is being considered as a great multisensory environment and it is being used in different therapy settings (special gardens, countryside living, hiking etc).
We had a chance to try out different activities first-hand. Of course, there were numerous different Snoezelen rooms but also some "out of the box" experiences and environments. For example, it was very inspiring to visit Denmark Sølund music festival for people with intellectual disabilities. It is possible to create so-called special conditions in a seamless way so everybody could still participate and feel good. We were highly impressed with the enthusiasm of the creator of Biblio Tøyen in Oslo – the environment and the founders perspective of life was very inspiring. In the last meeting in Gothenburg, we had a chance to bond in a dance class in Spinn Dance Company. This was a unique and uniting experience. The concept of this studio is that everybody can dance, dancers with and without a disability are all equal. From the Estonian meeting, the best memories are from nature. Hiking in a bog gave us many multisensory experiences. For our everyday work, it has been useful to see or experience the "small things" – some applications, pieces of equipment, photos and videos of other specialists' work etc.
The conclusions and benefits
It is very important to have evidence-based and practice-based knowledge. We all agreed that Estonian universities should be more involved in the MSE field. They should be willing to teach new professionals and also support experienced professionals with innovative approaches. At the moment, in Estonia, we are mainly learning-by-doing practitioners and we can share our experiences. Maybe in Estonia things are going a bit backwards – first come the professionals who learn by doing, then comes networking, and later the universities come along.
We are more inspired and more active in using different multisensory environments with our pupils, for example lessons in nature, museums, or other environments. Our student council regularly chooses a new theme for the sensory room of Käo Basic School.
We will always remain in need of more knowledge, but overall, this project has helped us to become more conscious of our methods in MSEs and in our daily work. Our project participants are working directly with end-users. Speducult project provided new ideas, new connections, and new perspectives to design MSE environments collaboratively.
While this new knowledge is being spread and taken in, it is important to involve administrative people. It will create a common understanding for everyone making it easier to start local activities or build your own MSE with local resources. Also, when there is a chance to try out technological tools or experience environments firsthand, there is a better understanding of priorities for your own institution and using of space for MSEs (funding, tools, users, assistant etc).
We have already started creating a network in Estonia, some of the previous connections have become stronger and while conducting our survey, we got feedback that people are very interested in sharing and networking. The collaboration has so far taken place between similar institutions, but it has included both staff and pupils. Now we have had a chance to map out the current MSE situation in Estonia and have some basic information to start with. It would be important to have some basic information about using MSEs in Estonian as we currently have no "manual".
We have some good examples of collaboration that are direct benefits of Speducult international networking and contacts. Mikko Romppanen, lector of Hämeen ammattikorkeakoulu (HAMK) gave a music workshop in Käo Basic School in November 2018 (this event also helped to create a network in Estonia – we asked colleagues from other institutions to join us). In September 2019, our staff visited Sofianlehdon Toimintakeskus, where we had a guided tour and workshop with Jaakko Salonen, an experienced therapist with great knowledge about multisensory environments. We were sharing the benefits with Käo Support Centre – some members of staff were able to join in.
All in all, we are grateful for these years of sharing experiences and meeting all these lovely professionals. Hopefully, it will kick-start the MSE-networking and knowledge spreading in Estonia and we will be able to meet and co-create again in the next Spedu-projects.
Authors
Katrin Lipso, MA in special education from Tallinn University. Has worked in special education field for 10 years with PMLD adults and children. Teacher in Käo Basic School. Teaching Estonian language and AAC for PMLD children, interested in communication, creating and using multisensory environments. During last years has participated in Spedutec and Speducult projects.
Jane Langemets, MA in social work (2006), University of Tartu. Quality manager in Käo Support Centre, member of the board in NGO Inimeselt Inimesele. Has been working at the Käo Support Centre since year 2002 in different positions.
Kaidi Pill, MA in special education from Tallinn University. Special education teacher in Käo Basic School. Has been working in special education field for over 19 years. Specialised in AAC, is also training new workers and giving lectures on AAC.
Liina Pihol, MA. Principle of Käo Basic School. Has been working with special needs children since 1997 in different positions. Has worked as a special education teacher, now for the last 10 years as the head of Käo Basic School. Important part of this job is to create an environment where pupils with special needs can learn and feel good.
Bäbby Täht, Teacher in Käo Basic School, teaching PMLD children (focus on senses, cognition and perception), interested in multisensory environments, new technologies and networking with people working in the same field.
Mairi Laht, MA in special education. Teacher in Käo Basic School. Has worked with special needs children since 2009 in Estonia and England (as a social worker and a teacher).
LISÄÄ AIHEEN YMPÄRILTÄ / RELATED POSTS