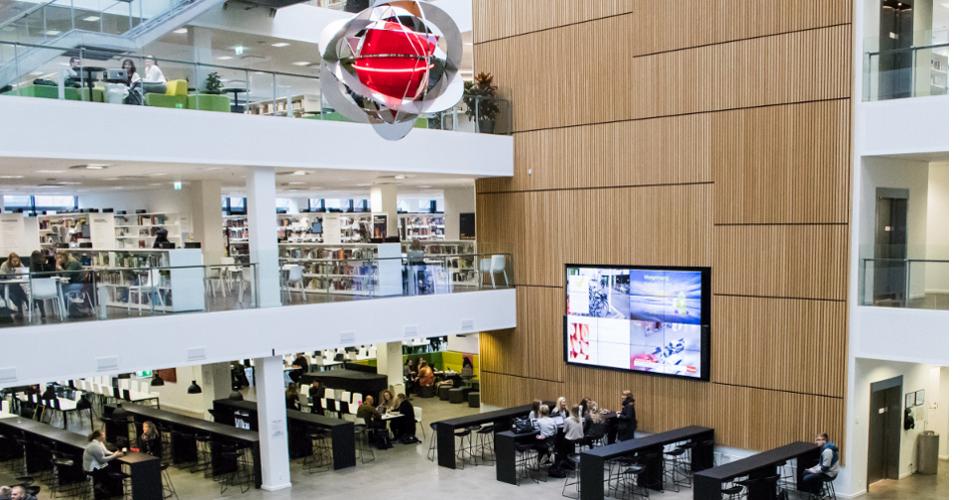 Sinikka Luokkanen, Maria Lassila-Merisalo, Eerika Kiuru, Rebekka Laaksonen, Katja Laitila, Pirjo Keskinen-Vento, Kari Mikkonen, Tiina And & Asta Ojala
20.12.2016
Co-operation is a very good way to develop one's modus operandi. In Finland, the libraries of the universities of applied sciences work hand in glove with each other within the AMKIT consortium. However, international co-operation is conspicuous by its absence.
During the last few years, we have made some tentative attempts to find an international partner to co-operate with, but without success. VIA University College in Central Denmark is one of HAMK's strategic partners. Thus, it was natural for us to approach them. In late October, nine staff members of HAMK library travelled to Århus to meet with the VIA library staff and to map potential areas of co-operation.
Our objective was to encompass all library aspects as widely as possible. During preparatory discussions with VIA library, four topics had been selected to be dealt with in special interest groups. The topics were information literacy, the library as a space, acquisition of e-resources, and research support given by the library. These are discussed below.
Common ground in information literacy
During the Århus visit we found out that the practices of teaching information literacy are quite similar in Finnish and Danish campuses. Teaching methods may vary a bit from campus to campus and from one degree programme to another, but the main goals are the same: to guide students and staff members to search, manage and evaluate information effectively.
In order to become experts in their fields UAS students need to know how to update their professional knowledge. The most efficient way to do this seems to be integrating the information literacy studies with the vocational studies. Information specialists need to collaborate with the UAS teachers and help them to improve their skills in information literacy.
Because both HAMK and VIA information specialists deal with these same challenges, possible areas for future collaboration could be, for example, the learning badges for UAS staff members and the evaluation of the information literacy teaching methods and their effectiveness. HAMK uses learning badges for staff training, and the HAMK library is involved in this process by offering a learning badge on information literacy. VIA library, on the other hand, is currently thinking about ways to evaluate the impact and effectiveness of their information literacy education.
New and upcoming library spaces
We shared tips and experiences about the spaces of our UAS libraries in HAMK and VIA University college with Per Steen Hansen, the Head of VIA libraries. VIA University College has a new campus (Århus C) which includes a new main library, while the new main library in HAMK University centre is under construction and expected to be ready in spring 2017. The libraries are not comparable as such, since the new HAMK library will only be 450 square meters in area, whereas the VIA library covers an impressive 1,600 square meters, on two floors.
While planning the new spaces, VIA library asked the students what the library should be like. The ideas were good and valued greatly, because they gave the library a view from a client point of view. The whole VIA Århus C campus space, including the library, is very open with several different studying areas, which seems to meet the students' needs. However, the main campus library does not have any specific silent study area, and, according to Hansen, surprisingly few students have even asked for one.
Strong emphasis on e-resources
We learned that VIA library purchases e-resources both by itself and via DEFF, Denmark's Electronic Research Library. Partially government-funded DEFF negotiates contracts on behalf of its client libraries and provides other valuable services as well. FinELib is the equivalent organization to DEFF in Finland, and HAMK library has found it a very helpful service to complement its own purchases. DEFF also arranges an annual two-day conference where database vendors and their clients can meet and network with each other. The vendors have the opportunity to introduce their products but there is more to it: the meeting usually has a chosen keynote subject that the lectures and discussions deal with. This might be a good idea to suggest to FinELib, too.
In 2015 VIA allocated an additional three-year funding of 1,3 million Danish Crowns (around 172 000 Euros)  solely to e-acquisitions. This was to support research and development in VIA. Prior to this extra funding VIA subscribed to some 25 databases but now they have as much as 55 databases on offer. Whether this funding is continued after 2017 remains an open question at the moment. HAMK library regards this kind of e-resource funding as a nationwide competitive advantage and together with other universities it could suggest more government support to national e-resource purchases in Finland.
VIA library has a strong focus on marketing e-resources. There is always a database guide available provided either by VIA or the publisher. The statistics show that VIA's marketing efforts are really boosting the usage of the databases and there is certainly much HAMK can learn from VIA in promoting e-resources.
Printed material is preferred along e-resources among some degree programmes (Nursing, Teacher education) while others are more inclined to use only databases. This is to some extent true also in HAMK.
Library supporting research activities
The Ministry of Education and Culture in Finland is actively steering research organizations towards Open Science, and it is following the efforts of each organization. A national project (http://openscience.fi/) develops and offers support and services for higher education. There is an Open R&D working group at HAMK, preparing a support service for researchers. The service will include actors from project services, IT services, library and information services, and communication services. From the viewpoint of the library, this requires new competencies from the information specialists involved, including e.g. knowledge in open access publishing. With resources declining, this means that job descriptions need to be redefined altogether. We are in the middle of this process as we speak.
VIA library is also developing their support for researchers, but from a slightly different point of view. In 2013, the university colleges in Denmark received a government grant targeted at improving the quality of research. This resulted in a significant increase in the number of research databases. However, the library team for research support does not co-operate with other support services at VIA. Moreover, some of the staff at VIA have little time for research activities, and a rather low experience in writing and publishing, which sets challenges to the library: how to reach the researchers and what goals to prioritize during the limited amount of time together.
A look into the future
Our visit to Århus was a success, and it gave us plenty of food for thought. Now it is time to select some specific areas in which to continue and deepen our co-operation. The planning has started, as VIA library is already preparing a visit to HAMK in autumn 2017.
HAMK and VIA are also parties in an even bigger companionship. In May 2016, VIA , HAMK, and Feevale University from Novo Hamburgo, Brazil, signed a strategic international alliance agreement: Beyond – Alliance for Knowledge. The three universities have a total of 50,000 students. The aim of the agreement is to deepen the co-operation between the three universities. There are six individual co-operation areas, two of which include library-specific tasks: international research and international education. In this context, it is very important that the libraries of alliance partners also know each other and are able to support co-operation in education as well as in research activities. That is a challenge worth pursuing.
Authors
Sinikka Luokkanen, Maria Lassila-Merisalo, Eerika Kiuru, Rebekka Laaksonen, Katja Laitila, Pirjo Keskinen-Vento, Kari Mikkonen, Tiina And, and Asta Ojala all work at HAMK library and information services.
LISÄÄ AIHEEN YMPÄRILTÄ / RELATED POSTS