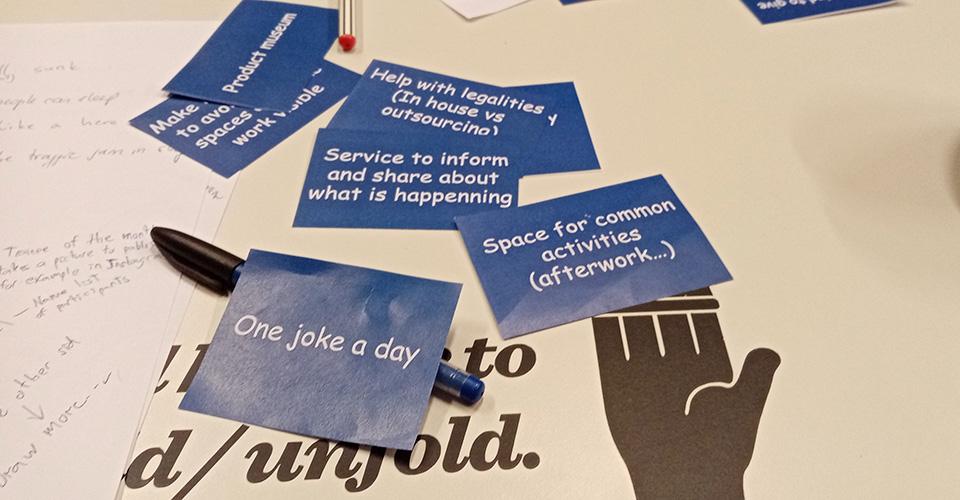 06.04.2021
Design Factory is not only a 'product' but also a concept of a possible service for everyone to access. It is aimed for those who have interest in the concept of learning through research, design, prototyping and testing their ideas. This concept encourages co-creation, constructive conversation, and the development of oneself and others. Design Factory started its operations at Häme University of Applied Sciences in 2019, as HAMK Design Factory.
What is Design Factory?
Design Factory is a location which contains the space, tools, knowledge, project ideas and possibilities for everyone to develop their skills and ideas (HAMK, n.d.a.). In a way, it is a product (space & tools) but also a service (knowledge & skill sharing), which provide the possibility for projects and skills to be developed. The first Design Factory was born at Aalto University, from a research project which focused on creating an ideal physical and mental working environment for product developers and researchers (Aalto DF., n.d.). HAMK Design Factory had their opening ceremony in August 2019, but its development had already begun in February 2019. Right now, in 2021, there are approximately 31 Design Factories around the world, two of which are in Finland, in Vantaa and Hämeenlinna. People at Aalto Design Factory (ADF) and HAMK Design Factory share the bias for action values of the Stanford d.school variant of design thinking (Jussila et al., 2020). However, there is a big difference in maturity between the two Design Factories. This is mainly due to their relative staff sizes, the age difference between the two and how much time each one has had to develop their possibilities with other schools and their university.
Design Factory is a place, where everyone from different backgrounds can come to collaborate and use everyone's background skills to further develop their groups or own ideas. This provides the opportunity to bring people together and foster an environment for mutual encouragement, listening and taking into consideration everyone's opinions, to reach a shared goal (HAMK, n.d.a.). Having a shared goal improves the co-creation process and helps each person to develop their communication skills even further because they are forced to take the ideas of others into consideration (Björklund et al., 2017, pp. 58–59). It is also an icebreaker for students to have a more relaxed type of conversation environment with, for example, the CEO of a major company. Design Factories are meant to break hierarchal barriers (Björklund et al., 2017, p. 9).
Aalto Design Factory
Aalto Design Factory (ADF) started its operations in 2008 and they have since developed their services and skill base sets through trial and error. During academic year 2019–2020, they provided 43 different courses to take place in ADF facilities, organized by different schools from Aalto and other parties. ADF roughly focuses on courses which are interdisciplinary, related to product development, design thinking, and innovation, include new types of experiments concerning pedagogy or at least utilize a problem-based learning approach. One of the courses they provide is called the Product Development Project (PDP) course, which takes about eight months to run through. The course focuses heavily on collaboration, co-creation, and design thinking elements.
ADF has 47 members of staff who work in communication and provide a wider field of expertise for students and visitors. This variety of expertise supports the Design Factory theme of interdisciplinary product design, which increases the chance of uniting students, teachers, researchers, industry communication and knowledge sharing (Martti J., Aalto Design Factory, interview 29th of June 2020).
HAMK Design Factory
HAMK Design Factory (HAMK DF) began its operations in August 2019 and since after the first year, they have provided four courses: Smart Design and the Smart Design Project, Rapid Product Development and the Data Analytics Project. The first Product Development Project (PDP) experience was organized from late 2019 to mid-2020. Compared to the PDP at Aalto Design Factory, the PDP at HAMK Design Factory was a bit different because it was held in two sprints, which together took about five months to run through. The idea behind running in sprints was to provide participating students the ability to manage the scheduling alongside their other courses more easily. This was also to give a chance for other students to jump into the PDP experience mid-way through the project. By the end of 2020, HAMK DF has provided five courses (the Smart Design Project, the IoT Project, Summer Studies, the Data Analytics Project, and Design Factory Design Thinking) and supported the creation of four study categories of HAMK (Smart Design, Design Thinking for Bioeconomy Engineering, Circular Economy, Design Factory Design Project) in addition to the PDP experience. By the end of 2020, HAMK Design Factory had provided courses, which combined have been involved with around 1,000 students from different study fields (Jussila J., HAMK Design Factory, interview 15th of June 2020).
HAMK DF has 11 staff members located on various HAMK campuses, which in total are seven campuses, three of which contain Design Factory facilities. The main location is in the Hämeenlinna University Centre, which also has most of the DF staff present. The staff members are from different fields and areas of expertise, who together aim to provide and develop the DF experience for students and visitors.
Possibilities of a Design Factory in HAMK?
HAMK Design Factory is a great addition for HAMK's educational and research and development purposes and collaboration. It provides an opportunity for students who want to create something, when they have an idea but are only missing the tools and guidance. Though DF is not only a space which provides the tools and equipment for prototype working but also a concept which supports co-creation and collaboration between different parties. This concept is something which Senior Lecturer in Design and Student Counsellor Aija Lundahl envisioned in her article (2019) of an "Impossible made possible" through a fabrication laboratory. A fabrication laboratory, or, in short, a Fab Lab, is a manufacturing laboratory. Instead of aiming for mass production, it aims towards brainstorming solutions, as well as testing and developing them. One course strongly representing this type of work environment is the Design Factory product development project (PDP).
Design Factories can bring a wide category of subjects and courses for students from different fields, which the students cannot likely get from their main field of study. For example, a design student could learn electronics and coding or a student of business studies could learn the fundamentals of brand design and its development. HAMK Design Factory can work as a bridge for different study departments inside of the University of Applied Sciences but also as a bridge for visitors outside of HAMK.
Conclusion
Design Factory usability in HAMK can bring a wider possibility for knowledge & skills-based sharing and a good reputation for the University of Applied Sciences. This does, however, first require rigorous testing and critical evaluation of:
Minimum needs of the users
Collaboration and communication with other HAMK departments
Budget management
Staff management
Courses and services
A 'copy-paste' type of transfer of concept from Aalto Design Factory (ADF) would not work because Aalto University works with different guidelines compared to HAMK Design Factory (HAMK DF). ADF has 10 years of testing and development behind them, when HAMK DF has only a year of development behind them. A better option is therefore to develop the already existing and shared spaces together with other HAMK degree programs. This enables all parties to get the most out of the interdisciplinary co-operation.
During this development phase, it would be beneficial for the early practices to be supported by open communication and a trustful atmosphere between parties. While also avoiding the collision of different opinions being turned into emotional disagreements or making final decisions based on assumptions.
HAMK DF is presently in the evaluation and development phase, specifically for its content and services development. This phase is not only in progress for the University of Applied Sciences but also for other parties outside of the university, including partners in the Design Factory Global Network and the European University network.
Author
Markku Mikkonen works as Technical Specialist in HAMK Design Factory. Some of his main tasks consists of maintaining the tools and equipment of HAMK DF, while also providing guidance for students in HAMK DF courses and projects.
References
Aalto DF. (n.d). Who we are. https://designfactory.aalto.fi/about/
Björklund, T., Laakso, M., Kirjavainen, S., & Ekman K. (Eds.) (2017). Passion-based co-creation. Aalto University. http://urn.fi/URN:ISBN:978-952-60-3741-7
HAMK. (n.d.a). Design Factory. https://www.hamk.fi/opiskelu-hamkissa/design-factory/
HAMK. (n.d.b). Design Factory Yrityksille. https://www.hamk.fi/design-factory-yrityksille/
Jussila, J., Torkkel, J.-M., Gautam, M., & Partanen, A. (2020). Aalto Design Factory Product Development Project – Lessons Learned. HAMK Unlimited Professional 20.1.2020. http://urn.fi/URN:NBN:fi-fe202001243236
Lundahl, A. (2019). Fab Lab – mahdottoman mahdollistaja. HAMK Unlimited Professional 18.06.2019. http://urn.fi/URN:NBN:fi-fe2020111690410
PDP. (n.d.). PDP, Product Development Project. https://pdp.fi/
LISÄÄ AIHEEN YMPÄRILTÄ / RELATED POSTS