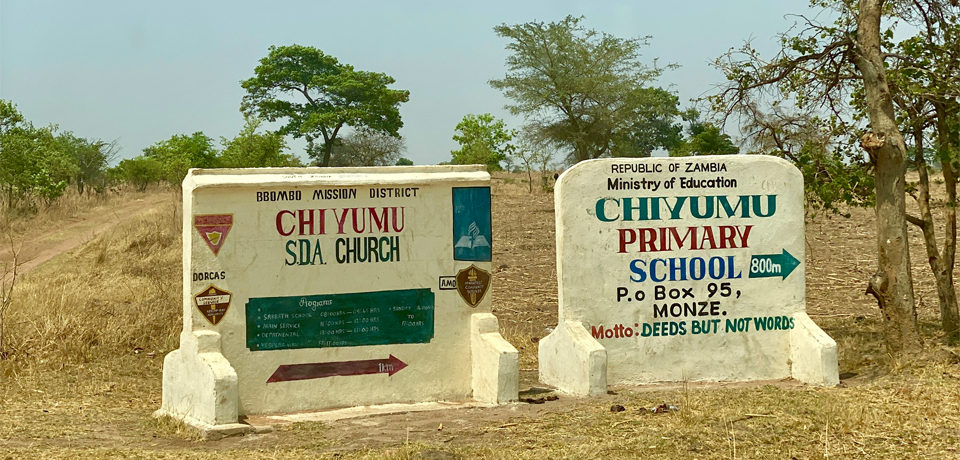 Leena Niemi, Jaana Määttä, Anni Ollinen, Janika Spångman, Satu Määttänen & Ulla-Maija Knuutti
05.04.2023
Over 90 percent of rural Zambians are dependent on forest resources for their energy needs (Bwalya, 2011). In urban areas, around half of Zambians use charcoal and another half electricity for cooking, and 6 percent utilize firewood. On the other hand, up to 81 percent of rural households depend on firewood for cooking, around one-sixth use charcoal and only 3 percent use electricity for cooking purposes (Tembo et al., 2015). Approximately 1.320 million tonnes of drywood are consumed annually as firewood in Zambia (Kalinda et al., 2008). Wood consumption is expected to grow due to population growth and a lack of accessible or affordable energy substitutes (World Bank, 2019).
Firewood collection, along with other household work, such as water supply, food preparation and childcare, is considered as women's responsibility (World Trade Press, 2010), and it comes with negative livelihood implications. Gathering firewood exposes women to injuries, attacks and violence (Njenga et al., 2021; WHO, 2022a). Usage, i.e., burning of firewood, generates household air pollution that causes an estimated of almost 10 000 premature deaths annually in Zambia (WHO, 2022b). Gathering firewood usually takes a considerable amount of women's time. Rural Zambian women walk on average 5 kilometres to gather firewood, taking up to 2 hours to collect head-load (10 kg) of firewood (Bwalya 2006 referred in Kalinda et al., 2008). This time is away from economical, educational and other important livelihood activities, thus maintaining poverty and underdevelopment (Adeyonu & Oni, 2014; Clancy et al., 2002).
Firewood and charcoal usage accelerate climate change directly through the emissions from burning wood, and indirectly through diminishing forests and wood resources. Zambia has one of the highest per capita deforestation rates in the world (Aongola et al., 2009), with charcoal production as one of the main drivers of deforestation (UNEP & UN-REDD, 2015). Charcoal manufacturing usually includes the felling of large hardwood tree species (Richardson et al., 2021). Firewood in Zambia, however, is often collected from dead wood, branches and sticks, and thus appears to have only a marginal impact on deforestation (Kalinda et al., 2008).
Renewable energy sources are emerging as an alternative to traditional fossil fuels all over the world (Adenle, 2020). Solar energy is especially seen as one solution to tackle global challenges such as climate change (Creutzig et al., 2017). Solar energy technologies can also contribute to achieving sustainable development goals in Africa, such as ending poverty (Adenle, 2020). Studies have shown that almost all provinces in Zambia fall within area with vast solar energy potential. It has been estimated that solar energy is the most efficient option for producing clean energy. (Mwanza et al., 2017)
Introducing Afstor solar cooker in rural Zambia for development and climate change mitigation
A Finnish company, Afstor Oy, aims to tackle firewood-related challenges and problems through its Afstor Solar Home and Cooker System (later referred to as the cooker). With its cooker innovation, the company pursues to improve the living standards of rural Africans, through access to electricity for cooking, lighting and charging, while also mitigating climate change with a clean energy source (Afstor, 2021).
The cooker is a photovoltaic system that includes an induction stove (Figure 1), solar panels to which the cooker is connected to, an integrated battery, a 12V socket for lighting, and charging appliances for mobile devices. The integrated battery enables two to three hours of cooking time (Afstor, 2020).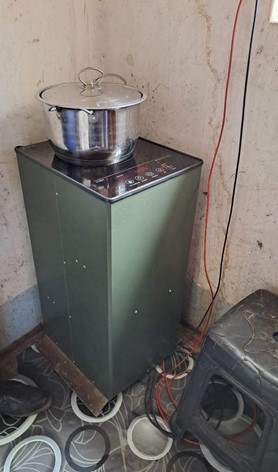 Afstor's business model is to attract partners to compensate for their CO2 emissions by supplying the cooker to a family or a community in Zambia (Afstor, 2021). According to Afstor (2019), one year of cooker usage, instead of using firewood, reduces 6.34 tons of CO2 emissions, equalling 54 200 km driven by a car with CO2 emissions of 117 g/km. As a prerequisite for obtaining the cooker, the Zambian cooker receivers agree to participate in tree planting, via Afstor's partner Green Living Movement (Afstor, 2021). Tree planting enhances carbon sequestration from the atmosphere and produces other ecosystem services (Afstor, 2021), such as food and shade.
Since 2019, approximately twenty cookers have been piloted and installed in the rural Zambian village of Chiyumu, located in the Southern Province of Zambia, around 220 kilometres from the country's capital Lusaka.
Some of the authors had an opportunity to visit the Chiyumu village and get acquainted with the cooker and its users, as part of a student challenge project organized by Häme University of Applied Sciences. Student challenges utilize a problem-based learning approach, which allows students to learn through real-life challenges within interdisciplinary teams (Määttänen et al., 2022). In this article – based on findings from the student challenge – we explore rural Zambian women's perceptions of the cooker.
Data collection and analysis
The data collection and analysis used qualitative research methods. The data was collected by the students participating in the student challenge in October 2022, during a two-day field trip at the Chiyumu village.
Twelve focus-group discussions (FGDs), with 3–30 participants in each were held with Chiyumu villagers by four mixed teams consisting of students from four universities[1] participating in the student challenge project. The student teams focused on different perspectives in their discussions, including cooker opportunities and challenges, and the influence of electricity and internet access to education. In addition, a brainstorming session was organized for 20 local women, using a method called the Crazy 8's. The Crazy 8's method, by Design Sprints (2020), pushes participants to create eight distinct ideas and create solutions for a problem. FGDs and the brainstorming session were held with the help of local students and villagers, who acted as interpreters from the Tonga language to English. In addition, local villagers were observed during the FDGs to account for nonverbal expression (Kawulich, 2005).
For this article the data was utilized as applicable, focusing on data supporting the theme of the article. Data, i.e., the notes from the FGDs, brainstorming sessions and observations, was analysed using data-oriented qualitative content analysis, following the stages described by Tuomi & Sarajärvi, (2009, p. 175). The data was first reduced by removing irrelevant content. The reduced material was then grouped based on the similarity of the topics and several concepts were created based on them. By combining these concepts, three main themes describing the data were formed: benefits of the cooker, built-in problems with the cooker, and lack of information.
Benefits of the cooker
The cooker brought benefits for the women. The most commonly mentioned benefit was increased opportunities for children, especially girls, to attend school, due to time saved from collecting firewood.
The better cooking efficiency of the cooker, compared to traditional open fire, reduced the time needed for cooking, and thus, increased the free time of women. This allowed women more time for other activities, such as household work and meeting friends. The increased time resources of women may bring significant economic benefits through increased participation in income-generating activities (World Bank, 2004). However, the interviewed women didn't mention an increase in income-earning activities resulting from the increased time resources.
Women had noticed that when using the cooker their lungs and eyes felt better, as compared to cooking with open fire, and the cooker did not cause burns. The health benefits of the cooker can indeed be significant, as reducing the use of biomass fuels improves health (Akpalu et al., 2011; Wu et al., 2021) and may save from premature death (WHO, 2014).
The cooker is more affordable for the villagers than previous innovations, like LP gas or kerosene, which have operating expenses (Schlag & Zuzarte, 2008). The cooker is "paid" by tree-planting, with no additional operating or acquisition expenses.
The benefits of the cooker were often listed by different participants in the same order. This questions the authenticity of the answers and thus, the validity of the findings, as it makes one wonder if the answers were memorized. However, also challenges of the cooker were pointed out, which on the other hand, shows that people were willing to discuss the downsides of the innovation.
Built-in problems with the cooker
Weather conditions have positive and negative impacts on the use of the cooker. In the rainy season, cooker owners don't need either to look for or use wet firewood. The wet firewood is heavier to carry and causes more health problems due to the thicker smoke (Jewitt et al., 2020). However, the cooker needs sunlight to load the batteries which can be challenging during the rainy season.
Women reported technical problems within the cooker. The cooker's battery does not always last long enough to prepare enough food. The cooker only has one hotplate, so open fire is needed when preparing several dishes simultaneously. The users have also noticed compatibility problems with the cooker's mobile chargers and lamps. Therefore, not all families can use all the features of the cooker.
The study revealed that the cooker hasn't fully replaced cooking with firewood, but women use a variety of cooking methods, including firewood, interconnectedly. This phenomenon of 'fuel stacking' has been reported in other studies as well (e.g., Njenga et al., 2021). Fuel stacking raises an important question of how much the cooker, or other energy-efficient stoves, reduce firewood usage.
Despite the downsides of the cooker, villagers were eager to receive the cookers, indicating that the benefits outweigh the downsides. Some of the villagers have even started the pre-required tree planting well in advance, in a hope of receiving the cooker as soon as possible.
Lack of information
The cooker users did not know how to properly use or wash the cooker or repair it if it broke down. Cooker owners hoped to receive a user's manual for the cooker. Concern was also raised about if and how the roofs of the houses can support the weight of the solar panels. The villagers wished to receive instructions on how to build a strong roof for the panels, or alternatively, if the solar panels could be placed on the ground instead of the roof.
Conclusions
Users of the cooker, Zambian rural women, recognized multiple benefits of the cooker. The main benefits perceived were increased time resources for other activities due to a reduced need to collect firewood and positive effects on women's health due to reduced exposure to burns and smoke. However, despite the cooker benefits, women still continue to use firewood in tandem with the solar cooker. This may be partly due to the built-in problems of the cooker and the lack of proper information on how to use and maintain the cooker.
To increase and enhance the usage of the cooker, we recommend improvements to the cooker attributes; to increase the number of hotplates, to improve the battery life and to accommodate the installation structures to the local housing structures. Cooker receivers and owners should be well trained on the usage and maintenance of the cooker, or at least a proper manual should be provided together with the cooker.
Willingness to obtain more cookers indicated that the cooker is well-wanted development despite its weaknesses. With continuous improvements to the cooker features and its promotion, the cooker may bring significant positive impacts to rural women and whole communities.
---
[1] Häme University of Applied Sciences and Aalto University from Finland, and Mulungushi University and University of Zambia from Zambia.
Authors
Leena Niemi, M.Sc. in Economics and Business Administration from Aalto University School of Business, and Bachelor of Natural Sciences from Häme University of Applied Sciences. She works as a sustainability specialist/consultant.
Jaana Määttä, Häme University of Applied Sciences, Sustainable Development Student.
Anni Ollinen, Häme University of Applied Sciences, Sustainable Development Student.
Janika Spångman, Häme University of Applied Sciences, Bioeconomy Engineer Student.
Satu Määttänen, M.Sc. in Agr. & For. and M.Sc. in Biol & Env from the University of Helsinki. Research Assistant in Häme University of Applied Sciences at Bio Research Unit.
Ulla-Maija Knuutti, M.Sc. In Rural Development from HAMK University of Applied Sciences. She works as a Senior Lecturer in HAMK Edu Research Unit.
References
Adenle, A. A. (2020). Assessment of solar energy technologies in Africa-opportunities and challenges in meeting the 2030 agenda and sustainable development goals. Energy Policy, 137, 111180. https://doi.org/10.1016/j.enpol.2019.111180
Adeyonu, A. G., & Oni, O. A. (2014). Gender time allocation and farming households' poverty in rural Nigeria. World Journal of Agricultural Sciences, 2(5), 123–136. https://doi.org/10.3/JQUERY-UI.JS
Afstor. (2019). No Title. Info. https://www.afstor.com/en/info_eng/
Afstor. (2020). Product. https://www.afstor.com/en/product/
Afstor. (2021). Homepage. https://www.afstor.com/en/homepage/
Akpalu, W., Dasmani, I., & Aglobitse, P. B. (2011). Demand for cooking fuels in a developing country: To what extent do taste and preferences matter? Energy Policy, 39(10), 6525–6531. https://doi.org/10.1016/j.enpol.2011.07.054
Aongola, L., Bass, S., Chileshe, J., Daka, J., Dalal-clayton, B., Liayo, I., Makumba, J., Maimbolwa, M., Munyinda, K., Munyinda, N., Ndopu, D., Nyambe, I., Pope, A., & Sichilongo, M. (2009). Creating and protecting Zambia's wealth: Experience and next steps in environmental mainstreaming. https://www.iied.org/17502iied
Bwalya, S. M. (2011). Household Dependence on Forest Income in Rural Zambia. Zambia Social Science Journal, 2(1), 67–86. https://scholarship.law.cornell.edu/zssj/vol2/iss1/6
Clancy, J. S., Skutsch, M., & Batcherlor, S. (2002). The gender-energy-poverty nexus: Finding the energy to address gender concerns in development. Prepared under DFID Project CNTR99852.
Creutzig, F., Agoston, P., Goldschmidt, J. C., Luderer, G., Nemet, G., & Pietzcker, R. C. (2017). The underestimated potential of solar energy to mitigate climate change. Nature Energy, 2(9), 1-9. https://doi.org/10.1038/nenergy.2017.140
Design Sprints. (2020). Crazy 8's. https://designsprintkit.withgoogle.com/methodology/phase3-sketch/crazy-8s
Jewitt, S., Atagher, P., Clifford, M., Ray, C., & Sesan, T. (2020). Energy and the environment in Sub-Saharan Africa: Household perceptions of improved cookstoves. In T. Haller & C. Zingerli (Eds.), Towards Shared Research: Participatory and Integrative Approaches in Researching African Environments – Opportunities, Challenges, Actualities in Natural and Social Sciences (pp. 91–124). Transcript Verlag. https://nottingham-repository.worktribe.com/output/881195/energy-and-the-environment-in-sub-saharan-africa-household-perceptions-of-improved-cookstoves
Kalinda, T., Bwalya, S., Mulolwa, A., & Haantuba, H. (2008). Use of integrated land use assessment (ILUA) data for forestry and agricultural policy review and analysis in Zambia. https://www.fao.org/forestry/16955-0c90798cee1e59a8542ede210a9834227.pdf
Kawulich, B. B. (2005). Participant Observation as a Data Collection Method. Forum Qualitative Sozialforschung / Forum: Qualitative Social Research, 6(2). https://doi.org/10.17169/FQS-6.2.466
Mwanza, M., Chakchak, J., Çetin, N. S., & Ülgen, K. (2017). Assessment of solar energy source distribution and potential in Zambia. Periodicals of Engineering and Natural Sciences, 5(2). http://dx.doi.org/10.21533/pen.v5i2
Määttänen, S., Knuutti, U.-M., & Laitinen, E. (2022). Piloting international student challenges: results on students' perspective. HAMK Unlimited Professional. https://urn.fi/URN:NBN:fi-fe2022062047869
Njenga, M., Gitau, J. K., & Mendum, R. (2021). Women's work is never done: Lifting the gendered burden of firewood collection and household energy use in Kenya. Energy Research & Social Science, 77, 102071. https://doi.org/10.1016/J.ERSS.2021.102071
Richardson, R. B., Olabisi, L. S., Waldman, K. B., Sakana, N., & Brugnone, N. G. (2021). Modeling interventions to reduce deforestation in Zambia. Agricultural Systems, 194, 103263. https://doi.org/10.1016/J.AGSY.2021.103263
Schlag, N. & Zuzarte, F. (2008). Market Barriers to Clean Cooking Fuels in Sub-Saharan Africa: A Review of Literature. Stockholm Environment Institute.
Tembo, S. T., Mulenga, B. P., & Sitko, N. J. (2015). Cooking Fuel Choice in Urban Zambia: Implications on Forest Cover (No 94).
Tuomi, J., & Sarajärvi, A. (2009). Laadullinen tutkimus ja sisällönanalyysi (6. uud. la). Tammi.
UNEP, & UN-REDD. (2015). Benefits of Forest Ecosystems in Zambia and the Role of REDD+ in a Green Economy Transformation. https://wedocs.unep.org/20.500.11822/32104
WHO. (2014). WHO Guidelines for indoor air quality: Household fuel combustion. https://www.who.int/publications/i/item/9789241548885
WHO. (2022a). Household air pollution. https://www.who.int/news-room/fact-sheets/detail/household-air-pollution-and-health
WHO. (2022b). WHO data: Household air pollution attributable deaths. https://www.who.int/data/gho/data/indicators/indicator-details/GHO/household-air-pollution-attributable-deaths
World Bank. (2004). The Impact of Energy on Women's Lives in Rural India. World Bank. https://openknowledge.worldbank.org/handle/10986/20269
World Bank. (2019). Country Forest Note: Zambia. https://openknowledge.worldbank.org/handle/10986/33239
World Trade Press. (2010). Zambia Women in Culture, Business & Travel (2nd ed.). World Trade Press.
Wu, Y., Entwisle, B., Sinai, C., & Handa, S. (2021). Migration and fuel use in rural Zambia. Population and Environment, 43, 181–208. https://doi.org/10.1007/s11111-021-00385-7
LISÄÄ AIHEEN YMPÄRILTÄ / RELATED POSTS