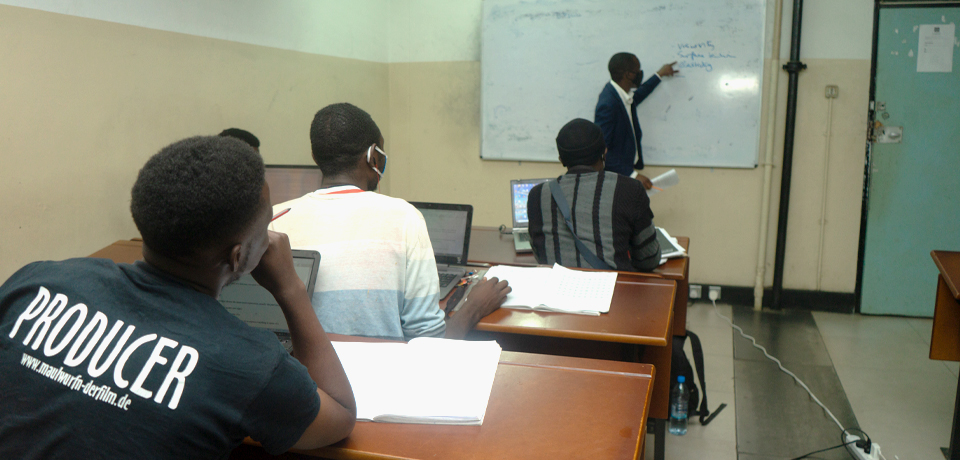 Satu Määttänen, Eija Laitinen & Ulla-Maija Knuutti
11.04.2023
To develop entrepreneurial and work-related competencies for students and future graduates, higher education institutes need to accommodate their teaching approaches to respond to the needs of the students, industry and the whole society. During the AgriSCALE (www.agriscale.net/) and PBL-BioAfrica (www.pbl-bioafrica.net/) projects coordinated by Häme University of Applied Sciences, it has come well to our attention, that the teaching approaches in the projects' eight African partner universities are largely based on traditional, lecture-based format, with limited, or non-existent, student or larger societal involvement. This observation is well supported by literature, which describes sub-Saharan African (SSA) higher education as teacher-centered and teacher-controlled, leading to passive students lacking generic, work-related skills (McCowan, 2018; Monga et al., 2019; Muganga & Ssenkusu, 2019).
There is a growing demand to transform the higher education of SSA towards student-centered methods combined with active involvement and partnership with external partners, such as industry and societal actors (Easterly et al., 2017; Monga et al., 2019). Within the AgriSCALE and PBL-BioAfrica project activities, it has become clear that university staff from the partnering universities from Kenya, Uganda and Zambia are willing and enthusiastic to be part of this change. Teaching and management staff have shown keen interest in alternative teaching methods, such as problem-based learning (PBL), and are eager to improve their teaching skills and implement new approaches in their teaching (Määttänen et al., 2022b). However, to enable the adoption and implementation of PBL and other student-centered methods, teachers at the partnering universities require in-depth pedagogical training, focusing both on theories and practices (Laitinen et al., 2023). To accommodate training and other support in order to respond to the needs of the university staff, it is crucial to understand their perceptions towards teaching and the teaching environment.
As part of AgriSCALE and PBL-BioAfrica projects, an anonymous online survey was conducted to the agricultural programme staff of the Egerton university, The Jomo Kenyatta University of Agriculture, The Southern Eastern Kenya University and the University of Nairobi in Kenya, The Bishop Stuart University and The Gulu University in Uganda, and The University of Zambia and The Mulungushi University in Zambia. Here we present some of the findings of the survey.
University staff's perceptions
During the survey period of October 2020 – March 2021, we received total of 78 responses from university teachers, and 24 responses from university management staff, of which some also participate in teaching activities.
When teachers were asked about the importance of different techniques in their teaching, the majority rated them as important or very important (Figure 1). The modes for all the techniques asked were 5 (very important), except for the student project developed by teachers, for which it was 4 (important). There was a slight variation in the distribution of responses between different techniques, yet it is clear that teachers do see the value of teaching and learning through other methods than lecturing only.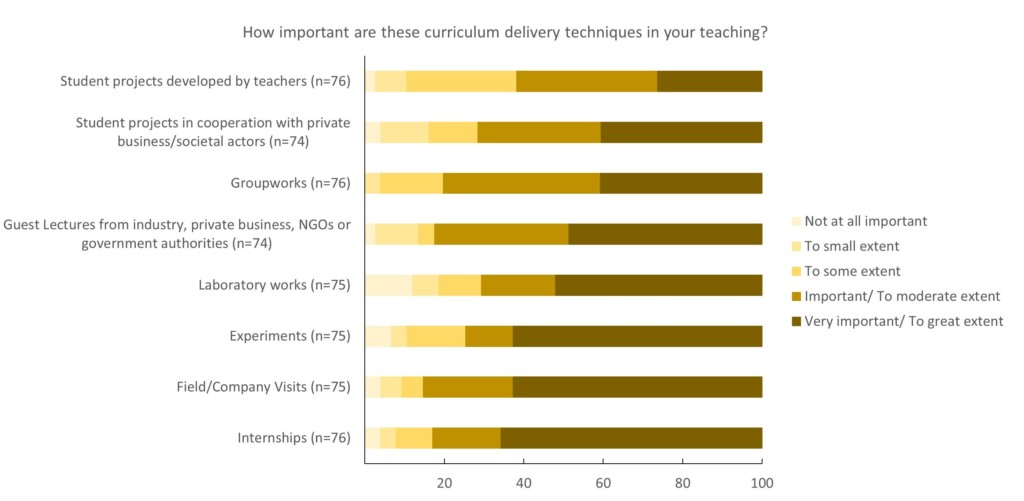 However, perceiving something important does not necessarily mean that it is commonly used, especially if there are not enough competences, resources or support for the technique. Thus, we also asked teachers to rate the encouragement or guidance that they get from management staff for a set of teaching methods, as well as resource sufficiency.
It is clearly seen that even though most of the teachers get at least some degree of encouragement and guidance, the perceived importance of curricula delivery methods is higher than the perceived guidance and encouragement towards them (Figure 2). This indicates that management staff should take a bigger role in supporting teachers to adopt and implement various teaching techniques.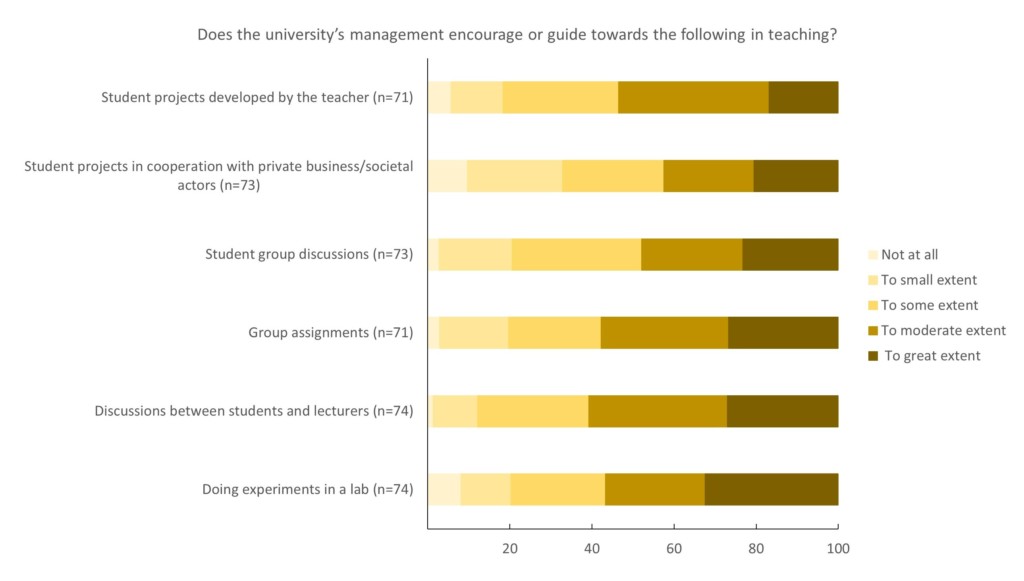 A clear majority of teachers perceive the teaching and learning environment as limited, with a lack of adequate resources and facilities (Figure 3). Modes for all of the resources listed were either 3 (average) or 2 (inadequate). Only 5.3–24.3 percent of teachers, depending on the given resource, considered resources adequate or very adequate.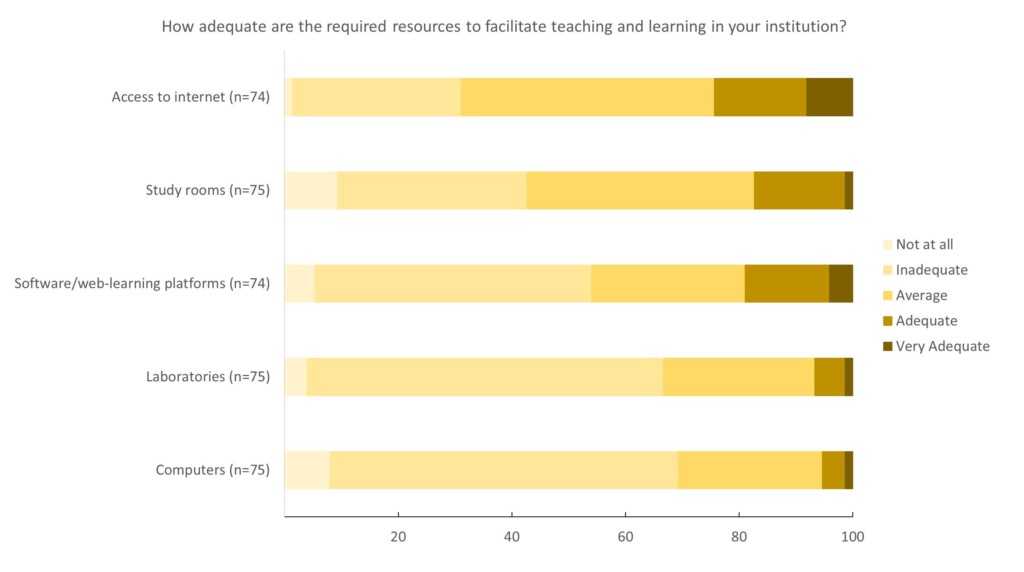 The management staff were asked about the challenges relating to teaching and learning in general, and especially relating to PBL. The management staff perceive the teaching environment as somewhat constrained. Interestingly, the context is perceived as much more constrained towards PBL than towards teaching and learning in general. The responses show that not only do the teachers require more support, but also the management staff needs more governmental support towards teaching in general and towards PBL.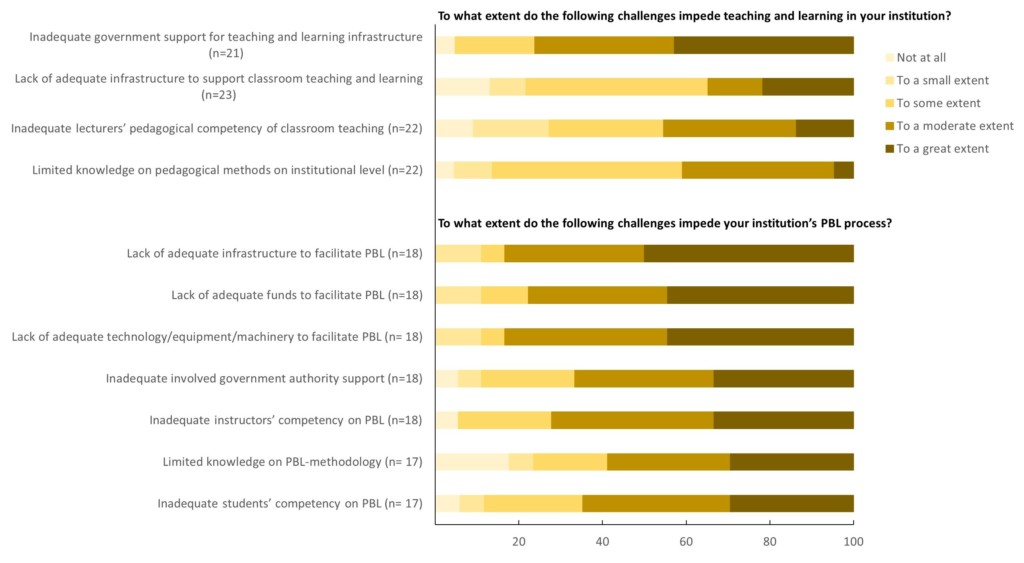 Lessons learned
During the AgriSCALE and PBL-BIoAfrica projects and working in collaboration with staff members from various African universities, we have noticed that the staff is eager to develop their competences and adopt and implement new curricula and teaching methods. They want to become better teachers and managers. However, the staff feels constrained by their pedagogical competences (Laitinen et al., 2023) and lack of resources. Thus, we recommend more pedagogical training to staff members with special emphasis on how to cope and implement student-centered teaching methods in a setting with limited resources and facilities. Training should be targeted to the whole academic staff, and not just teachers so that management and other staff members would have the interest and competencies to support teachers in implementing new approaches. Gaining practical experiences with student-centered methods and PBL will also increase the staff's belief in their own competences. As it's said, "experience is the best teacher". The AgriSCALE and PBL-BioAfrica partner universities have already carried out student challenges based on the PBL approach with very good results (Määttänen et al., 2022a). We encourage them to continue participating in the training and implementing the learned practices.
Authors
Satu Määttänen, M.Sc. in Agricultural Sciences and M.Sc. in Environmental Science and Policy from the University of Helsinki. She works as a Research Assistant at Häme University of Applied Sciences in HAMK Bio Research Unit.  
Eija Laitinen, PhD in Adult Education, Principal Research Scientist in HAMK Bio Research Unit. She is AgriSCALE and PBL-BioAfrica Project Coordinator and leads the HAMK Africa Team.  
Ulla-Maija Knuutti, M.Sc. In Rural Development from HAMK University of Applied Sciences. She works as a Senior Lecturer in HAMK Edu Research Unit. 
References
Easterly, R. G., Warner, A., Myers, B., Lamm, A., & Telg, R. (2017). Skills Students Need in the Real World: Competencies Desired by Agricultural and Natural Resources Industry Leaders. Journal of Agricultural Education, 58(4), 225–239. https://doi.org/10.5032/JAE.2017.04225
Laitinen, E., Määttänen, S., & Knuutti, U.-M. (2023). University Staff's Perceptions on Pedagogy in Agricultural Education in East and Southern Africa. In P. S. D. de Brito, J. R. da Costa Sanches Galvão, P. Monteiro, R. Panizio, L. Calado, A. C. Assis, F. dos Santos Neves, F. Craveiro, H. de Amorim Almeida, J. O. Correia Vasco, R. de Jesus Gomes, S. de Jesus Martins Mourato, & V. S. Santos Ribeiro (Eds.), Proceedings of the 2nd International Conference on Water Energy Food and Sustainability (ICoWEFS 2022) (pp. 9–18). Springer, Cham. https://doi.org/10.1007/978-3-031-26849-6_2
Määttänen, S., Knuutti, U.-M., & Laitinen, E. (2022a). Piloting international student challenges: results on students' perspective. HAMK Unlimited Professional. https://urn.fi/URN:NBN:fi-fe2022062047869
Määttänen, S., Knuutti, U.-M., & Laitinen, E. (2022b). Professional training on problem-based learning for East and Southern African university teachers: Lessons learned. HAMK Unlimited Professional. https://urn.fi/URN:NBN:fi-fe2022080252547
McCowan, T. (2018). Quality of higher education in Kenya: Addressing the conundrum. International Journal of Educational Development, 60, 128–137. https://doi.org/10.1016/j.ijedudev.2017.11.002
Monga, C., Shimeles, A., & Woldemichael, A. (2019). Creating Decent Jobs: Strategies, Policies and Instruments. 
Muganga, L., & Ssenkusu, P. (2019). Teacher-Centered vs. Student-Centered: An Examination of Student Teachers' Perceptions about Pedagogical Practices at Uganda's Makerere University. Cultural and Pedagogical Inquiry, 11(2), 16–40. https://doi.org/10.18733/CPI29481
LISÄÄ AIHEEN YMPÄRILTÄ / RELATED POSTS