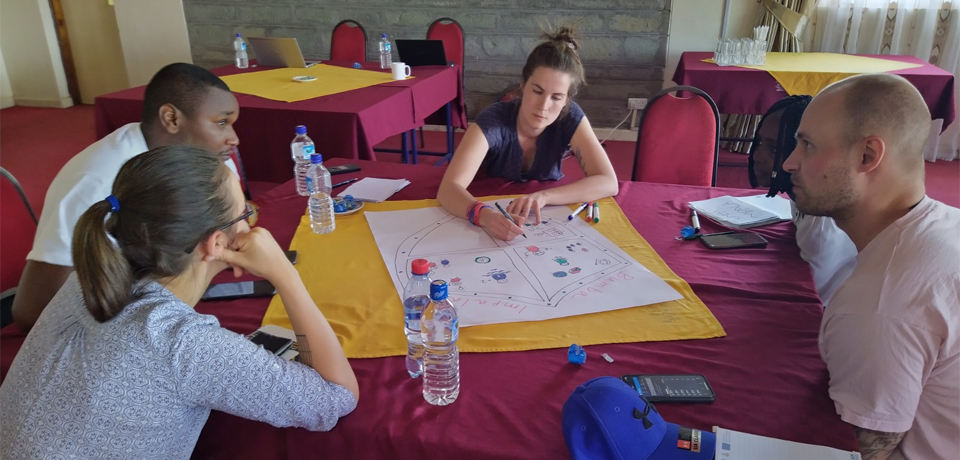 Satu Määttänen, Ulla-Maija Knuutti & Eija Laitinen
05.01.2023
In the current knowledge economy, worker skills and expertise are becoming more important than physical resources (Zubovic et al., 2009). Within the 21st century work-related life, employers and entrepreneurs need various skills and competences beyond theoretical knowledge. Workers need competencies that enable them to innovate, find solutions to sustainability challenges, and adapt as well as contribute to emerging technologies (Zubovic et al., 2009). Multiple studies have revealed employees value and demand skills such as communication, problem-solving, critical thinking, dependability and taking initiative (e.g. Easterly et al., 2017; Erickson et al., 2018; Morgan, 2010). Providing students with these generic skills — often referred to as 21st-century skills — requires teaching and learning methods beyond traditional lecturing and memorizing.
Student-centered and "real-life" based, practical teaching and learning methods, such as project and problem-based learning (PBL), have been recommended as the methods of developing students' 21st-century skills (Easterly et al., 2017). Studies have associated PBL with the development of skills and attitudes of collaboration, communication, problem-solving, critical thinking and self-direction (Ding et al., 2014; Tan et al., 2014). However, in the end, and despite the method, all learning comes down to students and their motivation. It is up to students to decide if and what they want to learn (Weimer, 2002, p. 102). Thus, it is important to understand students' perceptions towards teaching and learning, especially regarding the "output" of the learning experience, as the perception of relevancy and importance often increases students' motivation towards learning.
So, what kind of skills do the students themselves perceive to develop during PBL, and do they find this learning method and skills developed relevant? And how do students' perceptions relate to the literature sources on PBL's benefits? We set up to find answers to these questions by interviewing students after intensive, practically-oriented, PBL learning experiences, referred to as "student challenges".
Student challenges on agricultural businesses
Within PBL-BioAfrica, AgriSCALE and AGS co-creation and Innovation Services projects, two sets of student challenges were organized for students from Häme University of Applied Sciences (FIN), Mulungushi University (ZMB), University of Zambia (ZMB), Aalto University (FIN) and Egerton University (KEN).
Student challenges in this context refer to learning situations and experiences, where students work together in groups, in cases provided or commissioned by partners outside of educational institutions (Määttänen et al., 2022). Student challenges rely heavily on practical learning and the problem-based learning approach, in which learning happens by solving real-life problems and/or challenges.
Both of the student challenges took place during the spring term of 2022. The challenges contained virtual meetings, online working, and short field visits for contact teaching and working. In the AgriSCALE and PBL-BioAfrica challenge, students worked with a Kenyan company on promoting the production and consumption of bioethanol, with contact learning to take place in Kenya. In the AGS challenge students developed service and product concepts for 14 agricultural-related Zambian small and medium-sized enterprises together with the company representatives, with face-to-face workshops taking place in Zambia.
Students' perceptions on skills and attitudes gained
At the end of the challenges, we organized a voluntary group discussion session for the Häme University of Applied Sciences students participating in the student challenges. Of the 14 students invited, seven students — one male and six females — participated in the discussion. Four of them had participated in the Kenyan challenge and three in the Zambian challenge.
In general, the students perceived the student challenges, especially the face-to-face, field visits as intensive and hectic, but very rewarding and interesting. Students appreciated the opportunity to travel abroad to see the real setting and to meet their team members in real life and not on internet platforms only. The visit and contact working improved the understanding of the challenge context and concretized the teamwork.
We then specifically asked students what skills and attitudes they developed during the learning experience. Based on the answers, the perceptions can be roughly categorized into seven themes:
Learning about oneself, the country of destination and its culture, and the context. Despite the rather short field visits, the students perceived to learn about the destination country, its culture and languages. Students stated that without the opportunity to work with local students and to visit on-site, the context of the challenge would have remained vague for them. Finding information on the internet is not the same as discussing with locals and seeing with one's own eyes. Meeting and discussing it with people from different cultures and education systems, increased students' understanding of cultural and educational issues — including their own — as a whole.
Cultural sensitivity. During their work both online and face-to-face, students perceived to learn how to meet and adapt to other cultures and habits. Students also mentioned that they had learned to be tolerant and permissive to different ways of working. One does not always have to be in control and make things in one's way, and still, the outcome can be accomplished.
Team-work skills. In addition to becoming tolerant of different working methods, students also perceived to learn international team-working skills.
Project management and leadership skills. Students perceived to develop project management skills and learn to use various tools and methods.
Content knowledge. Students stated that they had learned a lot about the challenge topic: agriculture, biofuels, small businesses etc. Some mentioned that the amount of theory gained may even have been a bit too much for the short period.
Wider perspectives, understanding and comprehending complexity. While working with real-life topics, students perceived to gain a wider understanding of phenomena. Things are rarely straightforward or black and white, but everything comes with its pros and cons. Developing a solution is not enough itself, as important is to find ways to upscale it. Getting peer feedback and comments also provided wider points of view on the issue under work. Students also mentioned gaining a more global viewpoint to issues in general.
Attitude and appreciation. Many students stated that the experience changed their general attitude, the "calibration to life". One should try to maintain a positive attitude, even if things don't always go as planned, "at the end, things have a way of working out". After seeing the "other side", students also mentioned that they started to appreciate their own education and educational methods.
These results are well in-line with other studies on student perceptions on PBL and the skills developed. In an Australian study of PBL, students perceived to develop personal attributes, such as becoming more open-minded, the change of personal beliefs and attitudes, and learning time-management and leadership skills and skills such as collaboration and communications skills (Tan et al., 2014). Major & Palmer (2001) have reviewed students' perceive developing problem-solving, communication skills and personal responsibility within PBL.
Based on the students' feedback and insights within our interview, it seems that the real-life setting and gaining an experience in the actual context increased the perception of the relevancy of the learning.
Conclusion
Practically oriented and real-life-based learning is an efficient way to provide students with the generic skills needed in the world of work and entrepreneurship. This type of learning seems to strengthen especially social skills, such as collaboration, cultural sensitivity and tolerance of different working methods. In addition to the learning method, the international setting and collaboration developed students' skills and shaped their attitudes. Due to the rapidly globalizing work-life settings, we highly recommend exposing students to international collaboration already during their studies.
Authors
Satu Määttänen, M.Sc. in Agricultural Sciences and M.Sc. in Environmental Science and Policy from the University of Helsinki. She works as a Research Assistant at Häme University of Applied Sciences in the HAMK Bio Research Unit.
Ulla-Maija Knuutti M.Sc. In Rural Development from HAMK University of Applied Sciences. She works as a Senior Lecturer in the HAMK Edu Research Unit.
Eija Laitinen, PhD in Adult Education, Principal Research Scientist in HAMK Bio Research Unit. She is the AgriSCALE and PBL-BioAfrica Project Coordinator and leads the HAMK Africa Team.
References
Ding, X., Zhao, L., Chu, H., Tong, N., Ni, C., Hu, Z., Zhang, Z., & Wang, M. (2014). Assessing the effectiveness of problem-based learning of preventive medicine education in China. Scientific Reports, 4(1), 5126. https://doi.org/10.1038/SREP05126
Easterly, R. G., Warner, A., Myers, B., Lamm, A., & Telg, R. (2017). Skills Students Need in the Real World: Competencies Desired by Agricultural and Natural Resources Industry Leaders. Journal of Agricultural Education, 58(4), 225–239. https://doi.org/10.5032/JAE.2017.04225
Erickson, B., Fausti, S., … D. C.-N. S., & 2018, U. (2018). Knowledge, skills, and abilities in the precision agriculture workforce: an industry survey. Natural Sciences Education, 47(1), 1–11. https://doi.org/10.4195/nse2018.04.0010
Määttänen, S., Knuutti, U.-M., & Laitinen, E. (2022). Piloting international student challenges: results on students' perspective. HAMK Unlimited Professional. https://urn.fi/URN:NBN:fi-fe2022062047869
Major, C. H., & Palmer, B. (2001). Assessing the Effectiveness of Problem-Based Learning in Higher Education: Lessons from the Literature. Academic Exchange Quarterly, 5(1), 4. http://www.rapidintellect.com/AEQweb/mop4spr01.htm
Morgan, A. C. (2010). Competencies Needed by Agricultural Communication Graduates: An Industry Perspective. Journal of Applied Communications, 94(1). https://doi.org/10.4148/1051-0834.1184
Tan, D. K., Koppi, A., & Field, D. J. (2014). The student perspective in developing graduate attributes through problem-based learning in first year agricultural science. Proceedings of The Australian Conference on Science and Mathematics Education, 170–175.
Weimer, M. (2002). Learner-centered teaching: five key changes to practice (1st ed.). Jossey-Bass.
Zubovic, J., Domazet, I., & Stosic, I. (2009). Development of human capital as a tool for improving productivity of agricultural sector–case of Serbia. 113th EAAE Seminar "The Role of Knowledge, Innovation and Human Capital in Multifunctional Agriculture and Terrotorial Rural Development, 451–459. https://doi.org/10.22004/ag.econ.57491
LISÄÄ AIHEEN YMPÄRILTÄ / RELATED POSTS