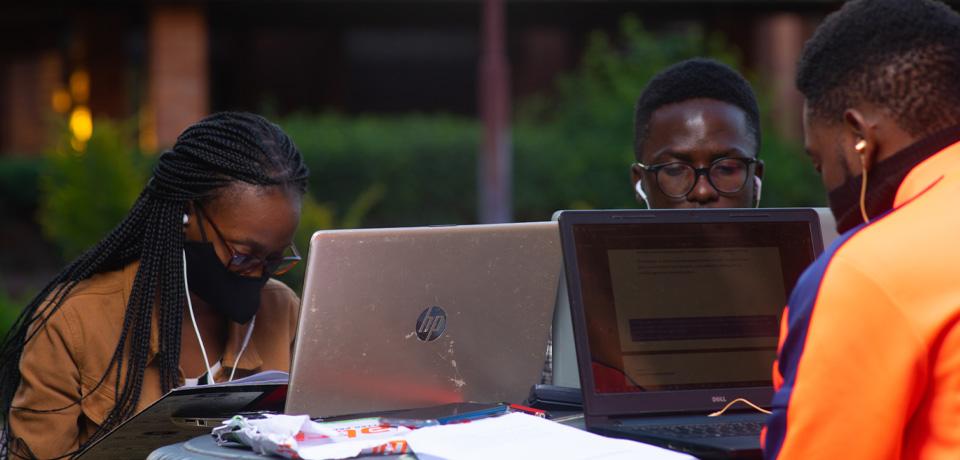 Satu Määttänen, Ulla-Maija Knuutti & Eija Laitinen
26.09.2022
The 21st-century world of work requires a complex set of skills and competencies that are difficult to teach and learn within classrooms using traditional lecture-based approaches (Easterly et al., 2017). Thus, there is a need to modernize teaching by partnering with potential future employers and using student-centered teaching methods to develop and improve the entrepreneurial and working life relevant competencies of students (Easterly et al., 2017; Hurst et al., 2015).
Student challenges in teaching and learning
Student challenges take learning outside of the classroom to real-life settings and a collaborative learning ecosystem. Pedagogically, student challenges use a problem-based learning approach, in which learning is driven and inspired by solving authentic problems. In student challenges, students work together with cases commissioned by external clients. Clients can be private companies, parastatal organizations, other governmental institutions or civil associations, and cases of any challenge, problem or need the client faces. Working with cases and solving challenges allow students to gain new information, and more importantly learn how to apply knowledge in practice (Hung, 2019). Student challenges aim to improve students' independency and develop important working life competencies, such as critical thinking and problem-solving skills, while at the same time enhancing the university-industry collaboration and providing solutions to various socio-economic and environmental problems.
Each student challenge is unique, as it depends on the clients, their expectations and the case in question. However, often student challenges at least partially follow the following structure: first educational institute and external client agree on the case or the challenge to be solved and the responsibilities of all stakeholders. The challenge is then presented to students, who start solving the issue in teams and under the guidance of a teacher. The cases should be challenging enough to motivate the students, yet neither too difficult nor too easy to enable true learning. Students are required to source and apply information, and possibly collect and analyse data to be able to provide solutions. At the end of the challenge, students present their solutions to peer students, teachers and the clients.
Implementation of student challenges in AgriSCALE and PBL-BioAfrica partner universities
Student challenges and their organization were part of AgriSCALE (www.agriscale.net/) and PBL-BioAfrica (www.pbl-bioafrica.net) projects. These projects aim to reform and improve agri-entrepreneurship and bioeconomy education in East and Southern Africa with a focus on enhancing entrepreneurial and working life relevant skills and open distance learning. Projects are funded by the EU and the Ministry of Foreign Affairs of Finland; and coordinated by the Häme University of Applied Sciences. Projects include a total of eleven partner universities in Africa and Europe: Aalto University (FIN), Bishop Stuart University (UGA), Egerton University (KEN), Gulu University (UGA), Häme University of Applied Sciences (FIN), Jomo Kenyatta University of Agriculture and Technology (KEN), Mulungushi University (ZMB), South Eastern Kenyan University (KEN), University of Nairobi (KEN), University of Pavia (ITA) and University of Zambia (ZMB)
As organizing and teaching through student challenges were new to the African partner universities, the preparation for the challenges started well ahead of the actual implementation. Several teachers participated in the PBL training programme that started before and continued partly in parallel with the student challenges. In addition, regular meetings with university representatives and student challenge course teachers were organized before and during the challenges to discuss, among others, the requirements, implementation and possible obstacles. Due to the Covid-19 pandemic during the student challenge pilots, almost all the activities and learning needed to be transformed to be web-based. Only a few Kenyan, Ugandan and Zambian students had the opportunity to physically collect data from the field.
All in all, 11 student challenges were organized for bachelor's and master's level agricultural students during August and December 2021. The challenges dealt with waste management, pesticide management, banana production, organic farming, colostrum management and social sustainability. More basic information on the student challenges is found in Table 1.
Student challenges of 2021 in numbers
• Organized during August–December 2021
• 11 Student challenge cases, led by 6 Universities in Finland, Kenya, Zambia, Uganda and Italy
• 6 external clients from Finland, Kenya, Uganda and Italy
• 155 Students from 9 universities in Finland, Kenya, Zambia, Uganda and Italy participated in the challenges
• 26 mentors from Finland, Kenya, Zambia, Uganda and Italy mentoring students
Table 1. Info-box on student challenges
Students' perspectives
After finishing the challenges, students were asked to provide anonymous feedback. During one week of feedback collection, we received 16 responses from students who participated in five different challenges. Respondents came from five different home universities and 25.0% of them were bachelor's students, and the rest were master's students.
Feedback revealed that students were very content with the student challenge experience, as well as highly motivated to participate in them (Figure 1). Students are also perceived to contribute well to the learning process of the challenges. To question in what way they could have improved their contribution, a major share (50.0 %) of the respondents mentioned researching more, doing a literature review and gathering more information. This indicates that students have realized the importance of theoretical and content knowledge in solving real-life problems.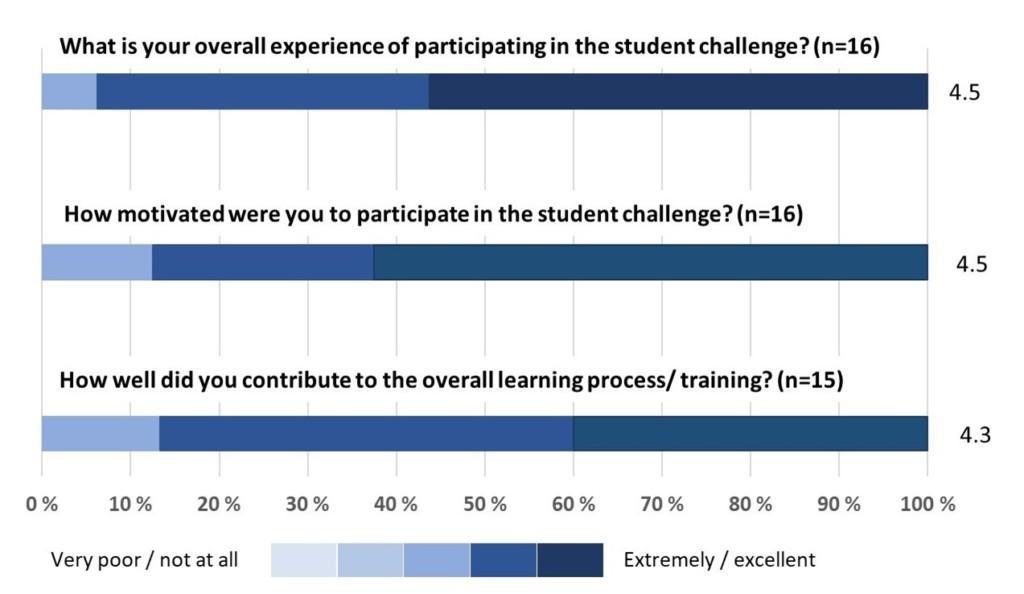 Feedback indicates that real-life problems with practical experience motivated students. Students appreciated to "relate the knowledge learned in class with the field work" and "hands-on experience". Motivating was "solving real problems the world is facing at the moment" and "new skills — learnt". What on the other hand hindered motivation, was the lack of funds for data collection and the lack of available data. Students perceived the guidance, encouragement and commitment of the teachers as highly important during the process. "[teacher] built on our confidence", "Mentor had a positive influence", "I was kind of a crossroads on going into in this challenge but [teacher] was the one that makes everything possible". Working within teams made learning and task performance easier due to among others task sharing and support gained. "Collaboration with international students" and "discussions and exchange of information" were found interesting and motivating. However, the lack of commitment and effort of other team members negatively affected motivation.
The facilitation, collaboration and ownership of learning were perceived as the main factors enabling learning, while lack of adequate resources and time were considered to hindering learning (Table 2). These answers are well in line with the basic PBL principles, where the role of the teacher is to facilitate the learning process, while students and student teams are active and responsible for their learning (Major & Palmer, 2001; Weimer, 2002, p. 16,29). However, teacher and student commitment are not enough, but also adequate resources are needed to enable a successful PBL experience.
Factors enabling learning
Factors hindering learning
Collaboration (12)
• teamwork
• communication
• group spirit
• group commitment
Lack of resources (4)
• lack of finances
• resource unavailability
Facilitation by the teacher (7)
• guidance
• feedback
• support
Lack of time (4)
Ownership of learning (4)
• willingness
• motivation
• self-confidence
• commitment
Collaboration-related issues (2)
• Lack of communication
• Distance
Practicality (2)
Transport challenges (1)
ICT -resources (2)
Table 2. Student perceptions of factors enabling and hindering learning are grouped into categories. The number in parentheses refers to the number of mentions. Note that within one feedback there may be mentions of multiple categories.
Conclusions
A total of 155 students from nine universities participated in the pilot student challenges in the second half of the year 2021. Despite most university teachers and students organized and participated in the student challenges for the first time, the feedback gained from students was mostly highly positive. Students rated the overall experience highly well. Students appreciated and were motivated by the real-life relevancy and practicality of the challenges, as well as fruitful facilitation by the teachers and teamwork. Lack of effort by team members and resource and time limitations, on the other hand, hindered motivation and learning. We expect that when teachers, students and the management staff get more experience in organizing, facilitating and participating in PBL, the outcomes of student challenges will further improve. New student challenges will be organized in the partner universities of the projects already in the spring semester of 2022. We anticipate that PBL and student challenges will become a permanent part of the curricula of all the partner universities.
Authors
Satu Määttänen, M.Sc. in Agricultural Sciences and M.Sc. in Environmental Science and Policy from the University of Helsinki. She works as a Research Assistant at Häme University of Applied Sciences in the Bio Research Unit.
Ulla-Maija Knuutti, M.Sc. In Rural Development from HAMK University of Applied Sciences. She works as a Senior Lecturer in Sustainable Development Degree program in HAMK.
Eija Laitinen, PhD in Adult Education, Principal Research Scientist in HAMK Bio Research Unit. She is AgriSCALE and PBL-BioAfrica Project Coordinator and leads the HAMK Africa Team.
References
Easterly, R. G., Warner, A., Myers, B., Lamm, A., & Telg, R. (2017). Skills Students Need in the Real World: Competencies Desired by Agricultural and Natural Resources Industry Leaders. Journal of Agricultural Education, 58(4), 225–239. https://doi.org/10.5032/JAE.2017.04225
Hung, W. (2019). Problem Desing in PBL. In M. Moallem, W. Hung & N. Dabbag (Eds.), The Wiley Handbook of Problem-Based Learning (pp. 249–272). Wiley-Blackwell.
Hurst, S. D., Conner, N. W., Stripling, C. T., Blythe, J., Giorgi, A., Rubenstein, E. D., Futrell, A., Jenkins, J., & Roberts, T. G. (2015). An Exploration of the Formal Agricultural Education System in Trinidad and Tobago. Journal of Agricultural Education, 56(1), 141–154. https://doi.org/10.5032/JAE.2015.01141
Major, C. H., & Palmer, B. (2001). Assessing the Effectiveness of Problem-Based Learning in Higher Education: Lessons from the Literature. Academic Exchange Quarterly, 5(1), 4. http://www.rapidintellect.com/AEQweb/mop4spr01.htm
Weimer, M. (2002). Learner-centered teaching: five key changes to practice (1st ed.). Jossey-Bass.
LISÄÄ AIHEEN YMPÄRILTÄ / RELATED POSTS