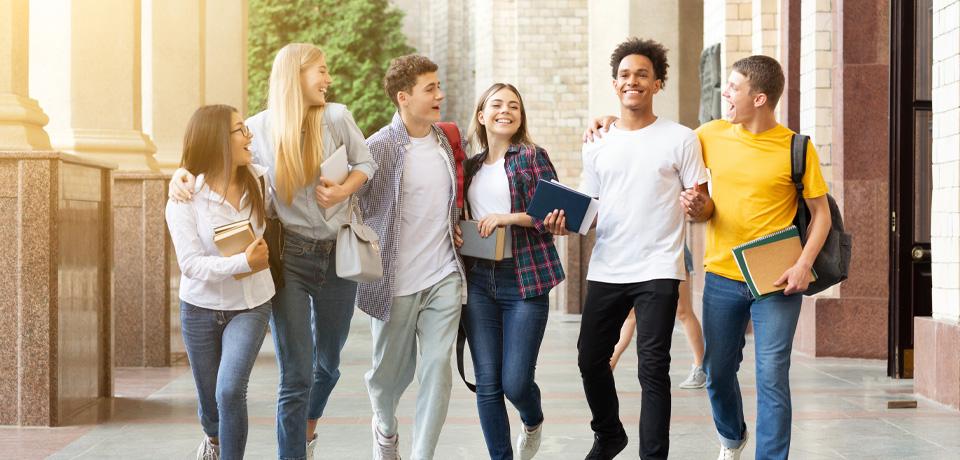 Satu Määttänen, Ulla-Maija Knuutti & Eija Laitinen
26.09.2022
Teamwork is a core component of problem-based learning (PBL). In PBL learning happens through dealing with authentic problems in student teams. For solving the problem, students need to share information and construct and apply knowledge together (Fonteijn & Dolmans, 2019). This process develops students' content knowledge and other competencies, such as collaboration and critical thinking skills. Problem-based and team-based learning are associated with improved learning outcomes compared with traditional teaching methods (Fonteijn & Dolmans, 2019; Huitt et al., 2015). However, a dysfunctional team may lead to frustration and demotivation of students (Fonteijn & Dolmans, 2019).
Effective teamwork and supportive team spirit do not evolve by themselves but require attention and effort. PBL tutor has an important role and responsibility to create a setting conducive to effective, fruitful and motivating teamwork. Especially important is the initial teaming phase. A well-implemented team building is a key to successful teamwork and learning. In this article, we review factors affecting teamwork performance. Focus is on the teaming phase and on practical aspects: how PBL tutor can contribute to building up team spirit and effective teamwork.
Factors affecting teamwork and team-based learning
Numerous factors affect teamwork performance. We have divided these factors into three main categories and nine sub-categories borrowing from Fonteijn & Dolmans (2019) and Hoegl & Gemuenden (2001) (Table 1).
Team characteristics compose of member characteristics, i.e., team resource pool, and within team interaction and management. A tutor can't change the characteristics of team members but can take these into account when forming the teams and guiding the teamwork. Team characteristics are not a sum of individual characteristics. Highly skilled and motivated team members may boost the performance of others or conversely dominate and demotivate them (Fonteijn & Dolmans, 2019). As learning happens through information sharing and negotiation, it's vital to enable smooth team communication and coordination (Fonteijn & Dolmans, 2019): to make sure that every ones' views and knowledge are appreciated, all members bring the effort to the work and are aware of responsibilities and work progress.
Teamwork efficiency does not rely only on the team itself, but also on the given problem/task and the educational context. Clearly defined, relevant and interesting problems, a supportive learning environment, sufficient time and a professional tutor all foster teamwork and learning (Fonteijn & Dolmans, 2019).
Adopting and implementing problem-based and team-based learning for the first time may cause struggles for both tutors and students. However, studies show that with increased experience, the process starts to run smoother (Fonteijn & Dolmans, 2019).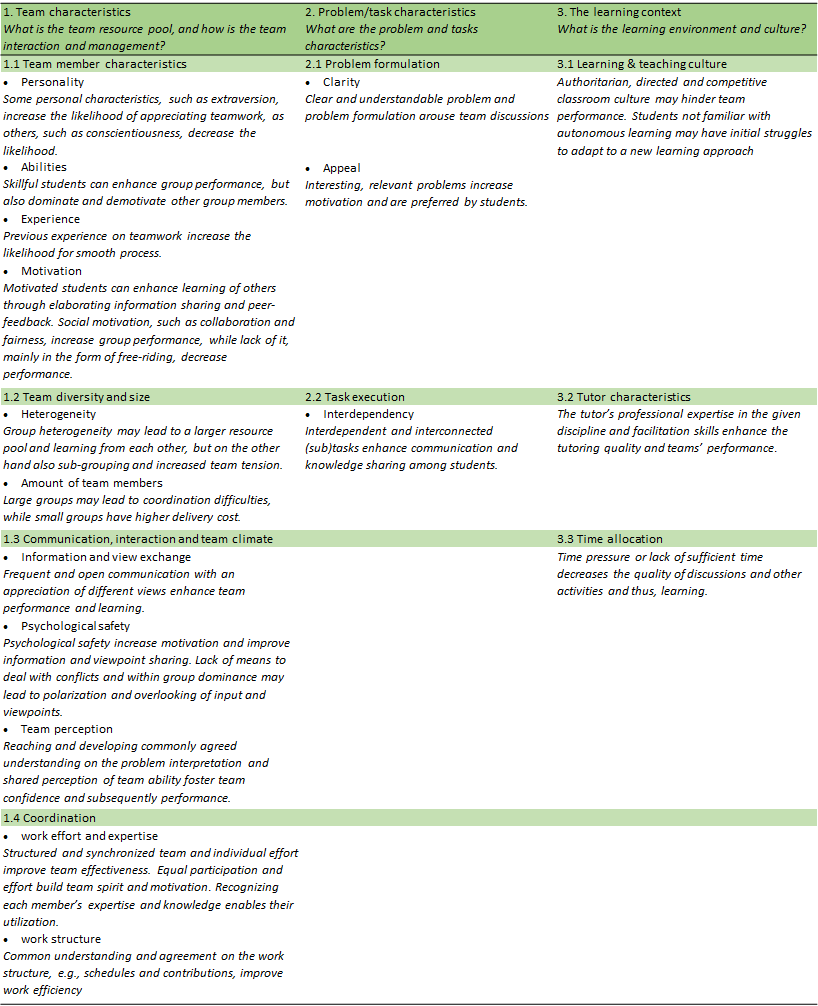 Six steps for team building in PBL
Ten years of experience in tutoring problem-based and team-based learning at Häme University of Applied Sciences (HAMK) in Finland, has led to the development of a concrete step-by-step approach to team building:
Forming the teams to determine the team resource pool. On a rule of thumb, five students are functional team size. With larger teams, there may not be enough work for all and smaller teams may cause a heavy workload on the tutor and the students. There are various methods for team formation. All these methods have their strengths and weaknesses and there is no one right method. The tutor may try different methods in different courses to see what works best. These methods are, for example:

purposefully selecting students with given characteristics to create diverse and equally potent teams. Characteristics considered can be study level or program, gender, personality or other attributes. HAMK sometimes uses Belbin© team role tests to build teams of students with different personal characteristics.
allowing students to form teams themselves to enhance students' motivation and reduce team tension. For example, students interested in the same topic or having a common goal towards the course can team up.
randomly distributing students to the teams to avoid sub-grouping and too homogenous teams.

Getting to know the team members to understand the team resource pool, to boost team climate and enhance coordination. Students discuss their expertise and interests as well as objectives and motivation for the course. This enables students to a) recognize the skills and expertise each member can bring to the teamwork, and b) estimate the effort each member will probably bring to the teamwork. The tutor should encourage students to be open and honest during these discussions.

Choosing the communication channel to boost communication and interaction. Each team chooses a communication channel and formulates rules for communication. Usually, the most functional communication channel is something the students use in their daily life. Official channels may prohibit informal communication and interaction. To avoid misunderstandings and conflicts, it's wise to establish communication rules: when messages can be sent, what happens if someone does not respond to messages, and at what time members should reply to messages.
Defining roles and responsibilities to boost team climate, the resource pool, coordination and interaction and to avoid free riding. Students define different roles for each team member. Depending on the group tasks, the roles can be for example team leader, secretary, within team communication manager, tutor-team communication manager and typewriter. The roles are permanent for the whole course yet is recommended that students change their roles in upcoming courses. When the actual work starts, students share responsibilities, i.e., work tasks, for each member. Students themselves should check regularly, e.g., weekly, that everyone is on top of their responsibilities.
Creating team rules to enhance team spirit, motivation, coordination and communication. Each team writes down team rules to be signed by each team member. The rules should contain at least the following: what is aimed at the means of grade and learning, the work schedule, working methods, attendance requirements and what happens if the rules are not followed. The tutor may provide a draft template for team rules. To build up team spirit, the rules can be funny. For example, HAMK students have sometimes agreed that as a penalty for absence or missing a deadline, chocolate needs to be brought to other team members. At the latest at this point, the tutor should also explain the course rules to students, e.g., how the grade will be formulated.
Monitoring performance to enable using the team resource pool to the fullest, enhance learning and guide the team to the right track. The tutor monitors the team's work performance. There should be at least two monitoring discussions within a course: in the middle point and at the end. The tutor sits down with each team and discusses with its members how the work is going and has the communication, team rules and collaboration worked. If any issues arise, the tutor solves them together with the team. These sessions and the information obtained from them can be used as a part of determining the grades.
Conclusions
Working in teams is an effective way for students to develop 21st-century skills valued by employers. Yet, dysfunctional teams may cause demotivation and hamper learning. For enabling inspiring teamwork and comprehensive learning, it's important to focus on the first phase of teamwork, team building. Successful team building increases the likelihood of successful teamwork and learning. To build effective, motivated and supportive teams, the tutor needs to be aware of factors affecting teamwork quality and possess human and management skills. Tutor's, as well as students' teamwork skills, develop with practice. The step-by-step team-building approach presented in this article can be used as a guide to bringing team-based learning to the classroom.
Authors
Satu Määttänen, M.Sc. in Agricultural Sciences and M.Sc. in Environmental Science and Policy from the University of Helsinki. She works as a Research Assistant at Häme University of Applied Sciences in the Bio Research Unit.
Ulla-Maija Knuutti, M.Sc. In Rural Development from HAMK University of Applied Sciences. She works as a Senior Lecturer in Sustainable Development Degree program in HAMK.
Eija Laitinen, PhD in Adult Education, Principal Research Scientist in HAMK Bio Research Unit. She is AgriSCALE and PBL-BioAfrica Project Coordinator and leads the HAMK Africa Team.
References
Fonteijn, H. T., & Dolmans, D. H. J. M. (2019). Group Work and Group Dynamics in PBL. In M. Moallem, W. Hung & N. Dabbagh (Eds.), The Wiley Handbook of Problem-Based Learning (pp. 199–220). John Wiley & Sons, Inc.
Hoegl, M., & Gemuenden, H. G. (2001). Teamwork Quality and the Success of Innovative Projects: A Theoretical Concept and Empirical Evidence. Organization Science, 12(4), 435–449. https://doi.org/10.1287/ORSC.12.4.435.10635
Huitt, T. W., Killins, A., & Brooks, W. S. (2015). Team-based learning in the gross anatomy laboratory improves academic performance and students' attitudes toward teamwork. Anatomical Sciences Education, 8(2), 95–103. https://doi.org/10.1002/ase.1460
LISÄÄ AIHEEN YMPÄRILTÄ / RELATED POSTS