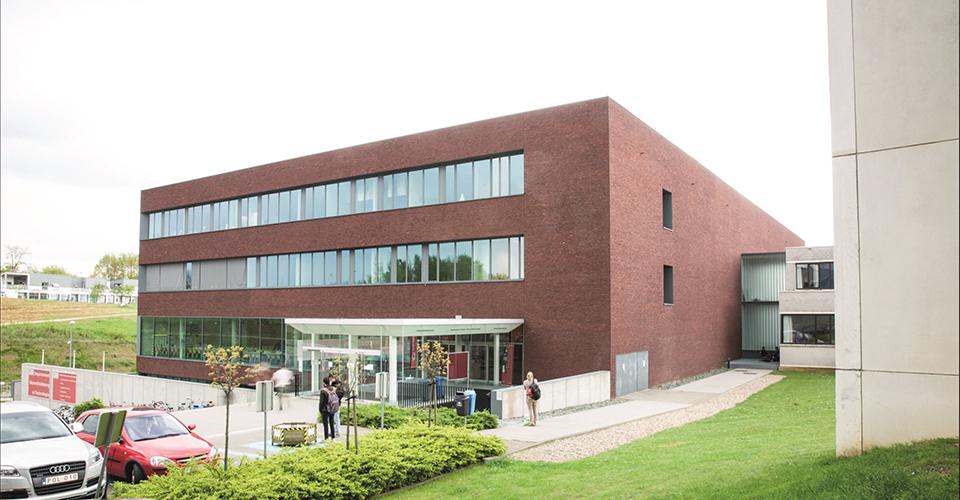 02.10.2018
The interest to work with ePortfolio in STEM education such as 'Biomedical laboratory technology' has increased over the last years. The Empowering ePortfolio process (EEP) project boosted the curriculum developers of this educational programme at UC Leuven-Limburg, to design their own ePortfolio and conclude it in the curriculum. The implementation is planned for September 2018. Several discussions with students, teachers and the organizational level brought up some themes concerning the ePortfolio. To make some generic competences clearly visible in the curriculum and over the educational programme, was one of them. To do so the ePortfolio will be implemented over the duration of three years of the educational programme and not just in one curricular unit.
Obviously, there are some restrictions and remarks to take into account, differing from when working in one course. The goal of this article is to describe teacher and organizational perspectives on utilizing ePortfolio in the program, which aims to contribute to next generation students benefit for the working field.
Educational context/learning infrastructure in using ePortfolio
In the Empowering ePortfolio process (EEP) project, the aim has been to develop the use of ePortfolio as a part of competence based higher education. In previous phases of the project, the perspectives of students and employers were studied to be able to understand the critical points and to be able to develop them. The final phase of the project concentrate on exploring teachers' and higher education institutions' perspectives on important aspects in strengthening the use of ePortfolios as learning spaces and showcases (see Barret 2010).
In this article, the Belgian partner's case for utilization of ePortfolios is presented. The proposed framework is developed within the professional bachelor programme (PBA) 'Biomedical laboratory technology' (BLT) from UC Leuven-Limburg (UCLL). UCLL is a university of applied sciences that delivers study programmes, conforming level six of the Flemish Qualification Framework. This Flemish framework is based on the European one. The duration of the programme is three academic years with a first common year. After this general year students have to choose between two different programmes one more related to research: 'Pharmaceutical and biological laboratory technology' and one more related to the clinical field: 'Medical laboratory technology'.
The BLT study programme is located at campus Gasthuisberg in Leuven. This campus is located next to the university hospital of Leuven, which provides a lot of internship and cooperation possibilities for our students and teachers.
ePortfolio has not yet been implemented in the educational programme but because the educational programme BLT will implement a whole new curriculum in September 2018, the implementation of ePortfolio will follow as one of the priorities of this new curriculum. It is the aim of the programme to make some generic competences more visible in the curriculum by using ePortfolio. All BLT education institutions in Flanders agreed on some 'Domain specific learning outcomes'. The outcomes are described on three levels and contains generic competences such as organizational skills, team work, critical reflecting and teamwork. Each graduated student need to have those competences on level three. The study programme aims to implement the ePortfolio overall the three academic years to provide a learning process on those generic competences through the whole bachelor programme. On the other hand ePortfolio is a fruitful communication tool for internship.
Using the ePortfolio throughout the whole 3-year bachelor programme, and not just in one curricular unit, will give us the opportunity to focus on the learning process as a whole, described by Barret (2010) as 'a story of learning'. During this process, several teachers will guide students through their portfolios by giving course-integrated tasks. However, there will be only one portfolio coordinator, who will have an overview on all the different tasks and deadlines.
Within the ePortfolio different parts are combined. One part focuses on life-long learning with a clear emphasis on internationalization, another part focuses on citizenship and last but not least it is the intention of the curriculum developers to develop clear learning paths for generic competences such as teamwork. Many teachers pay attention on working in team but it is all in their specific curricular unit and not overall the curriculum. The overall view and evolution of the students is not clear in that way.
The main objective of the ePortfolio is to motivate students and teachers. This process will be enhanced by using existing tasks on fixed moments instead of developing additional tasks. Students will be motivated by creating useful and well-described tasks. Besides this, the EEP project focuses on empowering students to be more autonomous in their learning. This will be realized by creating tasks to be performed by students throughout their entire bachelor programme. They will be responsible for planning and organization of those tasks. During this process it is important that students receive professional guidance. First giving support to students in their own autonomy next to a well-structured learning environment are necessarily for autonomous motivation (Vansteenkiste 2007).
Example of an UCLL Framework for ePortfolio
With the introduction of an ePortfolio, the PBA BLT aims to make some learning outcomes clearly visible in the curriculum, by creating more transparency about where and how generic competences will be evaluated. As mentioned in the introduction, the curriculum developers were aware of the different strategies and focuses teachers put on these competences. The different approaches are confusing for students, and deep-level learning concerning those competences was not always reached.
This aim to make generic competences more visible is also aligned with the development of competence based assessment practices in higher education. Figure 1 shows the framework for ePortfolio that UCLL programme BLT has developed.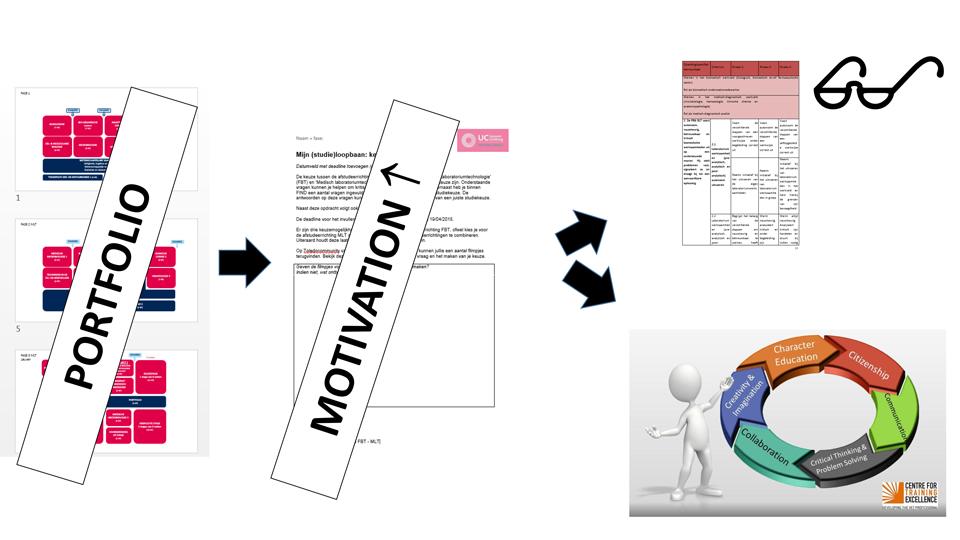 The 21st century skills such as problem solving, critical thinking and teamwork are classified as generic competences which are applicable across different professional contexts and beyond the field of study. It is however believed that these generic competences can only be developed in combination with domain-specific qualifications. The teaching-learning methodologies must have an emphasis on real life phenomena allowing students to reflect, to connect and to experience in the learning environment (Dochy & Nickmans 2005). For example teamwork should be practiced within domain-oriented problem situations. As a result, these competences are practiced and evaluated in different courses and at different stages of the programme. By visualizing the learning process of these competences clearly in an ePortpolio, students can be efficiently coached and guided by different stakeholders at different stages.
Preconditions for success by implementing the ePortfolio
Since the PBA BLT has no ePortfolio yet, as mentioned before, what follows is a discussion, some remarks, thoughts and many open questions about the principles, goals and picture that were stated.
This part is the result of a focus group with teachers, a staff professional in education and quality management, and the team leader of the BLT programme. In this way, also the organizational level took part in this discussion.
Implementing an ePortfolio throughout the curriculum and not just in one curricular unit creates possibilities to work across different professional contexts. This is considered an advantage, however a number of organizational questions still arises:
clear goals for guidance and evaluation needs to be set for all teachers and students involved;
which teacher or portfolio coordinator will have the responsibility in the end?
the implementation will possibly enhance the number of meetings between teachers: how will this affect time management and work pressure?
Professional guidance of students is very important. If teachers of the curricular unit will be responsible for feedback and evaluation, they all need to have the same guidelines and expectations concerning generic competences. A few questions pop up concerning this topic:
Who will teach the teachers? Will the portfolio coordinator be, or become, 'an expert' in guiding and evaluating (formative and summative) skills like critical thinking, problem solving, etc.?
Who will be responsible for feedback and evaluation of generic competences, the 21st century skills? Will this be the teacher of the curricular unit or will this be a task for the portfolio coordinator?
The principles that were stated to motivate both teachers and students need to be rethought. It is important to clarify the added value both for teachers and students. You can question whether teachers and students see the need for 'next generation' students well enough. When examining vacancies for BLT jobs, it is shown that a lot of competencies that the ePortfolio is referring to, are being requested. Devaere, Martens and Van den Berg (2017) describe a lot of tendencies of higher education in Flanders and how the ePortfolio can provide an answer.
Students tend to find a task useful only when the task is linked to scores. How can we change this attitude? It is argued whether it will be enough to create tasks linked to real-life phenomena concerning the profession. Another question could be whether it is possible to change this attitude in just one year or if this needs a few years where the attitude of the students changes in gradually. It is also an important matter to persuade students to return their ePortfolio in for feedback occasionally, which leads back to the organizational issues described earlier.
Conclusions
With the introduction of this ePortfolio we emphasize to create 'next generation' students, who are attentive to the 21st century competencies (Miller 2015) and more transversal skills (Winch 2015). These kind of competences build the solid foundation for their professional learning. In addition, ePortfolios can help to make the development of them more transparent. It is an advantage for the students that the professional growth of the student will be central in the ePortfolio.
When utilizing ePortfolios, teachers will have the opportunity to follow the student growth and provide guidance according to the students' needs. If ePortfolios are used continuously throughout the studies, they will support the students' self-reflection, which is really essential in learning. However, it will be important to keep in mind that the tasks related to ePortfolio need to be efficient, transparent and motivating to create sustainability and a shared vision for teachers and students.

This article was produced in the Erasmus+ (KA2 action) funded project "Empowering Eportfolio Process (EEP)". The beneficiary in the project is Häme University of Applied Sciences (FI) and the partners are VIA University College (DK), Katholieke Universiteit KU Leuven (BE), University College Leuven-Limburg (BE), Polytechnic Institute of Setúbal (PT) and Marino Institute of Education (IE). The project was implementated during 1.9.2016–30.11.2018.
Author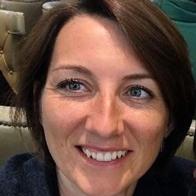 Karolien Devaere is a teacher in microbiology (educational programme Biomedical laboratory technology) and a member of the permanent course commission. She is Biomedical laboratory technician and also has a degree in Educational sciences. She is now introducing ePortfolios in the new curriculum.
References
Barrett, H. (2010). Balancing the Two Faces of ePortfolios. Educação, Formação & Tecnologias 3(1), 6‒14.
Devaere, K., Martens E. & Van den Bergh, K. (2017). Analysis on students' ePortfolio expectations. In I. Kunnari & M. Laurikainen (eds.) Students' perspectives on ePortfolios. HAMK Unlimited Journal 5.1.2018. Retrieved 17 January 2018 from https://unlimited.hamk.fi/ammatillinen-osaaminen-ja-opetus/analysis-on-students-eportfolio-expectations
Dochy, F., & Nickmans, G. (2005). Competentiegericht opleiden en toetsen: Theorie en praktijk van flexibel leren. Utrecht, The Netherlands: Boom Lemma Uitgevers.
Miller, M. A. (2015). Academic Leadership Workshop: 6 Cs for the Education Future & how they apply to Central's context? Retrieved 17 January 2018 from https://slideplayer.com/slide/6370472/
Vansteenkiste, M., Sierens, E., Soenens, B., & Lens, W. (2007). Willen, moeten en structuur in de klas: Over het stimuleren van een optimaal leerproces. Begeleid zelfstandig leren 16, 37‒58.
Winch, C. (2015). Towards a framework for professional curriculum design. Journal of Education and Work 28(2), 165‒186.
LISÄÄ AIHEEN YMPÄRILTÄ / RELATED POSTS