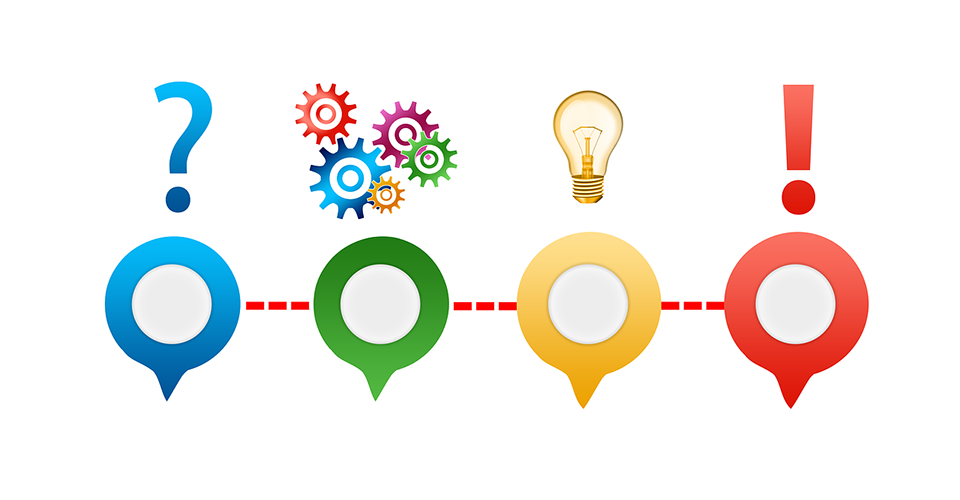 12.12.2018
Still today many higher education students and graduates somewhat lack knowledge and skills to promote businesses and result-driven work motivation, employ themselves into the regions and efficiently work in diverse teams. The transversal competences like creativity, initiative, and tenacity, teamwork, understanding of risk and responsibility and resilience are more crucial than ever in the future in the world of work. These competences are said to be the keys to be successful in the world of work, changing our future in a good way at the time when we are dealing with big challenges like industry 4.0 and the rise of artificial intelligence. The need for competence development is relevant in any field of higher education – it includes much more than business or economics: the need is multi-sectoral and multi-disciplinary as the world of work itself. All the higher education graduates, no matter what their major or degree is, do need these competences and their related skills. This article discusses one case example: ECMT+ project, which works towards promoting these highly important learning goals.
ECMT+ background and aims
Our Erasmus+ Strategic Partnership project Entrepreneurships and Communication in Multicultural Teams (ECMT+) was selected for funding in 2015 and it runs for three years during 2016–2019.

The project discusses the development process of the transversal competences and skills, framed by the entrepreneurial university approach. The approach is chosen as it is a concrete scheme directly involving students, teachers, business and HEI management, has measurable actions and even has been proven to be an efficient tool to promote both the teachers' and students' competences (Lackéus 2015; OECD 2012; see also Bacigalupo, Kampylis, Punie, & Van den Brande 2016). In Europe, a variety of initiatives during the last fifteen years have been carried out to support entrepreneurship and develop a start-up culture within universities and research institutes on local, regional and national levels. One indicator for these activities is the rising number of entrepreneurship courses and entrepreneurship chairs in higher education and several start-up support initiatives within the whole system. However, the work still needs to continue until the entrepreneurial practices are really deeply embedded into the university practices – with a strong emphasis on intrapreneurship. ECMT+ works towards this aim with its partner consortium expertise.
ECMT+ aims at developing European students' and graduates' entrepreneurial mindset and practices that foster the development of the highly-important transversal competences and skills supporting their future employability (figure 1). Transversal competences and skills are mainly related to self-management, interpersonal and communication skills and they are all embedded into humanity in one way or another. One could say they are an integral part of intrapreneurship, yet a clear distinction and definition between entrepreneurship and intrapreneurship are challenging to do (Lackéus 2015).
For European graduates, the world is becoming smaller, and they might consider building their future almost anywhere. To help them go where they want to, they need competent teachers, fluent international education pathways, possibilities to collaborate and ways to make their learning outcomes visible.
Therefore, for students to facilitate the learning processes systematically, supporting the development of the transversal competences, they need teachers with new skills and networks. To work towards this goal, ECMT+ develops teachers' expertise by creating an international community of learning and organising shared training workshops. Moreover, the teachers from different countries and organisations work together throughout the process, which boosts the valuable informal peer learning. ECMT+ is one concrete possibility for European teachers and students to develop more multicultural and globally aware professionals or at the very least take some steps on this path to the future.
In addition, ECMT+ strengthens the links between the higher education institutes (HEI) and industry, increasing the relevance of tertiary education to the world of work. The business world and partners contribute to the implementation of the intensive courses and training workshops bringing their valuable expertise to the table. Higher education that responds to the needs of regions and the local businesses expands the understanding of the potential of international co-operation and networks when discussed and developed in a diverse network.
Who are we and what do we do in ECMT+?
Consortium
ECMT+ involves seven universities or university of applied sciences from Belgium, Czech, Finland, France, Germany, Poland and the United Kingdom. The project leader is Karelia University of Applied Sciences from Finland. Five of the partners have collaborated successfully in Erasmus Intensive Programmes before. They form the core of the new ECMT+ consortium into which two new partners were added to ensure wide enough expertise and diversity in entrepreneurial education approaches.
The project team itself is diverse and multicultural relating to the professional backgrounds (several different disciplines, different levels of degrees), age, sex, languages, cultural backgrounds, professions, skills, talents and personal features. The ECMT+ approach promotes inclusion, which is a crucial element in the implementation and practices we build. Nowadays, a more diversified society is becoming visible in higher education and it sets new demands for teaching practices. The implementation of education and development of teachers' professional skills and pedagogical solutions have to be inclusive, meeting the more diverse learners who may have disabilities and learning difficulties, diverse racial, cultural and linguistic backgrounds or meet with social and economic challenges.
Themes and outputs
The work is divided into three main areas: development of learning, development of teachers' expertise and reflective research each of which produce project outputs (see figure 2).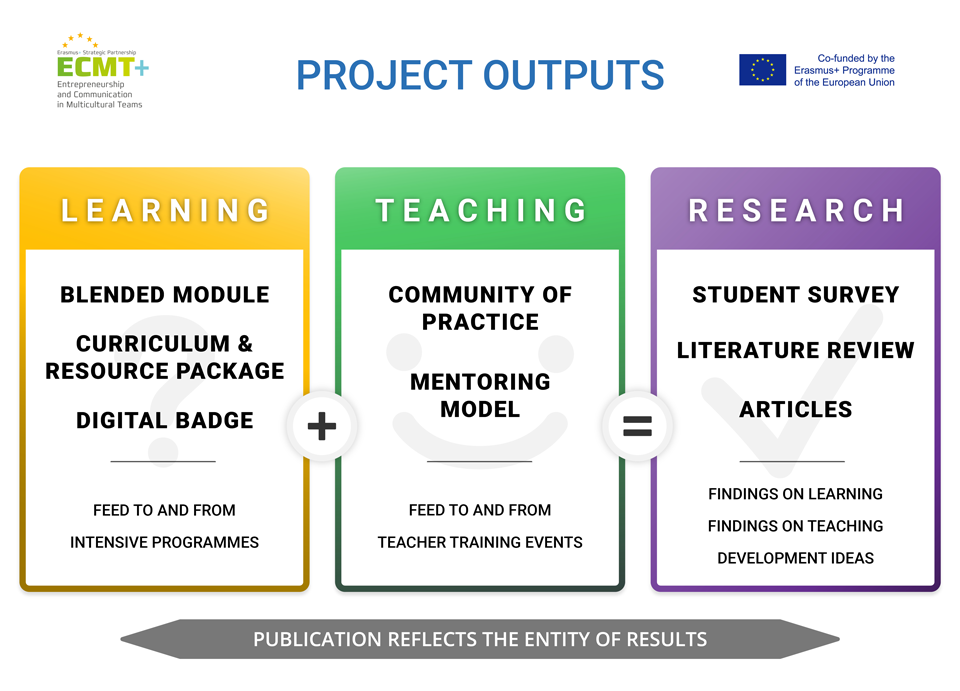 The development process includes three circles of pilots and their reflections both in learning and in teaching. These pilots and their results are further elaborated for the next round and, in the end, the very final and shareable results will be modified. During the project lifetime, there are three pilots on learning (intensive courses with blended modules: Finland 2017, Germany 2018, France 2019) and three on teaching (teacher/expert training workshops: Poland 2017, Belgium 2018, Czech 2019). To involve all the partners in hosting one of the events, the project started in the United Kingdom in 2016 following the principle of equal participation and responsibilities.
The research discusses and reports the main findings throughout the process enabling the audience on-going follow-up and providing anyone interested, access into the development process (see Badzińska 2017a, 2017b; Heinz & Chylková 2017; Heinz, Chylková, & Nenička 2018). In addition, the teacher training events are open for anyone to sign in and join the conversations. The workshop materials are shared on the project web pages.
Methodology
The project methodology relies on sharing and responsibility as well as proper planning, detailed preparations and division of work. Even though this not always easy in a somewhat challenging and ambitious project, the methodology of implementation is based on iterative and participatory co-creation of knowledge. All the partners' expertise is valued and considered and the problems, when they occur, are mainly related to conflicting engagements and a heavy workload elsewhere. Still, there is a will and fortunately time, too. The process relies on agile development: what we do is directly piloted and then further elaborated.
Let's shine – helping the students to make their competences visible
Not only do the entrepreneurial university practices matter in filling in the gaps but it is highly important that the competences and skills become visible to the students and their potential employers, as well. Neither the students and later graduates nor their potential future employers necessarily know well enough what the transversal competences and skills are. Moreover, they might not know how valuable the entrepreneurial mindset is for their future. In addition, they might not even realise strongly enough, how valuable learning from peers in the multicultural ECMT+ groups is – many of the competences and skills grow in this setting and might flourish later on (figure 3).

To support the students' learning process, we have been developing tools for self and peer reflection (see Heinz & Chylková 2017; Heinz, Chylková, & Nenička 2018) and an e-tool, digital badge, to support the visibility, easy recognition, and understanding of the learning outcomes. These tools also promote growing networks and further learning as a continuity of the process.
The digital badge is one form of the e-portfolios that are discussed more in details for example in both the EEP project and other development work coordinated by the Häme University of Applied Sciences (see Kunnari, Laurikainen, & Torseke 2017). As these writers say, we need to develop more meaningful and easily accessible ways for the students to show their competences and help their self-reflection on the expertise (ibid).
A digital ECMT+ badge is a symbol of students' accomplishment, competences, skills as well as qualities and interest in entrepreneurial thinking. The aim of the badge is to make the results of formal, non-formal and informal learning during the intensive courses and blended module worked online, before the intensive weeks, visible for the students (see also Szafranski, Golinski, & Simi 2017). However, it is more than the visibility of learning outcomes; the digital badge may also act as a motivator and raise student engagement. When the student realises knowing, understanding and being able to do something useful, this can be an empowering experience promoting future learning, too.
In addition, the badge can support students' employability and help the potential employers to see what the potential value of their expertise they have gained during the studies could be. The badge will be an easy to use and comprehensive showcase of the entrepreneurial competences and skills. At its best, the ECMT+ badge could tell more about the "can-do and understand" than just the students' degree certificate itself. We need to make students aware that the value of multicultural and international networks developed in the process is a valuable social asset.
Learning and sharing for brighter world
There is a growing global need for entrepreneurs from social, cultural and economic backgrounds to engage in start-ups and entrepreneurial activities. Entrepreneurship is considered a powerful driver of economic growth and job creation (Entrepreneurship 2020). However, it is more than entrepreneurship; intrapreneurship is seen as a key to employment and success in the world of work in any field. It is especially the intrapreneurship that calls for transversal competences and skills. The current changes around Europe (economy, environment, demographics, consumer behaviour, IT, shared economy, robotics, crowd-sourcing, single market, and changes in societies, policy and opening of borders) require new competences and therefore new ways of teaching and learning and more ways to make the learning outcomes visible.
The universities and universities of applied sciences need to co-operate widely to be able to renew their curricula and practices responding to the needs and fostering more competitive and innovative economies. The need for skilful and multicultural competent HEI graduates with entrepreneurial and intrapreneurial mindset is crucial.
To contribute to this, the ECMT+ project in its turn will provide the following deliverables:
Joint module descriptions and resource packages for teachers that will be accessible and open for all after the project lifespan,
International intensive course models supporting curriculum development and internationalisation of education,
Digital ECMT+ badge,
Community of learning, blog and summarising publication, and
Research publications supporting dissemination, exploitation and sustainability of the results and opening the education.
All the concrete project results will be shared on the web pages of the project and/or through online tools for anyone interested to use. Moreover, some of the results can be benefitted from already while the project is running, simply by following the updates on different ECMT+ media. However, some of the results will be shared in their final form only at the end of the project lifespan due to their changing nature.
Learning is at its best when it is fresh and shared: together we can accomplish much more than any of us alone. In ECMT+ we are aiming at building collegial support and knowledge transfer shifts between colleagues among different partner countries and universities to enable both professional and transversal learning between peers. The aim is to shift and create best practices and tacit knowledge supporting professional development among the partner universities crossing borders to serve our students in the best possible way.
The importance of shared learning stands not only for the ECMT+ consortium – or any other project consortium as such – but also it motivates how to find and see the synergies between different Erasmus+ Strategic Partnerships projects developing practices and expertise in this field. There is a growing need for promoting more discussion between different groups of experts who contribute to the European discussion.
One good example of this synergy is the collaboration between the EEP and ECMT+ projects: since the start of the projects, the coordinators from HAMK and Karelia Universities of Applied Sciences agreed to participate in each other's monitoring processes as members of the steering committees. This turned out to be a valuable channel for on-going discussion and sharing ideas but also a good way to support usability and sustainability of the results. When you see what is done in your peer-project, you can easily adopt and benefit the good practices. Another good example is the collaboration with the AWT project, which develops acceleration methods for transversal competence acknowledgement in the frame of students' practical training process (see Szafranski, Golinski, & Simi 2017). With AWT, ECMT+ has agreed on collaborative and reciprocal output assessment process again with a win-win venture in both learning and sharing.
Even though the EEP project is about to end, the collaboration continues, and who knows: new joint adventures might follow!
Conclusions
One crucial element of any kind of development project is sustainability. All of us dealing with Erasmus+ projects need to constantly and carefully consider while applying, and later, while implementing, how to ensure the use of the results? The key element here is the real integration with the organisational strategies. When we do develop things that are directly driven from our strategic aims and goals, we are definitely on the right track. ECMT+ in its turn works for our strategic aims of concrete internationalisation of education, development of teachers' and students' competences as well as increase numbers of mobility. Thus, the integration of the results into everyday practices in organisations is part of curriculum development and HR-development processes – what we do remains and then may grow later on.
Another crucial element of any kind of development project is quality. Again, we need to ask how can we ensure our results meet high-enough quality criteria? Working in projects is much more than working for the project lifetime – even though very often it is a lot of fun to work with great colleagues under a bit of a pressure – it is always most important what remains after the project. Therefore, we need to see, how we develop at the same time high quality results and high-quality networks with a win-win venture. In ECMT+ this is a two-fold puzzle: what comes to the results, we work with a very self-reflective process which is supported with evidence-based research. This helps us really see what works and what to improve to meet the goals. What comes to the consortium, it is an on-going interplay of communication and balancing with heavy duties elsewhere – that calls for transversal competences from ourselves, too.
To end up, projects that carefully consider and work with sustainability and quality can really make a change and have impacts on higher education practices. If not huge ones, at least some small concrete steps which can again lead to future development and growth. In the end, this all serves our students for whom we are working – they are the ones changing our future.

This article was produced in the Erasmus+ (KA2 action) funded project "Empowering Eportfolio Process (EEP)". The beneficiary in the project is Häme University of Applied Sciences (FI) and the partners are VIA University College (DK), Katholieke Universiteit KU Leuven (BE), University College Leuven-Limburg (BE), Polytechnic Institute of Setúbal (PT) and Marino Institute of Education (IE). The project was implementated during 1.9.2016–30.11.2018.
Author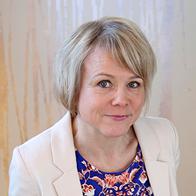 Liisa Timonen, Ms.Sc (soc.), Dr.Sc (education), is the Head of International Affairs at Karelia University of Applied Sciences. She works for strategic internationalisation of education and contributes actively into research and development of this arena. She also coordinates partnership development and global education at Karelia UAS.
References
AWT. (2015). The Acceleration Method of Development of Transversal Competences in the Students' Practical Training Process. Erasmus+ Strategic Partnership Project. Retrieved 18 June 2018 from http://www.awt.org.pl/projekty/o-projekcie/?lang=en
Badzińska, E. (2017a). Empirical Study on Intercultural Collaboration in Project Teams: Preliminary Research Findings. Journal of Intercultural Management 9(3), 29–44.
Badzińska, E. (2017b). Evaluation of a Multicultural Approach to Teaching Entrepreneurship: Selected Research Results within the Framework of the ECMT+ International Project. European Journal of Social Sciences 11(2), 320–327.
Bacigalupo, M., Kampylis, P., Punie, Y., & Van den Brande, G. (2016). EntreComp: The Entrepreneurship Competence Framework. Luxembourg: Publication Office of the European Union. EUR 27939 EN.
ECMT+. (2016). Entrepreneurship and Communication in Multicultural Teams. Erasmus+ Strategic Partnership Project. Retrieved 18 June 2018 from http://www.ecmt-plus.eu/
EEP. (2016). Empowering e-Portfolio Process. Erasmus+ Strategic Partnership Project. Retrieved 18 June 2018 from https://eepeu.wordpress.com/
Entrepreneurship 2020 Action Plan. (2013). Reigniting the entrepreneurial spirit in Europe. European Commission. 9.1.2013.
Heinz, K. & M. Chylková. (2017). Development of the European Project Erasmus+ ECMT-Evaluation Based on Students' Self-reflective Learning Journals and Essays. In Globalisation and its Socio-Economic Consequences. 17th International Scientific Conferences Proceedings. Part II. University of Zilina, 636–643.
Heinz, K., Chylková, M., & L. Nenička. (2018). Significance of ECMT+ Participants' Feedback for their Future Entrepreneurial Careers within the EU. In M. Staníčková, L. Melecký, E. Kovářová, & K. Dvoroková (eds.). Proceedings of the 4th International Conference on European Integration 2018. Ostrava: VŠB-Technical University of Ostrava, 447–456.
Kunnari, I., Laurikainen, M., & Torseke, J. (2017). Triggering students to create ePortfolios. In I. Kunnari & M. Laurikainen (eds.) Students' perspectives in ePortfolios. HAMK Unlimited Journal 15.12.2017. Retrieved 18 June 2018 from https://unlimited.hamk.fi/ammatillinen-osaaminen-ja-opetus/triggering-students-to-create-eportfolios
Lackeus, M. (2015). Entrepreneurship in Education. What, why, when and how. Entrepreneurship360 Background Paper. OECD 2015.
OECD (2012). A Guiding Framework for Entrepreneurial Universities. Final version 18. December 2012. OECD.
Szafranski M., Golinski M. & Simi H. (Eds.). (2017). The Acceleration of Development of Transversal Competences. Centria Studies 4, Centria University of Applied Sciences.
LISÄÄ AIHEEN YMPÄRILTÄ / RELATED POSTS