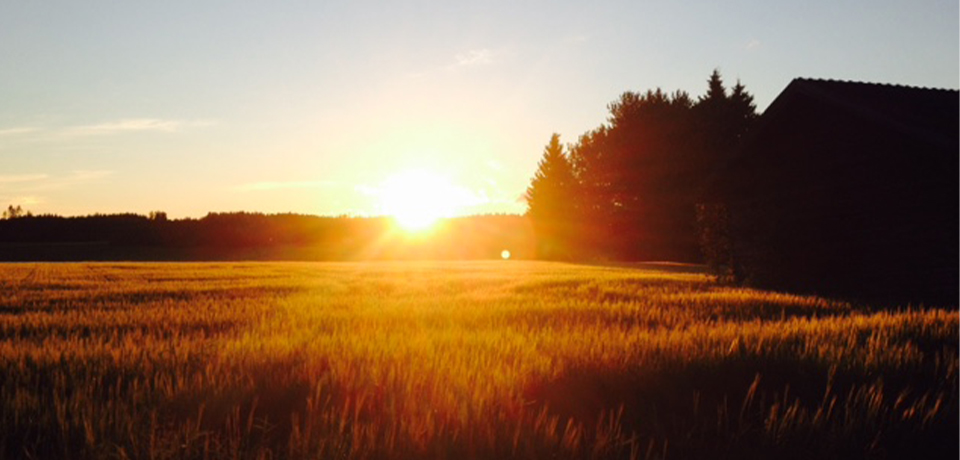 Sanna Kujala & Vesa Parkkonen
09.06.2023
Our world is circular in nature and full of interactions between matter and living beings working together in particular environments to achieve their common purpose. In systems thinking these circles are called systems. In systems, all the pieces connect, interact, and play their part in outcomes to create a sum that is greater than its parts (Goodman, 2018). To solve problems and find places for improvements in our complex world, we must learn to identify and understand its systems. In decision-making, we must move from reacting to immediate events to considering underlying structures behind those events to notice possible feedback loops, delays, and other non-linear causes to avoid unintended causes. Systems thinking approach as a holistic way of seeing "the big picture" can help us with this challenge.
Complexity in agricultural systems
An agricultural system is a collection of multiple relationships between land, labor, capital, and management affected by natural forces. The traditional purpose of agricultural systems of producing food, fiber and energy from natural resources, has been supplemented with other objectives of conserving biodiversity, off-setting emissions and adapting to climate change to obtain sustainability.
Decision-making in this complex, multi-purpose environment requires a whole-farm approach which integrates knowledge across different disciplines and considers interactions for social, ecological, and economic outcomes. Therefore, actors in agriculture need tools to consider interrelated components in agricultural systems to come up with innovative and ethical improvements to enhance profitability, productivity and well-being of nature and people in a sustainable way.
Systems thinking tools in teaching
Despite our complex world with its multidimensional challenges, only a few of us are natural-born systems thinkers. Instead, InTeGrate (2023) claim that students tend to prefer simplified explanations and think of systems as isolated, static components and have difficulties considering spatial scales in complex systems. By introducing systems thinking approach with systems thinking tools, we as teachers can introduce complexity to our students in a way that students can think for themselves and experience the joy of understanding. Systems thinking also helps in communicating our understanding to others which encourages collaboration and helps to solve interconnected problems with creativity outside of the traditional discipline boxes.
Several different methodologies and tools are easily available to be used to implement the systems thinking approach. Common for all these tools is that they help us to generate and organize information about systems and develop conceptual models. For example, a concept map is a well-known and popular tool to experimentally introduce systems thinking to students. Concept maps are visual presentations of relationships between concepts and ideas, typically drawn as boxes or circles connected with lines and arrows to keep our thinking organized. According to Richmond et al. (2014, p. 1072), concept maps are also a powerful tool for identifying knowledge gaps in learners' cognitive structure.
The iceberg model is another central tool in systems thinking, helping us to understand the relationship between noticeable problems and underlying factors as well as to contextualize an issue as part of a whole system. According to Mahr (2022), the iceberg model is based on the idea that just as how only 10 % of an iceberg is visible above water, there are usually more factors involved in a problem than what is initially observed. The iceberg model allows a student to shift perspective to see beyond the immediate events and helps to uncover root causes from deeper levels of the system. By identifying these invisible factors, we can develop long-term solutions considering whole systems rather than just reacting to single events.
Causal loop diagrams are utilizing some of the basic systems thinking concepts of reinforcing and balancing loops. A reinforcing loop leads to an increase in some of the system components. If the reinforcement loop exists without a balancing loop, the system will collapse as the balancing loop works to heal and maintain the balance in a system (Lutkevich, 2023). By linking together several loops, the system behavior can be visually described, and students become more aware of the structural forces behind systemic events.
Stock and flow diagrams represent systemic loops and additionally differentiate between system variables. Sicart (2021, p. 2) says that we can distinguish a stock from a flow by considering what will happen in a system if we stop time. Stocks, which are accumulations, would continue to exist while flows would disappear because they are actions. Identifying stocks and flows in a system helps us to understand how different elements in a system are working together in different situations.
Application of systems thinking tools to investigate agricultural systems
When teaching about agricultural systems, the iceberg model helps the students to see farm-level resources and interactions in the context of societal, environmental, and economical demands. Especially when we talk about strategic planning, we should examine closely the underlying factors, such as the farmer's values, competence and preferences as well as the physical, social and political constraints and possibilities that arise from the operational environment. In applying the iceberg model in teaching, a worksheet is a handy practical support. On the worksheet, there are typically questions that help the students to focus on the iceberg level in question when we move from event to pattern and deeper to structural and mental model levels.
An investigation of an agricultural system starts with a description of the current operational system and interfaces with its components. The description should also show system boundaries and connections to stakeholders such as customers for outputs, suppliers for inputs, possible partners and authorities. In this description, the stock and flow diagram can be used to describe all farm operations to show what kind of inputs and production technology is used to produce outputs. A further challenge to the task can be introduced by considering also the costs incurred at each step. Causal loops would help us to evaluate how the system would develop in time and react to changes in system components. For example, if we are interested in the impacts of the changes in agricultural politics, we must consider delays and natural constraints to forecast effects in the long-term.
Conclusions
Research indicates that systems thinking skills must be specifically taught to students. Students will not develop systems thinking skills only by learning systems thinking concepts. They need to apply the systems thinking tools to a particular context. Teachers may need professional development to apply systems thinking tools in their topics but it's rewarding as systems thinking may introduce complexity in a way that students get excited. Thinking from a systems point of view also encourages creative problem solving, co-operation and learning.
Agricultural systems are good examples of complex systems that must be investigated as an entity to see the hidden effects of changes in interconnections of system components and identify loops acting under the surface. As there are several different uncertain social, environmental, and economic aspects to consider regarding sustainable future farming, this uncertainty combined with complexity emphasizes the need for systems thinking to be able to prepare for changes, secure from risks and improve the economic and environmental resilience of the agricultural systems.
Systems thinking approach encourages to think long-term solutions and improvements that are not only efficient and effective but also ethical. Decisionmakers of agriculture should be able to identify situations that need improvement and solve associated problems in this complex environment. Therefore, their education should coach them to take such actions effectively. By teaching students of agriculture to use systems thinking tools, we will have actors in the agricultural sector who can foresee a new sustainable future for the agricultural sector and secure and improve farming conditions for the next generations.
Authors
Sanna Kujala was a student of International Professional Teacher Education. She currently works in the food industry as a sales manager.
Vesa Parkkonen works as a senior lecturer in International Teacher and in Guidance Counsellor education at HAMK.
References
Goodman, M. (2018). Systems Thinking: What, Why, When, Where, and How? https://thesystemsthinker.com/systems-thinking-what-why-when-where-and-how/
InTeGrate. (2023). Teach Systems Thinking. https://serc.carleton.edu/71122
Lutkevich, B. (2023). Systems thinking. https://www.techtarget.com/searchcio/definition/systems-thinking
Mahr, N. (2022, August 6) Iceberg Model in Systems Thinking Overview and Examples [Video]. Study.com. https://study.com/learn/lesson/iceberg-model-systems-thinking-overview-analysis-examples.html
Richmond, S., DeFranco, J., & Jablokow, K. (2014). A Set of Guidelines for the Consistent Assessment of Concept Maps. International Journal of Engineering Education, 5, 1072–1082. https://www.researchgate.net/publication/272815044_A_Set_of_Guidelines_for_the_Consistent_Assessment_of_Concept_Maps
Sicart, A. (2021). Thinking in Systems. https://www.researchgate.net/publication/349440122_Thinking_in_Systems
LISÄÄ AIHEEN YMPÄRILTÄ / RELATED POSTS