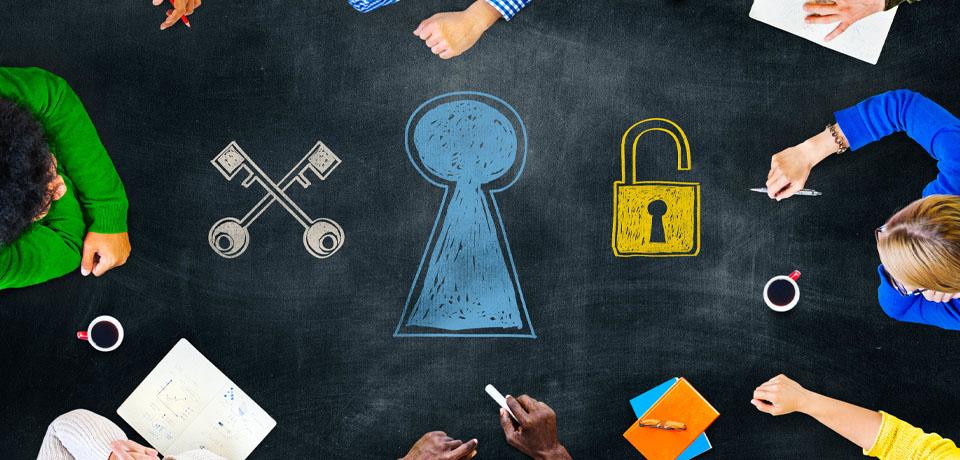 Satu Määttänen, Tauno Tertsunen, Ulla-Maija Knuutti & Eija Laitinen
05.08.2022
The growing population in sub-Saharan Africa (SSA) is hungry for education and skills development. Educational needs are especially high within the agricultural sector. Agriculture is a major contributor to the gross domestic product and livelihoods of the area, yet the agricultural productivity of SSA lags behind the rest of the world (The World Bank Group, 2022). For developing agricultural production and productivity and for adapting to changing environment, agricultural technology, commercialization and trade, require an educated and skilled agricultural workforce (Zubovic et al., 2009). However, the higher educational institutions (HEIs) of SSA struggle with limited finances, inadequate resources and large class sizes (e.g. McCowan, 2018).
Open distance learning (ODL) is one of the solutions to reach a wider learner audience and train the large population of SSA affordably. ODL refers to various learning activities and facilities that learners can utilize to plan individual learning paths ("open"), and to learning possibilities unbound to time or place ("distance"). ODL pedagogy heavily relies upon and exploits technology, as illustrated in Figure 1 by Technological Pedagogical Content Knowledge (TPACK). By enabling flexible learning, ODL can contribute to the achievement of the United Nation's Sustainable Development Goal of Quality Education which targets to ensure access to affordable education and to increase the number of skilled youth and adults. The campus close-downs due to the Covid-19 pandemic further highlighted the importance of the ability to transform to remote teaching and learning. We believe that ODL is especially beneficial in agricultural education, as a big part of the agricultural workforce and students live in remote rural areas with difficulties travelling and participating in traditional campus-based training.
Despite the recognized benefits of ODL, its usage is still in its infancy in many parts of SSA. Lack of technological knowledge, skills and pedagogical competence, as well as limited access to technology hinder the adoption and implementation of ODL (Mathew & Iloanya, 2016; McCowan, 2018; Oladokun & Aina, 2011).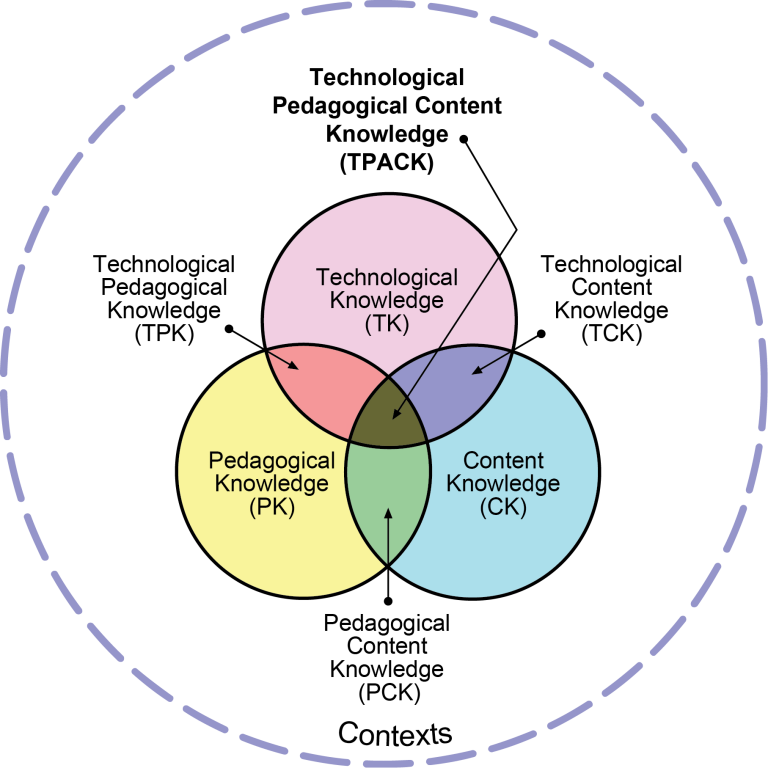 Training on Open Distance Learning for African university teachers
To develop the pedagogical and technical competencies needed in open distance teaching and to enhance its utilization, an ODL training program was organized for SSAn academic staff from September-November in 2021 as part of the PBL-Bio Africa project (https://www.pbl-bioafrica.net/). All the African partner universities of the PBL-Bio Africa project have established units for distance learning, but distance learning is not fully mainstreamed across all disciplines nor in pedagogical training. The training was thus targeted at academic personnel with little or no previous experience of ODL, with a special focus on agricultural programme staff members. A total of 24 teachers and administration staff from Kenyan, Ugandan and Zambian universities conducted the whole programme, earning a certificate, and additional 118 participants took part in one or more of the programme activities.
The main focus of the training was to evoke and enable mindset change among participants: to transform from teacher-centered methods to student-centered digital learning. Other objectives were to develop participants' knowledge and understanding of how to plan, prepare and implement ODL in online environments. The training programme followed the ODL process (Figure 2) consisting of eight online workshops and in-between learning materials, tasks and group discussions.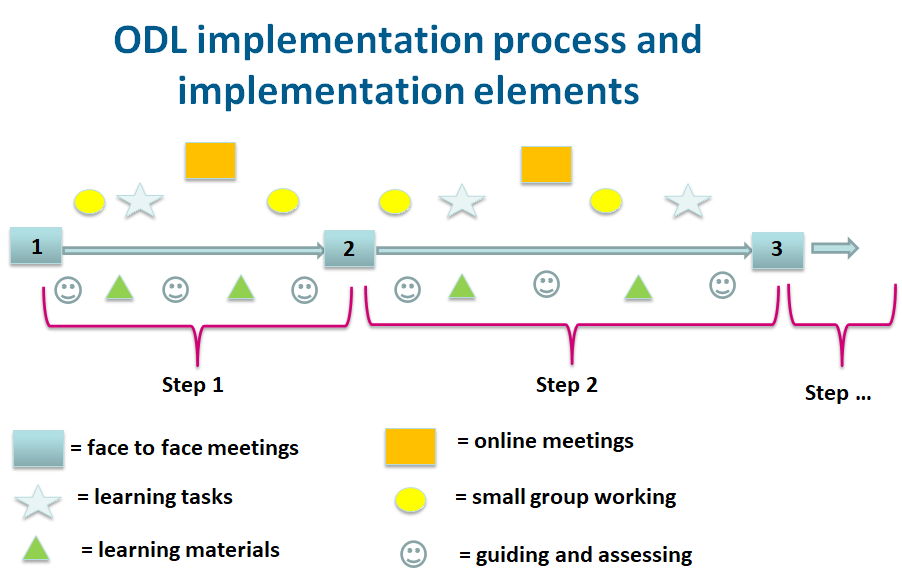 Feedback on the training programme
From November 2021 to January 2022, we received a total of 18 feedback responses from the training participants. We believe these respondents mainly represent the training participants that conducted the whole training programme (n=24), but due to the anonymity of the feedback survey, we can not be sure of this, as the survey link was distributed to all the 142 people registered to the training. The respondents represented five universities from Kenya, Zambia and Uganda, and mostly academic teaching staff (n=15), with a few responses from administrative staff (n=2) and one response from a student.
There clearly was a demand and interest in the training, as all respondents perceived the ODL training as being highly beneficial (72.2%) or beneficial (27.8%) and mostly serving their expectations (Figure 3). Responses to open-ended questions revealed that the training increased participants' confidence and teaching skills. The majority of respondents specifically mentioned learning new skills and knowledge and becoming "better" and "more equipped" teachers. Yet, the participants also recognized a need for constant learning "I have to keep on learning and improving", "I still lack the skills that come with practical experience". One feedback response summarized well the need for and effect of this type of pedagogical training: "Though I have been recruited as a lecturer, I have never undergone any formal training in postgraduate education. This training was an eye-opener in the learning process, specifically, online learning. It has greatly beefed up my skills, knowledge and confidence — ".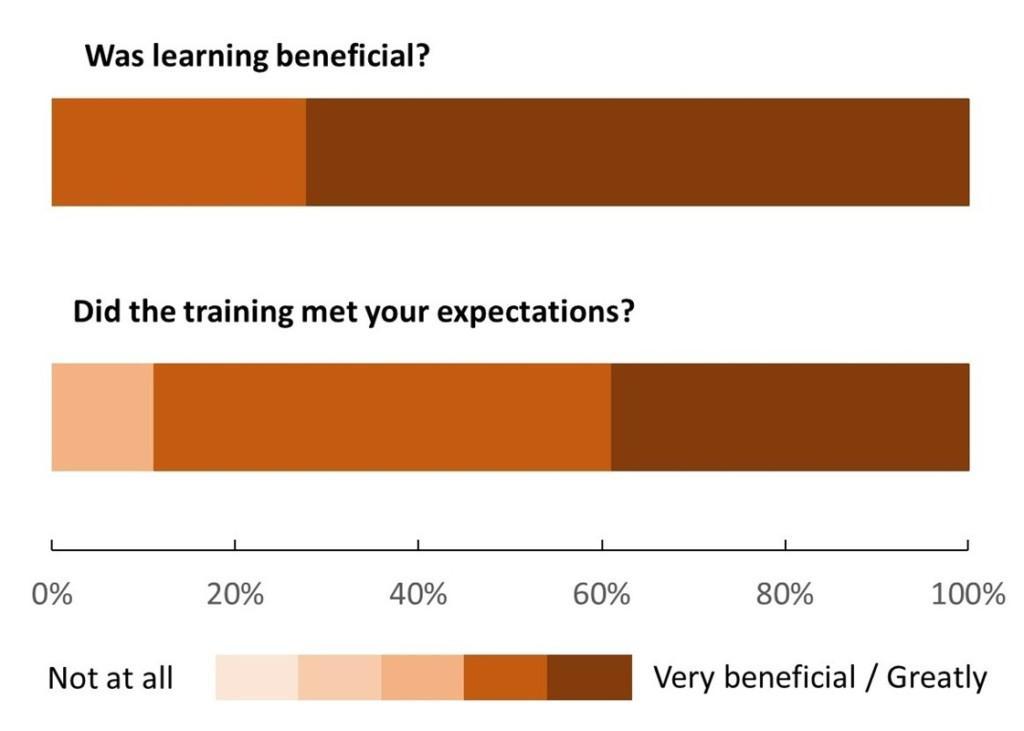 A highly positive finding from the feedback was that all respondents stated to be able and willing to implement the skills learned in the training in their future teaching. Half of the respondents explicitly mentioned seeing themselves more oriented towards student-centered teaching after the training. Yet also the constraints of ODL and student-centered methods were identified. Constraints related mostly to institutions: "[I can implement the skills learnt] But not in the current setting of my institution rather at a personal level", "it will take time for our learners and university managements to come to terms with the new pedagogy" and infrastructure: "but to a limited extent considering that the infrastructure and facilities for distance learning are only beginning to be addressed by the government". However, respondents also saw solutions to constraints, mainly using blended approaches; combining both traditional and student-centered methods as well as distance and contact teaching.
Feedback draws a picture of the importance of maintaining interaction in distance teaching and digital learning platforms. Participants enjoyed and were inspired by the discussions between and among teachers and participants and would have hoped for even more interaction. Learning material content and distribution also got many mentions in the feedback. Well-prepared learning materials, especially illustrations, were appreciated by the participants. However, having more time to get acquainted with the material, through permalinks and receiving materials before each session, was requested. This may partly relate to the finding that the timing of the training was perceived as challenging to the participants as they were busy with other tasks.
The way forward
Many HEIs in SSA are increasingly mainstreaming ODL into their curricula. The benefits of ODL are widely recognized, not least due to the Covid-19 pandemic that forced widescale transformation to online teaching. However, the lack of technical and pedagogical competencies and limited technology access impedes the widescale utilization of ODL.
As feedback revealed, HEI staff are enthusiastic to learn and subsequently implement ODL in their teaching. To root ODL into the teaching culture, we suggest a further training for academic staff, especially for those with limited experience in the practice. To provide building blocks for overcoming the main challenge: the mindset change from operating teaching to enabling learning in digital platforms, the initial ODL training focused on basic understanding of and skills needed in ODL. The subsequent training should emphasize the practical elements of ODL-course preparation and implementation. Training should be targeted not only to teachers but also to management staff, as they make crucial decisions regarding curricula design and budget allocations. Training programmes could be stretched for multiple months to allow time for participants to explore and familiarize themselves with learning materials.
Complementary to training, we recommend teachers and the whole academic staff to cooperate with ODL. Collaborative working, dialogue and benchmarking are beneficial practices for developing and improving ODL courses. Finally, we encourage HEI staff to bravely implement ODL, as not only training but also collaborative working and individual experience brings competence.
Authors
Satu Määttänen, M.Sc. in Agricultural Sciences and M.Sc. in Environmental Science and Policy from University of Helsinki. She works as a Research Assistant at Häme University of Applied Sciences in the Bio Research Unit.
Tauno Tertsunen, M.Ed, ICT-eng. He works as a Senior Lecturer at Häme University of Applied Sciences at School of Professional Teacher Education.
Ulla-Maija Knuutti, M.Sc. In Rural Development from HAMK University of Applied Sciences. She works as a Senior Lecturer in Sustainable Development Degree program at HAMK.
Eija Laitinen, PhD in Adult Education, Principal Research Scientist in the HAMK Bio Research Unit. She is the AgriSCALE and PBL-BioAfrica Project Coordinator and leads the HAMK Africa Team.
References
Koehler, M. & Mishra, P. (2012). TPACK images. http://tpack.org
Mathew, R. I. & Iloanya, E. J. (2016). Open and distance learning: Benefits and challenges of technology usage for online teaching and learning in Africa. http://dspace.col.org/handle/11599/2543
Maunonen-Eskelinen, I. & Tertsunen, T. (2014). Implementation of ODL. Learning Materials of Training of Trainers Project. https://sites.google.com/site/totnepaltu/workshops-in-novenber-2013
McCowan, T. (2018). Quality of higher education in Kenya: Addressing the conundrum. International Journal of Educational Development, 60, 128–137. https://doi.org/10.1016/j.ijedudev.2017.11.002
Oladokun, O. & Aina, L. (2011). ODL and the impact of digital divide on information access in Botswana. International Review of Research in Open and Distance Learning, 12(6), 157–177. https://doi.org/10.19173/IRRODL.V12I6.1053
The World Bank Group. (2022). World Bank Open Data. https://data.worldbank.org/
Zubovic, J., Domazet, I. & Stosic, I. (2009). Development of human capital as a tool for improving productivity of agricultural sector–case of Serbia. https://ageconsearch.umn.edu/record/57491/
LISÄÄ AIHEEN YMPÄRILTÄ / RELATED POSTS