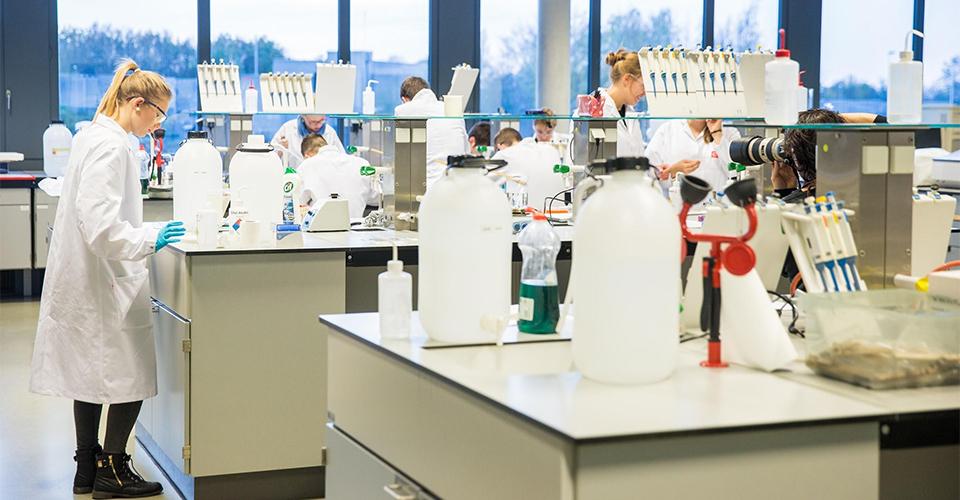 14.08.2018
In developing practices in higher education, it is important to explore different perspectives. In previous analyses of Empowering Eportfolio Process (EEP) project digital portfolios are investigated to have certain benefits from the students' perspective, such as a centralised storage of relevant material, an extensive communication network and an easy platform to follow career development (Devaere, Martens, & Van den Bergh 2017). Further, higher education students see them as a tool to deepen self-reflection of personal development (Kunnari, Torseke, & Laurikainen 2017) and a tool allowing more creative ways to show your competences (Uí Choistealbha 2018). However, as ePortfolios are not comprehensively used in connecting students and the world of work (Kunnari, Laurikainen, Pires, & Rodrigues 2017), it is very crucial also to explore the interests of businesses and the way they see the potential of digital portfolios. In this article, the interests of the professional bachelor programme 'Biomedical Laboratory Technology' of University College (UC) Leuven-Limburg concerning ePortfolio are discussed.
Context
University College (UC) Leuven-Limburg is a higher educational institute that offers various different bachelor programmes, i.e. level six of the European Qualification Framework. One of the bachelor degrees is 'Medical Laboratory Technology'. This educational programme is organised at the campus Gasthuisberg near the University hospital. Within this educational programme, an ePortfolio will be introduced within the implementation of a new curriculum in 2018–2019. The author is occupied with the developing of the ePortfolio in the study programme. Besides this role, she is also an internship coordinator. Thus, she is responsible for connecting the world of work and the educational programme.
The ePortfolio will be implemented throughout the curriculum. So not just one curricular unit will be occupied with the ePortfolio. The ePortfolio is set up with different parts containing life-long learning, internationalisation, citizenship and a clear learning path for generic competences. Many teachers have worked on generic competences such as 'working in a team', although there has not been a clear learning path for all. All teachers worked separately and the evolution of students was not visible. By implementing learning paths in the ePortfolio, the educational programme will try to solve this problem.
There is a good momentum to introduce ePortfolio due to the new curriculum in addition to a need in the biomedical field and in the changing higher education field, to enhance generic competences (Devaere, Martens, & Van den Bergh 2017). Vacancies for Medical Laboratory Technology positions show that many generic competencies are required that could be presented in an ePortfolio.
The profession of a Medical Laboratory Technologist is subject to a Royal Decree. The UC Leuven-Limburg is obliged to offer a work placement in three different disciplines (Clinical Chemistry, Haematology and Microbiology). This means that students work in hospitals for at least 600 hours. Additionally, there is close collaboration between the educational programme and the internship places because of this important part of the students' education. During their internship, students can make a good or bad impression on their future field of work. Many students start working by entering internship placements in the hospitals. A job interview is done but it is usually after their superiors have made a recruitment decision on a student.
To understand the interests of our field in using ePortfolios, we carried out a focus interview with ten interviewees from the field. A few of them were biomedical laboratory technologists themselves. Some were clinical biologists and others were members of staff, whose task was to introduce the ePortfolio and to guide the discussion. The focus interviews took place in the school on a moment that different topics about the curriculum were discussed. The introduction of an ePortfolio was one of the topics and the discussion lasted for an hour and a half.
Job recruitment setting – interests of the employer
When asking about the interests of the employer, the employers from Belgium and the Netherlands, as well as their answers, could be categorised in two different groups. The first group of employers focuses on knowledge, skills and principles of certain tests. More generic competences, such as working in a team, being interested in learning new things or being critical were not included among the most important interests. Other members in the first group were mostly technologists who worked with the students during their internship. Without explicit attention on more generic competences, they learn a lot about the student while working with them. Thus, it is possible that personality characters influenced their idea of the knowledge and skills of the students.
Another category of answers was from participants from other countries, especially employers from the Netherlands. They start job recruitment by looking at generic competences in contrary to the national employers. The foreign employers found it very important that students can work autonomously, can cope with conflicts, can work in a stressful situation and environment and can work in a team. They would therefore benefit from a compulsory ePortfolio for students, which could verify these characteristics.
Within the University hospitals of Leuven, where many employers are active, recruiters have tested generic competences of the applicants with a questionnaire related to the position they apply for. In addition to this, as mentioned before, the evaluation of the internship is important to the recruiters.
Job recruitment setting on the basis of an ePortfolio offering transparency
An ePortfolio is a useful tool to make generic competences visible during and after an educational programme. The workplaces recognise this and see possibilities to use students' ePortfolios in job recruitment or internship recruitment. Since students have to gather information about generic competences they have reached in an ePortfolio, it makes it easier for an employer to get an overview of the future employee's generic competences during an interview. Some members of staff remarked that the students should have chances to learn some things. The ePortfolio should be seen as a process and not only as a product for job recruitment. A negative activity during their first year in school should not necessarily be shown to a recruiter. This is in contrast with the aim of the educational programme to introduce an ePortfolio over the whole three bachelor years. However, errors made by students, who are still developing their identity, are not relevant in the world of work. It will be a struggle to ensure the privacy of the students and at the same time be open and transparent enough with the ePortfolio during job recruitment.
The world of work supporting the creation of ePortfolios
The field of Medical laboratory technology sees ePortfolios as educational tools, and would probably use ePortfolios when recruiting but not support the creation of ePortfolio during the employment period. It could be the responsibility of the employee to write down some activities in his or her ePortfolio. Furthermore, in the near future the supervisor's input for supporting the process is not compulsory, as mentioned during the focus group interview. On the other hand, the Royal decree mentioned earlier declares that employees need to continue their professional development. The steering committee from Belgian National Commission on Clinical Biology (BVLT), together with the European Association for Professionals in Biomedical Science (EPBS) are proposing the use of portfolio to register these development activities and might in the future force the employers to adjust their opinion on the use of ePortfolio.
It is believed that an ePortfolio will be a benefit for job recruitment as illustrated in figure 1.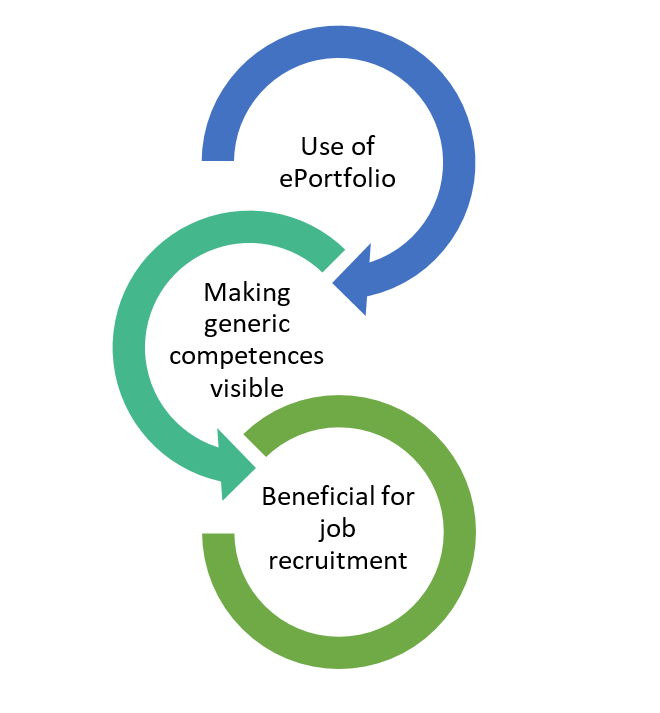 Conclusion
In conclusion, it is remarkable that the world of work follows the vision of the educational programme to link the benefits of ePortfolio in making some generic competences more visible. When students use their ePortfolio, it could be possible during job interviews for the interviewer to discover a deeper understanding of the future employee. With the use of ePortfolios, students can provide an objective evaluation of their generic competences.
From the perspective of internship coordination, the role of ePortfolio in the world of work can be broader in the future rather than just focusing on job recruitment.

This article was produced in the Erasmus+ (KA2 action) funded project "Empowering Eportfolio Process (EEP)". The beneficiary in the project is Häme University of Applied Sciences (FI) and the partners are VIA University College (DK), Katholieke Universiteit KU Leuven (BE), University College Leuven-Limburg (BE), Polytechnic Institute of Setúbal (PT) and Marino Institute of Education (IE). The project was implementated during 1.9.2016–30.11.2018.
References
Devaere, K., Martens E., & Van den Bergh, K. (2017). Analysis on students' ePortfolio expectations. In I. Kunnari & M. Laurikainen (eds.) Students' perspectives in ePortfolios. HAMK Unlimited Journal 5.1.2018. Retrieved 17 January 2018 from https://unlimited.hamk.fi/ammatillinen-osaaminen-ja-opetus/analysis-on-students-eportfolio-expectations
Kunnari, I., Laurikainen, M., Pires, A. O., & Rodrigues, M. R. (2017). Supporting students' ePortfolio process in Higher Education. In I. Kunnari & M. Laurikainen (eds.) Students' perspectives in ePortfolios. HAMK Unlimited Journal 12.12.2017. Retrieved 20 February 2018 from https://unlimited.hamk.fi/ammatillinen-osaaminen-ja-opetus/supporting-students-eportfolio-process-in-higher-education
Kunnari, I., Laurikainen, M., & Torseke, J. (2017). Triggering students to create ePortfolios. In I. Kunnari & M. Laurikainen (eds.) Students' perspectives in ePortfolios. HAMK Unlimited Journal 15.12.2017. Retrieved 20 February 2018 from https://unlimited.hamk.fi/ammatillinen-osaaminen-ja-opetus/triggering-students-to-create-eportfolios
Uí Choistealbha, J. (2018). The benefits and challenges of using ePortfolios. In I. Kunnari & M. Laurikainen (eds.) Students' perspectives in ePortfolios. HAMK Unlimited Journal 31.1.2018. Retrieved 15 March 2018 from https://unlimited.hamk.fi/ammatillinen-osaaminen-ja-opetus/the-benefits-and-challenges-of-using-eportfolios
Author
Karolien Devaere is a teacher in microbiology (educational programme Biomedical laboratory technology) and a member of the permanent course commission. She is Biomedical laboratory technician and also has a degree in Educational sciences. She is now introducing ePortfolios in the new curriculum.
Reference to the publication:
Devaere, K. (2018). Transparency in ePortfolio at UC Leuven-Limburg. In M. Laurikainen & I. Kunnari (eds.) Employers' perspectives on ePortfolios. HAMK Unlimited Professional 14.8.2018. Retrieved [date] from https://unlimited.hamk.fi/ammatillinen-osaaminen-ja-opetus/transparency-in-eportfolio-uc-leuven-limburg
http://urn.fi/URN:NBN:fi-fe2020111790727

This material is CC licensed Attribution-ShareAlike 4.0 International.
[button href="https://eepeu.wordpress.com/" target="_blank" bg_color="#FF0066″ text_color="#ffffff"]Empowering ePortfolio Process »[/button]
LISÄÄ AIHEEN YMPÄRILTÄ / RELATED POSTS